The Story of Kylie Jenner, Her Wig Hairstyles And Road To Fashion
Aug.08,2022
This entry was posted in
Explore
By Meru
Yes, celebrities often play with wigs and try on new signature characters, most of which are created by their stylists. But Kylie Jenner has gone further as a true beauty freak. Her wig collection has both a natural mane and a crazy vividness. Why has a 21-year-old created a viral trend around wigs? How does her stylist make wigs look like real hair? Read our findings!
How do you make a wig look fine and real?
Sometimes it's obvious that Kylie is wearing a wig. But some of her fake manes look so real, it's as if she finally decided to betray her black mane. Kylie gets us special tricks to make wigs look like real hair!
1. Choose a quality lace front wig, because synthetic wigs only look real in selfies with professional helpful lighting.
2. Don't forget baby hair when adjusting your wig. (For those who wear Lace Wigs)
3. A rooted wig is the key to a natural look.
4. A messy parting can help your wig look realistic.
5. Almost every wig needs to be trimmed to fit your face shape.
6. Always line your wig with your natural hairline.
7. Know your measurements: Get out the tape measure and keep it in mind, especially when shopping online.
The last one is a key tip for naturalness from Kylie's wig creator Tokyo Styles. "You have your measurements before and it almost always fits before you get there, so it's just a little cut here and there to fit perfectly in the back and on the sides. I usually cut the front of the wig to make it look as natural as possible," he told Allure. he's made more than 100 pieces for Mrs. Jenner, and that doesn't include celebrities like Cardi B and Rihanna.
No Rules for Having Fun

Kylie likes to dress up! The young mother cut businesswoman, who breaks the stereotype of us wearing neon green wigs or nude dresses. She combines runway trends with different aesthetics that are popular on the Internet, and whether we like it or not, she's a living, breathing die-cause.
While the $50 synthetic wigs were chosen for fun, there were no rules. Brands are finally starting to make them more premium, stylish, and appropriate for more than just the creepy Halloween look. Be brave and experiment with color, because that's how you learn what works best for you. Kylie was brave enough to wear extra-long wigs, including evening gowns and sportswear.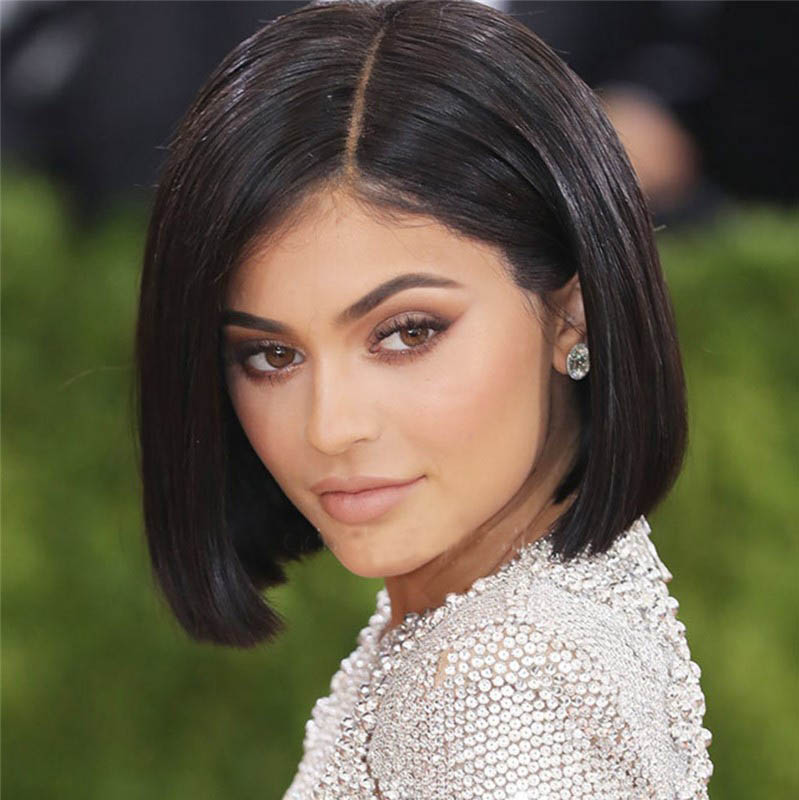 Another of her passions - for vividness. Neon, pastel or metallic, most of her unicorn wigs are full body hair color with no highlights or fashionable multi-dimensional painting techniques. This may be because she sells cosmetics through Internet photos, coating her hair with a single hue to draw more attention to the face and its features.
For Any Styles, There're Possibilities.
Kylie's lifestyle means she has to be in the locker room regularly while she sits with her stylist and discusses how she wants her wig to look. Don't give up even when things don't "get". So she attempts looks that aren't typical of her natural hair color, length, or texture. From sleek high bangs to sophisticated Hollywood waves, Kylie sticks to her aesthetic like a wizard. . It's sad that it took so much effort to achieve that "significant look" for her.
You never know when the party called life will end. Make the most of it! Think Samantha from Sex and the City, who rocked the story, even if she had to wear a cancer wig.There are many role models, but it's about embracing them and integrating them into your own life. You are the only one who decides So Kylie can also mean courage and omnipotence, not just salon time.
If for any reason you are looking for quality human hair wigs, visit the Donmily website is full of insta-her girls like Kylie wearing wigs and enjoying her life.
Does Kylie Jenner wear wigs all the time?
For the most part, Kylie generally wears wigs and extensions to change up her look on a moment's notice, which helps keep her dark hair healthy and strong, although she did go platinum blonde back in 2016.
What kind of wigs does Kylie Jenner use?
That is when everything took off into something really different. An array of the many different wigs Tokyo Stylez has created for Kylie Jenner over the years.