Bob Wigs Length Chart And Recommendations: Which Length Of Bob Wig Should I Get
Aug 04,2023 | Meru
If you are a person who likes cute styles, then I am sure you will love bob wig hairstyles. This haircut can add a lively and youthful vibe to a person. But different lengths of bob wigs can give a different look and feel, and different bob styles (such as curly or straight bob wigs can also give a different look).
1. What Is Wig Length?
There are more and more kinds of human hair wigs on the market. In this case, it is very challenging for people to find the best wig. To get a perfect look, one must research many things, such as wig length, texture, hair material, density, lace type, etc. Of course, choosing the best wig length is essential because if you don't get a proper wig length, your expensive human hair wig won't give you the glamorous look you want. Today we will teach you how to choose the best bob wig length in the following section.
Wig length is the measured length value from the roots of the hair woven on the wig cap to the ends of the hair. But you must straighten your hair for curly and wavy wigs to get an accurate measurement. This is because the curly and wavy texture makes the hair look shorter than its actual length - compared to straight hair. This is how it is measured no matter what wig is in place, especially on straight hair like the bob, which is more common.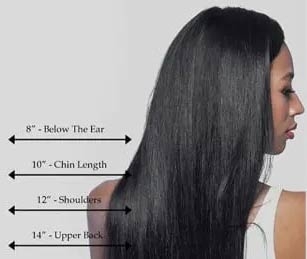 For short hair short hair is usually the length of hair from just below the ears to the chin, which is 6-12 inches. If you want to try short hair but are not brave enough to cut your natural hair, choosing short bob wigs is a great option. Such as the classic and stylish bob wig, super short and small pixie head wig, etc., all belong to the short hair range. In addition, there are many textures for you to choose from, for example, curly hair, straight hair, body waves, and so on. With a short wig and bangs, you will get a chic and elegant look like these Hollywood actresses.
2. Common Bob Lengths
The common bob wig length is usually between 8-14 inches. Beyond this length range, we usually don't call it a bob. Next, we will introduce the characteristics of each length of the bob wig, what they are suitable for people, and what kind of wear.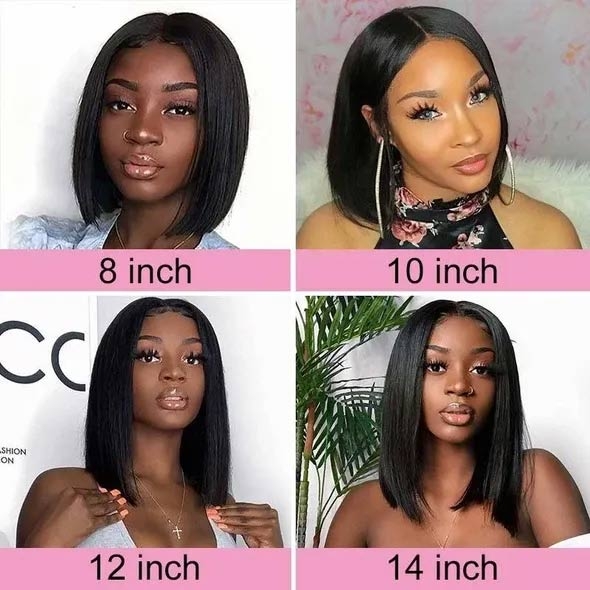 2.1 8-Inch Bob Wig
You can imagine a hairstyle that hangs down longer than 3-4cm behind your ear. If we usually observe more in our life, we will find that very young girls and middle-aged women more often use this length of hairstyle. If it is a small child, they will show the characteristic lively temperament of a little girl. But if you are a little older, you will again find that this hairstyle may make you visually older.
If you are in your twenties, you may find that this hairstyle has the potential to present two very different effects on your face: if you have a more flawed face, this very short bob will expose the flaws of your face shape completely. Of course, if you are very confident in your face shape, you can wear this wig when showing a unique young person's sense of maturity. Very fashionable and cool, with various visually unique dress codes, can significantly affect the effect.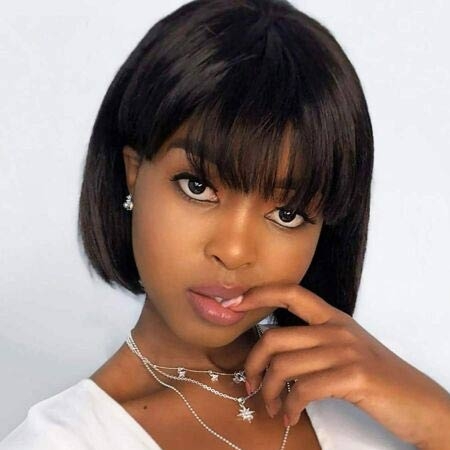 2.2 10-Inch Bob Wig
10 inches would be a slightly longer length than 8 inches. It is not as short as the 8-inch wig, which looks cold and exaggerated, nor does it look as mature as the 14-inch wig. Its length may reach the neck - if you are taller - or it may be shoulder length - if you are shorter.
Why do I mention this point specifically? As with the 12 inch wig, for slightly taller people and slightly shorter people - or people with shorter or longer necks, the effect that a 10 inch bob wig can have on them is completely different, depending on how far the tips can reach your shoulders. You know, whether the hair can cover your shoulders, for the overall effect of the presentation of the match is completely different.
2.3 12 Inch Bob Wig
With the 10-inch wig, it is roughly the same situation. This wig length range is also the length range that covers the shoulders - for most people. Compared to the 10-inch wig, this wig length is a little longer and elegant in the bob length range. 12-inch bob wigs are the universal wig length match for most people, especially for straight bob wigs.
Of course, if you choose a curly 12 inch bob wig, that length may also cover the neck. If you like curly bob wigs that are not shoulder length, 12 inches will be the right choice! Just try this bob wig with bang hair to fresh your look.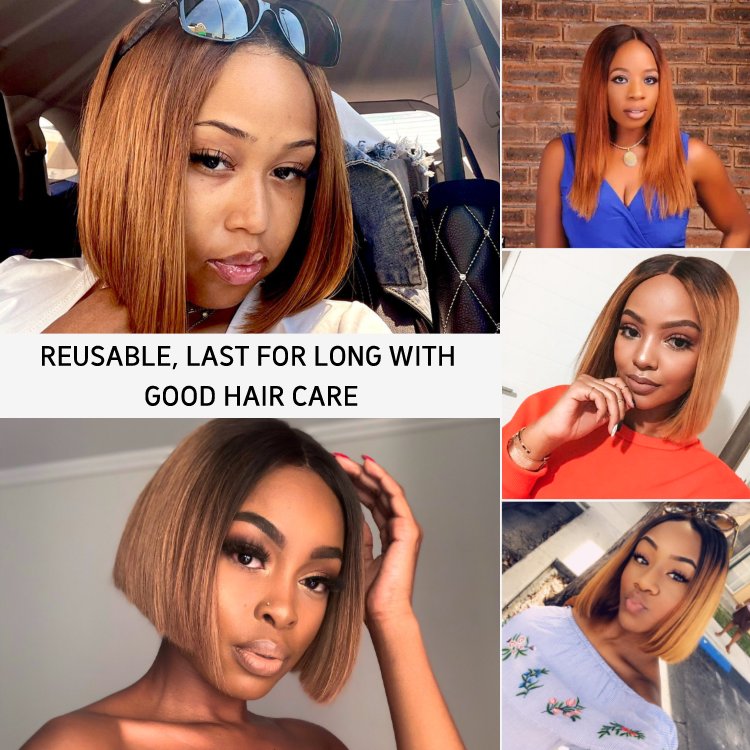 2.4 14 Inch Bob Wig
The 14 inch wig is the same as any other type of wig. The difference is only in length. This wig is not too long and not too short. When you put it on, it will come to your shoulders. The length of the wig is about 35 cm. No matter what type of 14 inch wig you choose, whether it is 14 inch curly or 14 inch straight, it will look great on you and is perfect for those seeking a short haircut.
A 12 inch wig is shorter than a 14 inch wig compared to a 12 inch wig, but it can still be close to your shoulders. This length will touch your shoulders or reach the top of your back. 12 inch and 14 inch wigs are popular wig lengths in medium-length styles. They are ideal for women who prefer shoulder-length hairstyles.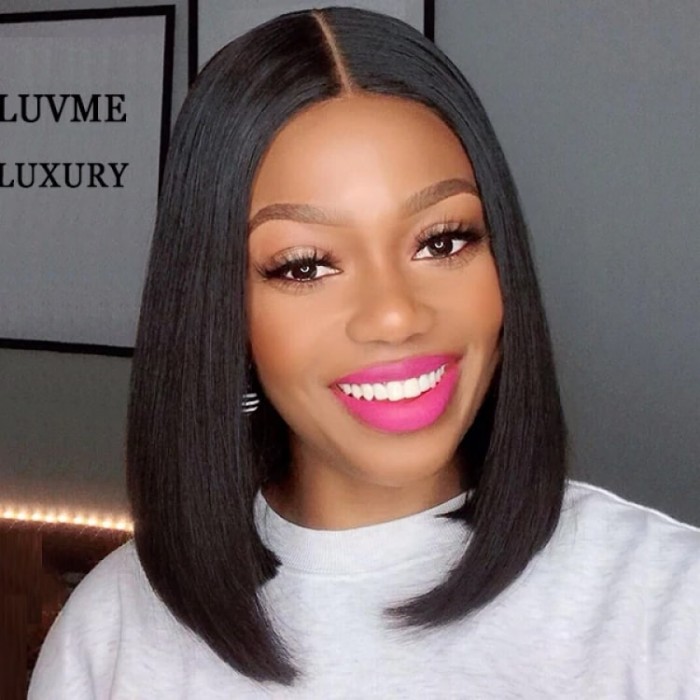 3. How Can You Measure a Bob Wig Hair Correctly?
If you want to ensure that the wig you have is the 8 inches, 10 inches, 12 inches, or 14 inches you want, you first need to measure it. To do this, you will need a ruler and your wig. The wig you have can be of any texture. However, if you are measuring straight hair it will give the most accurate results.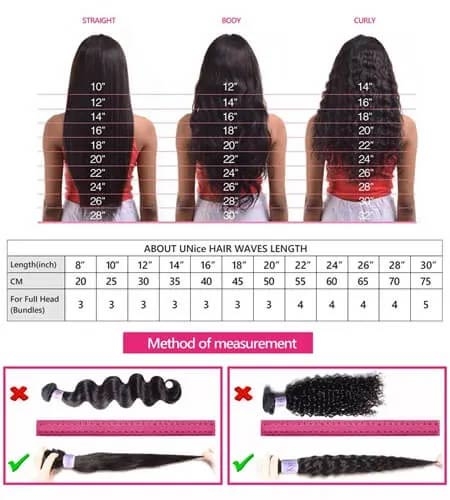 But if you have a curly wig, you need to stretch it before you measure it. Once you have prepared the wig, place it on a flat table and use a ruler to measure the length from the root to the end of the wig.
Comment