Headband Wigs: Everything You Need To Know
Aug.31,2022
This entry was posted in
Types
By Meru
More and more girls are choosing human hair wigs as their everyday look. headband wigs that don't need to be attached to your hairline, are inexpensive and easy to wear are becoming the first choice for many girls.
In the last couple of years, headband wigs have actually taken off into appeal, and it's not surprising that why! They're low-cost, simple to use, and can offer you a beautiful design in under 5 minutes. If you would like to know how to place on a headband wig, this article is for you! We'll stroll you through everything you need to know.
A headband wig is a kind of half wig with a fabric headband attached to the hairline. The remainder of the wig is made of wefts that have been sewn onto a thin layer of elastic fabric. Most headband wigs have built-in wig combs and a band that assists keep the wig in location. Like other wig types, headband wigs can be found in various lengths, thicknesses, textures, and colors.
Why Choose Headband Wigs?
You, if you are somebody who is brief on time after waking up in the morning, I think you might not be likely to choose wigs that need taping and duplicated modifications because they may use up important time after you get up in the early morning. If you want to sleep a bit more, unlike getting up half an hour previously in the early morning to take care of and put on your wig, then Headband wigs can be a quality choice for you. Headband wigs, as the name implies, are a combination of wigs and headbands that are attached in the front area with the hair sewn onto a soft wig cap. A headband wig is a wig with a headband connected. Headband wigs can be fixed with clips, adjustable elastic bands and headbands.
Headband wigs (click to browse) are options that use hair bands to hide a best hairline that is not possible with a regular wig, offering you a "virtual" hairline. They are really simple to use, simply put on your head to secure and adjust the position, take very little time and are a great option for when you remain in a morning rush.
On top of that, it's also very economical, making it an excellent option for newbies to get started.
When to Use A Headband Wig
Headband wigs are an excellent addition to any wig collection. But we comprehend if you're a little reluctant. Here are a few of the best times to use a headband wig.
1. You're trying to provide your edges a break - Headband wigs don't need any tape, gels, or glues to hold them in location. That means they're an outstanding method to give your edges a break from the tension wig adhesives put on them. You can also pull the headband over your edges to secure them from styling-related damage.
2. You wish to save cash - Headband wigs enable you to attempt a brand-new design without breaking the bank. They are nearly specifically maker sewn, making them far more inexpensive than other, more elaborately designed wigs.
3. You want to attempt something brand-new - One of the very best times to attempt a headband wig is when you're trying to find a modification from your normal regimen. Whether you're new to using wigs or a pro, headband wigs can be an enjoyable and practical alternative.
4. It's hot and damp - Headband wigs are among the most sweatproof alternatives for wig-wearing. You do not need to stress over sweating out your gel or glue, and the headband product can even help wick away sweat.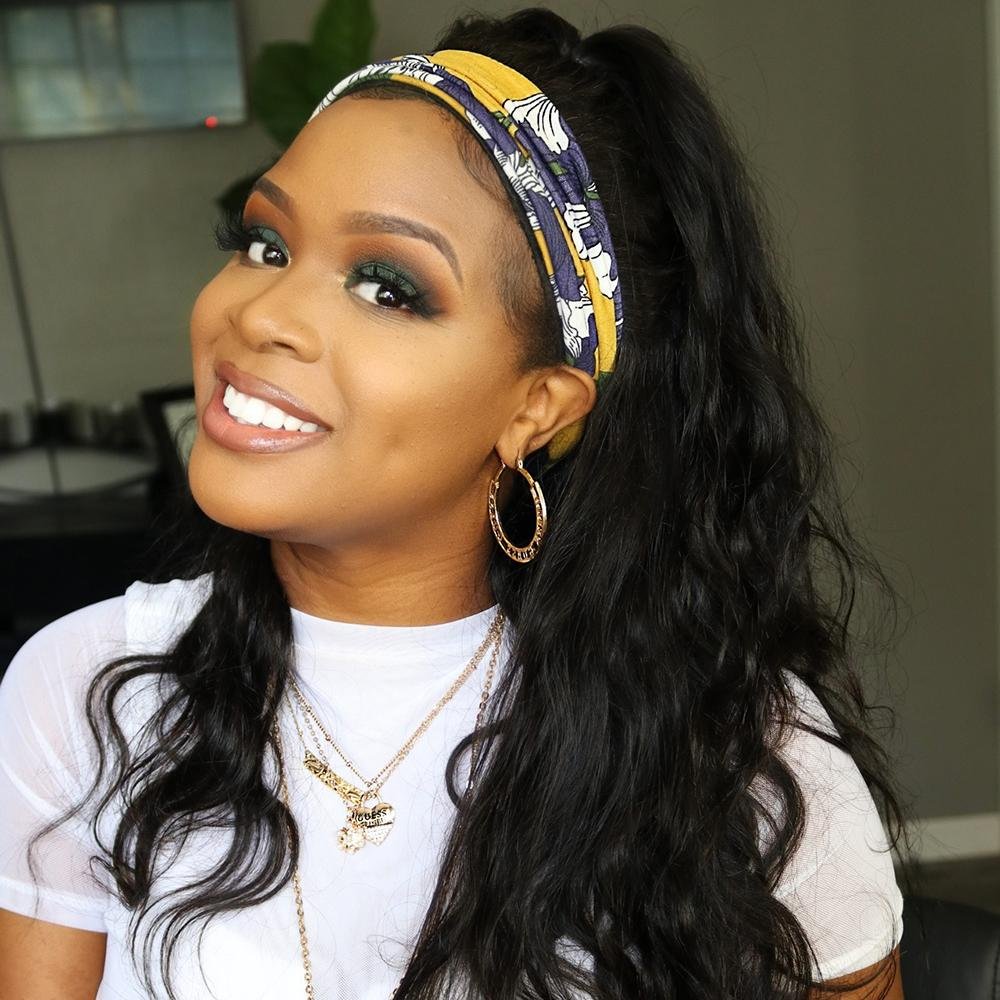 5. You're new to wigs - If you're brand-new to using wigs, headband wigs produce an easy intro to the art of wig using. There are no adhesives to stress over, and you can have as much or as little of your natural hair out as you choose.
6. You're searching for a protective design - Like other wigs, headband wigs leave the majority of your hair covered and out of sight. That means you will not have to design your natural hair as much or as typically, which minimizes the quantity of damage you experience.
7. When you're in a rush - Headband wigs can be a quick alternative to other kinds of wigs. You do not have to invest much time styling your natural hair, and there will not be any time invested awaiting adhesives to dry.
What Are the Downsides of Wearing a Headband Wig?
Now that you know the advantages of headband wigs, we 'd like to share some of the disadvantages. That way, you can have a balanced perspective while deciding if they're a great suitable for you.
1. They might harm your hairline - Any wig that's too tight can produce friction that damages your fragile strands. When a headband wig does not fit well, it can cause damage and hair loss.
2. They are not as flexible as other wigs - Headband wigs don't have a hairline, so you won't have the ability to part them freely. Additionally, the hair wefts on a headband wig face backward. That indicates you may not have the ability to achieve styles that need the hair to be pressed forward.
3. They aren't as breathable - The material headband wigs are made from isn't as breathable as other wig types, specifically when comparing to the lace wigs, consist of lace front, complete lace and 360 lace wigs. If you're concerned about getting too hot, choose a wig made from a breathable product, like lace.
Whether you like them brief and curly or streamlined and long, headband wigs are a fast and simple way to get a beautiful you've do. We hope this short article has shown you how to apply them and provided you some insight into what makes them work so well. Ensure you keep one or two headband wigs in your wig collection so you're always ready to kill the day!
Are The Headband Human Hair Wigs Caps Open?
No. The caps of the headband wigs are mesh caps. It is an upgraded cap that with elasticity like the open cap. Some new customers worry that it is not as good as the open cap. We clarify it that is as good as the open cap, and it is an upgrade cap that is made according to the customers' use feedback, the quality is better than before previous caps. But the price did not rise. So it is more cost-effective and you can rest assured to place orders.
Are The Size Of Headband Human Hair Wigs Caps Right?
The upgraded human hair headband wig cap is 22inches-22.25inches. And the strap is elastic and adjustable. You can adjust it to the proper size. Meanwhile, you can also put the wig back of your head a little. But if you are still feeling tight, you can consider changing other types of wigs. For example, change it to a full lace wig cap with a size of 22.5-23.5 inches. Or try to choose other similar products that are suitable for you.
How long do headband wigs last?
Generally speaking, headband wigs can last from 6 months to a 1 year. Care it like your own hair, then it could last longer than 12 months.