Wigs With Bangs,How To Wear And Cut In An Ideal Way?
Aug 07,2023 | Bella
When you are happy to buy wigs with bangs that suit you, you get home and want to wear them with bangs, only to find out that you don't know how to wear them properly. And people often face the problem that the length of the bangs of wigs with bangs is not suitable for them, and they need to trim or thin some. What should you do at this time? The next blog will explain in detail how to wear wigs with bangs correctly and trim wigs with bangs.
Ⅰ. How to wear wigs with bangs
●Tools you need to wear wigs with bangs
First, you need to prepare some tools to ensure that the process of wearing wigs with bangs will go on smoothly. Wigs with bangs, hair dryer, broad tooth comb, wig cap, bobby pins, and styling products.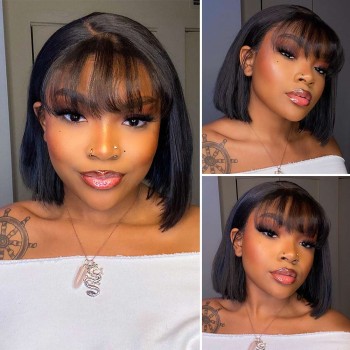 1. Wash your wigs with bangs
Your wigs with bangs will inevitably become greasy or dusty because they are worn or placed on the wig stand for a long time. So the first step you need to take is to wash your wigs with bangs and wait until they are semi-dry to blow dry them with a hairdryer and a wide tooth comb. For this step, you will need to run your hair dryer through your hair and use the comb at this time. After blowing dry, part the wigs with bangs in the middle and then part of the hair you want to cut out of the bangs.
2. Handle the wig cap
In this step, you need to remove the extra lace of your lace front wig you feel on the edge of your wigs with bangs and then trim and fix the wig cap you are wearing on your head. If the colour of the wig cap and your skin colour are not very compatible, you can apply some hairline powder on the edge to achieve a natural effect; after the treatment, your hair will coil and put and put into the wig cap.
3. Wear wigs with bangs
After wearing wigs with bangs, it does not mean that everything is over; you need to apply some fixing products to the hairline part of the wig to make the lace mesh better fit the scalp, and finally, apply some makeup products close to your skin tone on the edge of the hairline. The rest of the steps you need to deal with the volume or curl of your hair according to your own styling needs; you are already wearing your wigs with bangs. Next, let's see how to cut wigs with bangs better.
Ⅱ. How to cut wigs with bangs?
●Tools you need to cut wigs with bangs
You need to prepare a mirror of the right size and a sharp pair of scissors.
1. Divide the hair of wigs with bangs
Wear the wigs with bangs on your head, or you can put them on a wig stand if you want, but wearing them on your head will give you a clearer and more intuitive sense of what length and thickness of bangs you want. Then comb all the hair on the top of the wigs with bangs straight, part the part you need to trim the bangs, and the hair that doesn't need to be trimmed can be pinned back with bobby pins or tied up with a hairband. If you want thicker bangs, part more hair to cut wigs with bangs; if you need thinner bangs, part less hair out.
2. Tips for cutting wigs with bangs
This step starts with trimming your bangs; please don't cut them all at once because if you cut them this way, the hair on both sides will be gathered in the middle, which will make your wigs with bangs look more curved. Divide your bangs evenly into two parts and repair one of them first. Hold your bangs with your fingers and trim your bangs vertically, don't cut too much at once; trim a little, a little but many times; follow this method to trim.
3. To trim wigs with bangs
The length of each trim is recommended to be about 0.5 inches. Because wigs with bangs are a wig, once we trim the bangs, the hair will not have the ability to regrow. After you cut a part of it, you have to look closely at your bangs to see if they are the ones you want and ensure they are your ideal bangs before proceeding to the next step. You can put your bangs down on your forehead and look in the mirror to see if they are longer or shorter. If it is the length you want, trim the other part you just parted.
4. Make small adjustments to the wigs with bangs
According to your preference and needs, Comb your bangs to see if there is any part of your hair that is particularly long; if it is particularly long that part you need to cut this part short according to the length of the uniform bangs.
5. Design your favourite hairstyles of wigs with bangs
Grab your bangs with your hands to make them more fluffy and natural. After confirming that there are no problems, you can use a hair straightener or curling iron to make the bangs look the way you want, and finally, put the hair down at the back, deal with the back half of the hair and bangs articulation, place, the whole and then trim your wigs with bangs shape, your wigs with bangs will be successfully trimmed!
Is it not that difficult to trim the bangs of wigs with bangs? This method also applies to wigs without bangs; it is very suitable to trim your hair to create a bang look. donmily mall, all wigs with bangs are 100% human hair wigs, with very good quality; if you buy, after a period of time, want to trim is also very suitable.
Comment