Bold And Beautiful: The Newest Black Hair With Red Highlights Ideas
Oct 07,2023 | Bella
It's hard to find the right highlights to match black-based hair, so don't underestimate the power of red highlights when you think black alone is too boring. black hair with red highlights can be a beautiful, stylish, and unique hair color to brighten up your black hair. Read on to get new hair color ideas for black and red balayage hair and become the most eye-catching presence in the crowd!

I. Why black hair with red highlight has become so popular lately?
Black hair, brown hair, and blonde hair are pretty much the most common hair colors seen on the street, and you have to try something different to break the look and stand out! It's not a problem for women who dare to try bold and new colors, but most of us are in the more cautious category. Adding some bold color highlights to natural color is gradually becoming the new attempt for girls to change their looks. Red, bright and bold, is enough to bring new life to black hair and add a subtle dimension to dark hair. After seeing golden brown hair color, black hair with red highlights hair, a not too flashy but eye-catching color, is becoming all the rage.

II. How to add red highlights to black hair?
It is recommended to distribute the red highlights on the hair in a reasonable way while keeping the hair density under control. The use of bleach will make the red color brighter and more vibrant on black hair, which is the key point to make sure the color stands out enough. Usually, combine the bleach and developer well, pick out the strands of hair you want to bleach, brush the mixture evenly through the hair, and wrap each strand of bleached hair with tin foil. Leave the hair for half an hour and then rinse it off. Of course, this is only a small-scale picking method, you can do large red picking or gradient color treatment, the latter two mentioned will be more difficult, we suggest you consult a professional hairstylist.
III. The newest black hair with red highlights ideas to try
1. Silky straight black and red balayage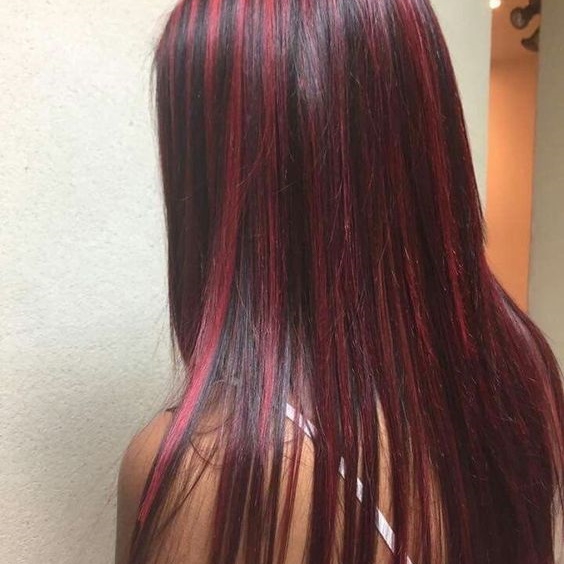 If you want to try bright red hair but prefer to create a subtle gradient, try piecey black hair with red balayage hair. red highlights pour down from the top of the head like a beam of neon light shining on the hair, this is the most classic way of balayage, red highlights are very lazy and randomly scattered in the middle of the black hair. The red highlights are very lazy and randomly scattered in the middle of the black hair, the red and black match perfectly and this look has a very big potential to be popular. The red hair is not covered with large areas of red hair, but the red color conveys an active feeling that can be well felt.
2. Shoulder-length red peekaboo black hair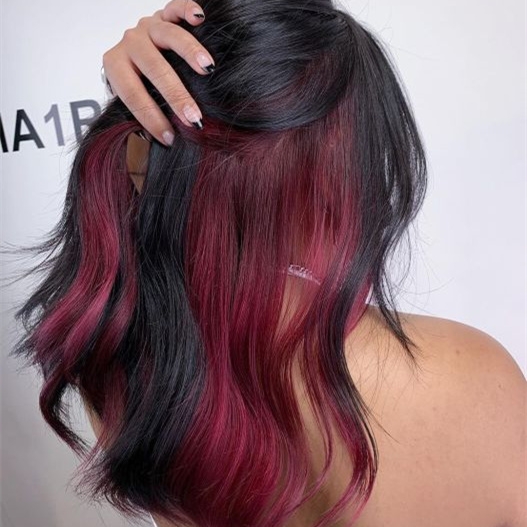 The peekaboo hair is more of a mysterious hair color and overall look. The bottom layer of hair is dyed with red as the base color and then covered with natural black. The red hair will show up as the breeze blows or as you inadvertently move your hair, which is perfect for those girls who don't like overly flashy hair colors. I think short curly hair seems more suitable for peekaboo black hair with red highlights.
3. Short curly wavy red highlights on black hair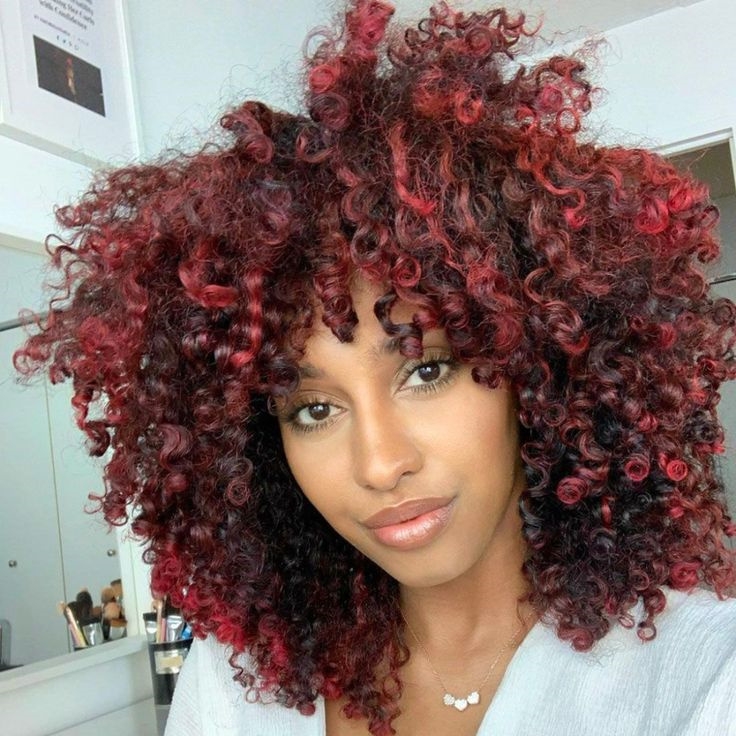 I'm used to seeing black curly hair, and few people seem to choose to dye it a different color based on natural hair, but natural hair is actually the best choice for highlighting hair volume, and the red and black match is actually very durable. The natural black color remains at the roots of the hair, and the darker red color is dyed from the middle to the end of the hair. The overall look is not only a lively red but also a natural black, and some of the hair will have a reddish brown color such as copper color. However, it is important to take care of the hair after the dyeing and bleaching process on the native hair.
4. Loose wave red and blonde highlight on black hair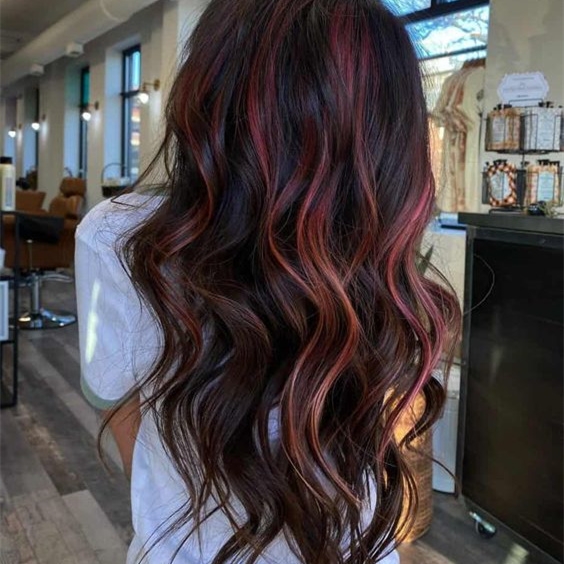 A few strands of blonde hair into the black hair with red highlight hair becomes different, medium length hair can boldly try loose wave, slightly curly hair, large waves make the whole look very feminine, in this look, for the choice of red I prefer dark red that is closer to the black red. It is best to make a gradual color change on each strand of highlighted hair, that is, darker at the roots and gradually decreasing towards the ends, so as to better add golden highlights at the ends of the hair. This dyeing process will be very complicated, the good news is that Donmily has prepared the same wig for you to love beauty, look and click to buy it!

5. Ombre black hair with red highlight locs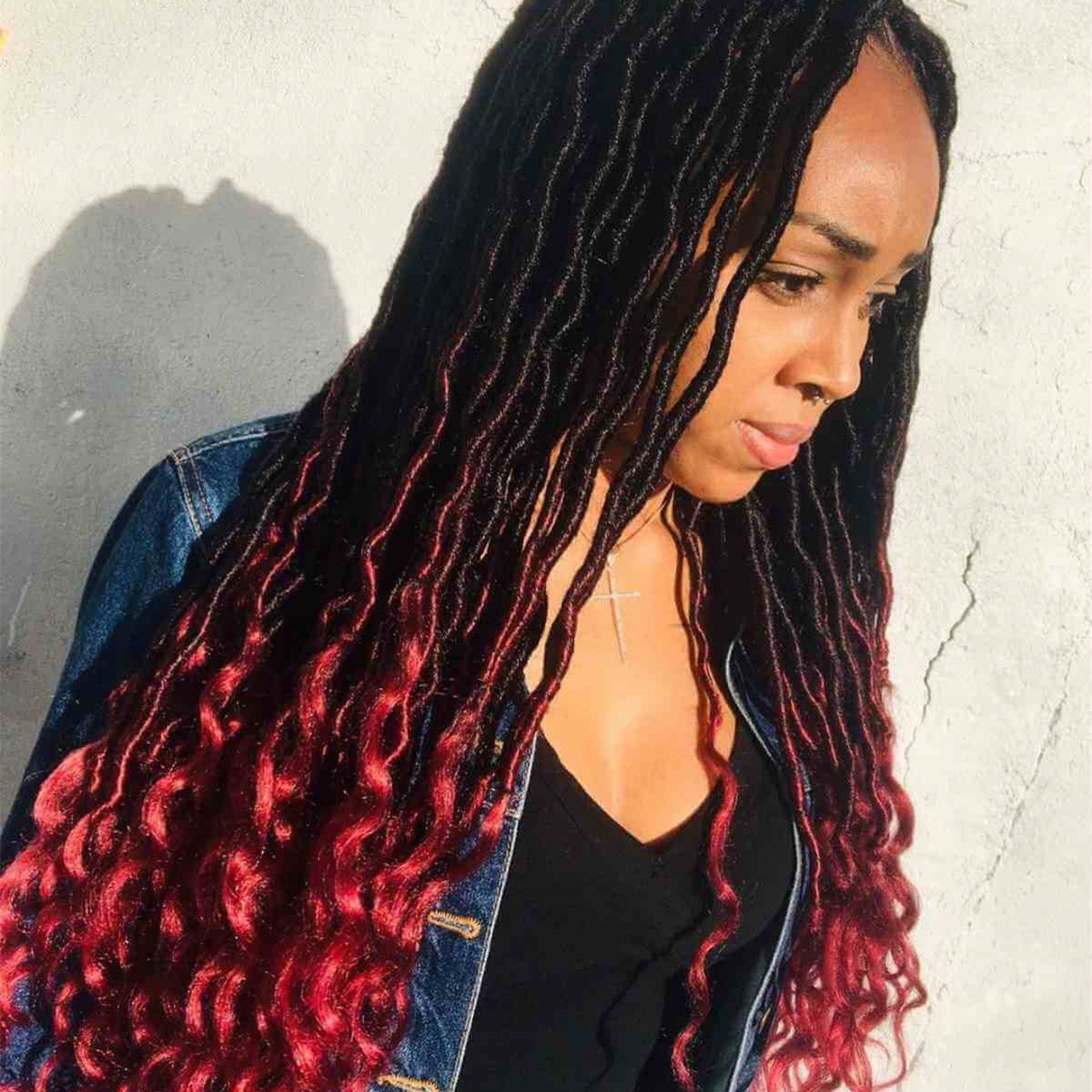 Gradient color weave hair seems to be rare, it is this uncommon in turn will make your look special enough. Choose to buy some red bundles and weave the bundles into the weave, for a gradient effect you need to start from the middle of the hair. Try coi leray braids, which have become popular recently, and curl your hair at the ends to show off your red hair!
IV. Conclusion
Donmily new, black hair with red highlight can give you a new wig color experience!
Comment