Steps To Detangle Synthetic Wigs
Oct 19,2023 | Meru
In the last few years, I've started to get braver about wearing longer wigs. I used to stick to short crops because I didn't think I'd be very good at looking after longer ones. Short wigs have their own challenges – frizzing at the nape for example – but it's true to say that they're generally easier to look after. Longer wigs tend to get tangled, and that can lead to early frizzing*.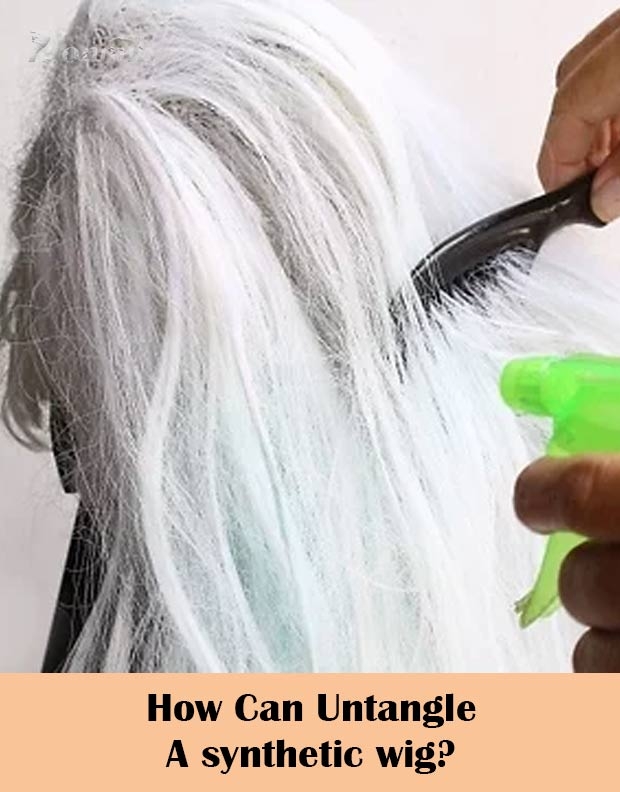 I thought it might be useful to share what I've learned, remembering these 5 stages below, to ensure you get tangle-free wigs – synthetic or human hair:
1. Untangle using the right brush/comb.
2. The correct wig care products are needed.
3. Steaming not straightening.
4. Wash your wig properly and with care.
5. Trim ends carefully and as a last resort.
For a more detailed description of each of these steps and some handy hints and tips from a seasoned wig wearer, please read on…
1. Use the right tools
Not all brushes and combs that are suitable for natural/bio hair are suitable for wigs. The different wig manufacturers recommend (and often can supply) combs that they think will avoid damaging their wig fibre. Different manufacturers use different fibre, so they've come up with different recommendations. For example, Jon Renau recommends using a wide-toothed plastic comb, while other brands recommend rubber-tipped metal prongs. For help on how to choose the best wig brush, please see our previous post.
My personal experience has been that the Jon Renau comb, whilst beautifully blunt and therefore not damaging, just can't untangle the finer knots that you get after a day wearing a long wig. So I use it as much as possible, and then you could use a wooden wig brush – very gently – to deal with the fine knots.
2. Use the right products
It's not ideal to use normal shampoo and conditioner on your synthetic wigs. And certainly don't use washing up liquid, washing machine liquid, fabric conditioner etc. other than in dire need! There are shampoos and conditioners that are specifically formulated for synthetic wig fibre. This because synthetic hair is very different from bio hair in terms of things like porosity, and therefore the mechanisms by which it can be weakened or strengthened need to be taken into account with the products you use. I've always liked the Gisela Mayer wig shampoo and balsam (aka conditioner), but as I've got a Dimples wig at the moment I'm trying their shampoo and conditioner, which seem good so far.
The same applies to styling products – normal hairspray is a no-no. You can get synthetic wig-safe gel and hairspray and it's much better for the fibre to use that.
There are also some products specifically designed to protect and enhance synthetic fibre, and to help the fibres glide across one another rather than start to frizz. Ellen Wille Hair Tip Liquid is a favourite among lots of us, and I also rate Jon Renau Wig Lustre, Jon Renau Detangling spray, and Dimples Hair Oil spray. Having absorbed all the dire warnings about never brushing your wig when it's just been washed and is still wet (seriously, don't do it, it stretches the fibres and pulls the knots at the base, leading to fibre shedding), I've always combed or brushed completely dry wigs.
The Jon Renau Detangling spray and the Dimples Hair Oil spray both serve a similar purpose – you spray a light mist onto dry fibres before you start detangling. It really does help without doing any damage, and it conditions the fibres too. These products have been a bit of a revelation to me and are now on my 'must-have' list.
3. Steaming
So, you've used the right brushes and products, and your wig has stayed in good condition for a few months, but eventually, all wigs do frizz. You'll be able to manage it for a while but eventually, it'll get too bad to carry on wearing your wig. What to do? Well, you can try steaming it. This involves heat, which as we know, can damage wigs, but used in a carefully controlled way it can straighten out the kinks in the fibres that cause frizz.
Personally, I only tried this for the first time on an old wig when I already had a new one available to me, in case I made a mess of it and finished the old wig off completely! But it's actually quite easy, and Lila made a great demo video a little while ago to show you how to do it. If you don't want your wig to be poker straight after steaming there are some tricks you can use to get a bit of wave back in, and if people are interested, I'll do a demo video of that – let me know in the comments if that would be useful.
4. Wash your wig properly
On order to achieve tangle-free wigs, sometimes all that is needed is a good wash of your wig! Overall, your wig should ideally be washed once a week, with products specifically designed for wig washing. Be sure to use cool water when washing too, to avoid any damage. For a step by step guide on how to wash a synthetic wig, then check out our previously created guide.
5. Trimming
I know, I know, it feels risky to take the scissors to your favourite wig! And it is a bit of a last resort. But if you want to keep it going a bit longer and you can bear to lose a couple of inches of length, why not give it a trim, or ask a hairdresser to do so?
I also used to do this with the fibre at the nape of short wigs – I could usually get an extra month or two out of them by trimming off the worst of the frizz at the tips. With a longer wig, the potential gains are even greater, and you could go an inch shorter every month for a while to increase your wig's longevity.
*Frizzing – For those who are new to wigs, frizz is different from tangling. It happens when the ends of the wig fibres get kinked and damaged (a bit like split ends, except more like bent ends if you can picture that?!), and then they start to clump together. It's kind of like Velcro – one fibre grabs on to the next and so on. All wigs do frizz eventually, but it's worth trying to stave it off as long as possible.
What do you do to keep your wigs tangle and frizz-free for as long as possible? Let me know about your favourite tips and tricks in the comments!
How do you untangle a synthetic wig?
Ultimately, a good, yet gentle brush will work on your synthetic hair, as well as on your actual head. If you prefer to purchase no tools, odds are you can use what you already have. I personally like using a mini Wet Brush because it is super gentle at detangling. A fine tooth comb also has its time and place
How do you fix a matted synthetic wig?
Boil a pot of water with a small amount of synthetic hair conditioner and then let it simmer. Carefully dip the hair into the water for a few seconds, making sure to move it around. Let the wig dry and style as usual. As a safer alternative, I suggest using HOT water instead of boiling water.
How do you soften and detangle synthetic hair?
To keep your synthetic hair soft, start by submerging it in a tub filled with cool water and shampoo. Let it sit for 5 to 10 minutes, gently swishing it the whole time. Then, remove the hair, rinse the shampoo off using cool water, and submerge it in a tub filled with cool water and conditioner or fabric softener.
Comment