How To Untangle A Wig
Oct 19,2023 | Donmily hair
One of the things that bother most people who wear wigs is that they tend to tangle. But before you throw away a tangled wig, it is important to note that tangling will happen. The good news is it can be very easy to detangle a wig when you know the proper processes. In this guide, we share with you our best tips and tricks on how to untangle a curly wig.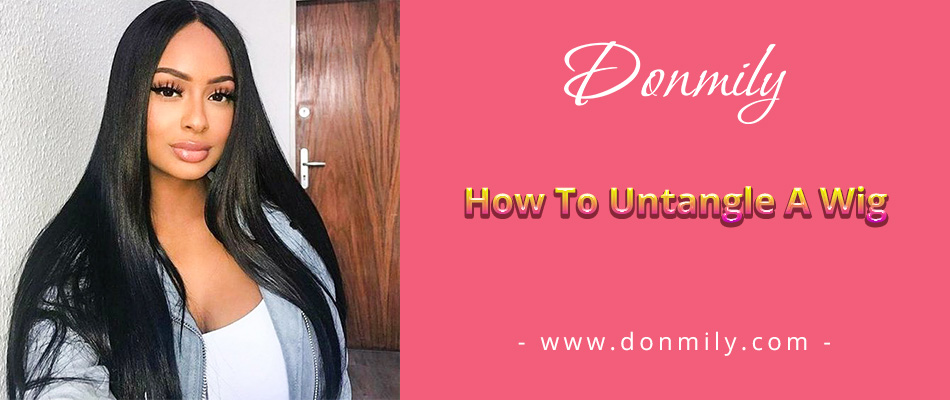 I. Collect the Things You Will Need To Untangle wigs
The first thing you need to do in any process is collect the tools you will need. In this case, you will need a hair brush, a streamer, and curling iron or flat iron depending on whether the wig is curly or straight.
II. Use Your Fingers
Begin by placing the wig on a mannequin head to secure it before you being the detangling process. Divide the wig into sections, with only a handful of hair in each section. Use your fingers to comb through each section. It is not a good idea to use a brush in this initial stage as it may cause the wig to tangle up even further.
When your fingers get stuck in the strands, try to open them gently without applying too much pressure to the stands. If you are unable to break through a certain section of the wig, or you come across a section that has formed a ball, just cut it out. The loss of a few stands will not make that much of a difference.
III. Move on to the Brush
When your fingers can go through the wig's strands without getting stuck, it is time to move on to the brush. The best way to brush the wig is to start from the ends and move upwards, but you should brush a very small section of hair to avoid tangling the hair again. The wig may look frizzy at first, but that is normal and only means that the detangling process is working.
IV. Time for the Steamer, Curler, or Flat Iron
The brush should remove all the tangles in the strands are not you are ready to restore the wig's original style. Depending on whether the wig was straight or curly, wet it lightly and then use a curler or flat iron to smooth out the strands and get that clean, smooth look. The following are some of the tips to keep in mind when detangling a wig:
• Avoid washing the wig when it is tangled. Water will only cause the wig to tangle, even more, making it harder to get the tangles out.
• If the wig is too tangled, consider using a detangling spray to detangle your wig. There are many varieties available in the market and many work wonders when it comes to detangling a wig.
• If you must use a comb for the detangling process, use only a wide-tooth comb. The combing process is also more effective when you start at the top of the wig and work your way down the strands if possible.
• No matter the tool you are using to detangle and style the wig, be gentle with the process. It can be tempting to pull at stubborn spots just a little harder, but this can cause unnecessary breakage or even cause the wig to frizz more than normal.
• Once you're done, spray the wig with oil to restore its luster.
How do you soften and detangle a synthetic wig?
Always remember that hot water damages the wig texture and makes them rough, so wash them with cold water. Add one cup of fabric softener to make the wig texture sleek and soft. This fabric softener also adds shine to your wigs.
Why does my wig keep getting tangled?
"Tangling can depend a lot on how well the wig is made and whether the cuticles are all going in the right direction or if it's been processed with some kind of chemical or color; if the hair has been laid in wrong or it's been treated, then it's more likely to tangle.
Does detangler work on synthetic wigs?
You can't use natural hair products on synthetic wigs. You can detangle your synthetic wigs with a wide-tooth comb or with your hand depending on the curl type. You can't use tight-toothed combs to detangle your wigs. You can style your synthetic wigs with rollers or curling rods.
Comment