How to Pluck Lace Frontal Hair Wig
Oct 13,2023 | mo jinling
When it comes to lace frontal hair wigs, it's all about natural. And the key point to being natural is to make sure the hairline is seamless and flawless so that no one will question if it is a hair wig. Although some human hair wigs come in pre-plucked already, you can still pluck it a little bit to give a realistic look. So how to achieve that? You will need some plucking skills to make your lace frontal hair wigs look natural. In this article, we are going to show you a beginner-friendly guide on how to pluck hair wigs.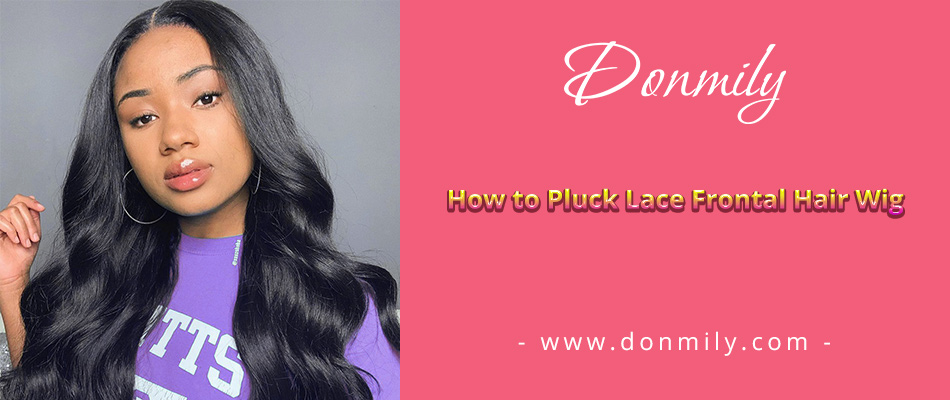 What you will need to pluck a lace frontal hair wig are a wig stand, tweezers, combs, pins, and of course, a lace front wig. As you can see, the tools are simple to use. But you will give it a little patience to make the wig look so natural.
Step 1 Preparation For lace frontal
Put your hair wig on the wig stand and secure it with pins. This step is very necessary although every easy. If the wig is not secured well, it will slide all over when you are plucking it.
Step 2 Comb hair into lace frontal
Use a comb to run it through your hair from the front, smoothly outline the hairline, and get rid of the tangles and knots.
Step 3 Pluck your hair and wear the lace frontal
Now you are ready to pluck your hair. Use tweezers to pluck the hair back from the front strand by strand. The main area we are going to pluck is the hairline. To make a natural hairline is to remove excessive hair from the hair wig. The human hairline has a gradient flow from light to dark. And the whole point of plucking is to make the gradient flow into the darker area. In order to allow that to happen, you will want to do hair strokes. This is to make sure that the hair is spaced out instead of closed to each other when you pluck the hair strand. So that you can give it a more natural look and get rid of bald spots. Comb out the excessive hair you've plucked out and here you will have the most natural hairline on the front.

Step 4 Finish pluck your hair into lace frontal
After you are done with the lace frontal hair, you will need to repeat that plucking on the ear-to-ear section. The hairline out from the wig is straight mostly. But if you want it to be natural, make sure the hair strokes start all the way from the beginning of the hairline. So it will display a better look if you pluck it from the front to the ear section. After you've done with both ear sections, the plucking is officially completed. And there you go, the most natural hair wig is there.
The point of plucking is to make the hairline of the wig less dense by plucking out excessive hair, more natural like human hair. If you are just lazy or don't have enough time to use plucking, choose the wig type that is pre-plucked, then you need to do less plucking. All lace front hair wigs on Donmily come in pre-plucked, giving you a natural feel.
Comment