How to Customize Your Side Part Wig for a Natural Look
Oct 07,2023 | Bella
Creating a flawless hairstyle with a side part wig is a great option for anyone, regardless of their face shape. The beauty of this style lies in its versatility, as you can opt to part your hair on either the left or the right side. By donning a side part wig, you can achieve a voluminous and natural-looking hairstyle while concealing areas of thinning hair. Here are some tips for achieving the perfect side part wig look.

I. Steps to install the perfect side part wig?
To start, make sure you have the side part wig that you have purchased and check if it has the right size and length that you desire. Adjust the size of the wig cap accordingly, and then put on a wig cap over your hair. It is recommended to choose a wig cap made of breathable material, which allows your scalp to breathe more easily.
Step 1: Prepare the wig lace
Select a foundation that matches your skin tone and apply it to the lace on the wig to make it blend in seamlessly with your scalp. Apply a small amount of foundation onto the back of your hand and use a foundation brush to evenly apply it onto the lace.
After trimming the excess lace, use a blow dryer to dry the lace and then use a pair of scissors to cut off any remaining edges. For beginners, using a brow scraper to cut the lace edge is an option to avoid mistakes.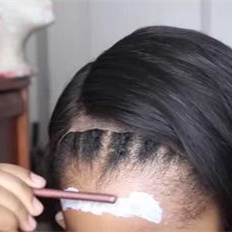 Next, apply hairspray or adhesive spray to the lace and place it on your forehead. Use a hair dryer on cool air to dry the glue and then trim any excess lace with scissors.
Step 2: Create baby hair
To make your side part wig look more natural, it's important to create baby hair. Start by using a fine-tooth comb to section off some hair from the front of the wig. Then, trim the hair to the desired length and use a headband to hold the baby hair in place on your forehead. Leave it in place for about five minutes, and then remove the headband. During this time, you can decide which direction to style your hair in, either to the left or to the right, depending on your preference.

Step 3 Making the side part and combing the hair
The third step can be done simultaneously with fixing the baby hair. For a side part to the right, use a fine-tooth comb to section off two-thirds of your hair to the right side of your head. After parting the hair, use a hot comb to smooth out the wig and prevent excessive fluffiness.

Step 4 Styling
After finishing the previous steps, you may notice that the hairline seam is not as natural as desired and may have a whitish color. To fix this, you can use a bit of loose powder or hairline powder and apply it evenly on the hairline using a brow powder brush. Then, take out your heat styling device - a curling iron for curly hair or a flat iron for straight hair - and style your side part wig as desired.

II. Select side part wigs for beauties to try
1. bob wig side part straight natural black hair

bob haircut and hot weather is the most matching hairstyle, get rid of the long hair stifling heat but retain the feminine charm, even in the summer to keep cool and beautiful. This wig has a very smooth 100 percent human hair will not easily fall off and knot, 13 * 4 lace suitable for most people also easier to create a different look.
2. shoulder length dark red burgundy side part bob wig

The end of the hair is right at the shoulder length and the neat cut makes this side part wig look very clean and neat. The red burgundy hair is a more original and daring attempt than the natural black, which will definitely make you the brightest presence.
III. Conclusion
If you're looking for a quick way to transform your dull hair, a side part wig is an excellent option. It not only adds volume and lightness to your hair but also covers up thinning areas. So, if you're interested in trying out a side part wig, don't miss Donmily wig!
Comment