How To Style Knotless Braids With Beads 10 Distinct Hairstyles Ideas
Oct 07,2023 | Bailee
Knotless braids with beads have emerged as the trendiest and most fashionable protective hairstyle of today. This captivating braided style seamlessly blends traditional braids with an array of beads in various sizes and colors. The versatility of knotless braids with beads allows you to experiment with different braiding techniques such as cornrows, box braids, and more. Within this article, we will explore the latest ten variations of knotless braids with beads, as well as provide guidance on how to create and customize this stunning hairstyle.
I. Long knotless braids with beads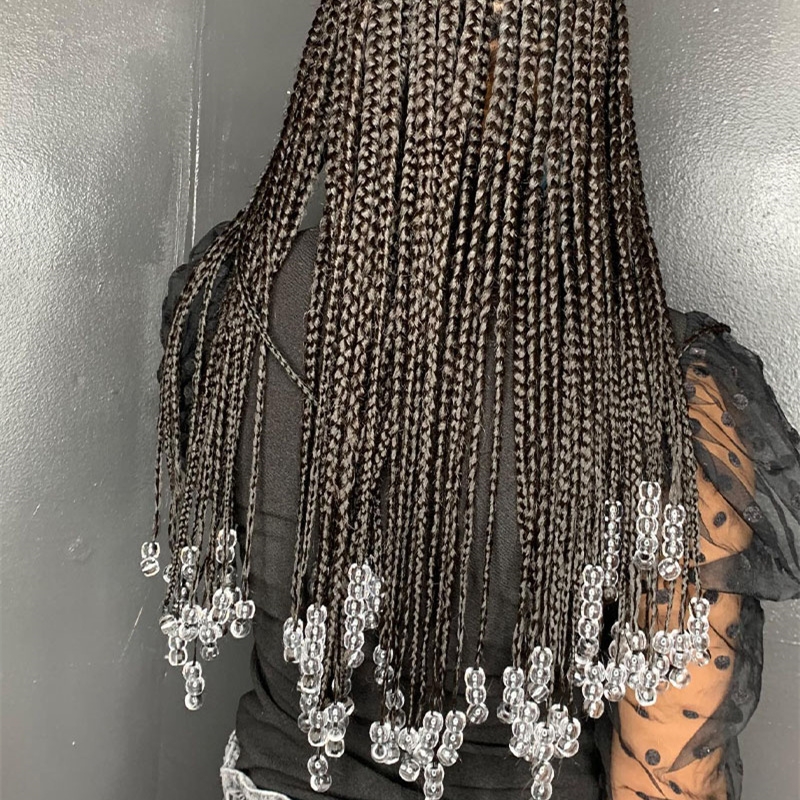 If you possess long hair and have a fondness for knotless braids with beads but desire a more subtle appearance, consider trying the hairstyle depicted in the picture. Sometimes, you may prefer to exude an understated elegance rather than making a bold statement. By incorporating a few braids and a scattering of beads, you can effortlessly create a charming and graceful beaded hairstyle that strikes the perfect balance between cute and refined.
1. Transparent beads short knotless braids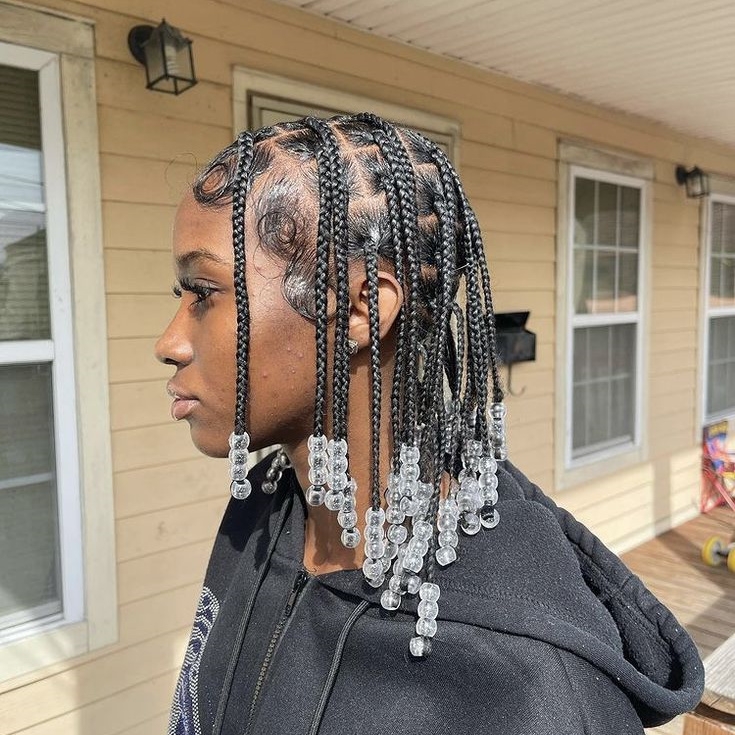 Short hair offers the advantage of easier braiding compared to long hair, resulting in significant time savings. Moreover, caring for short knotless braids with beads tends to be less demanding. However, simplicity doesn't equate to dullness, as short knotless braids offer a plethora of stylish possibilities. Experimenting with tying your hair on the sides, near your ears, allows the beads at the end of your braids to dangle gracefully, resembling elegant pearls adorning your ears. This natural and charming look requires minimal additional styling. Even when worn in a loose and flowing manner, short knotless braids with beads possess an innate allure that effortlessly captures attention.
2. Knotless braids with wooden beads
When I see these wooden beads, they evoke a sense of ancient totems and remind me of the majestic headpieces worn by ancient Egyptian princesses and queens. The rustic charm of the wooden beads adds an ethnic touch to the hairstyle. Apart from adorning the ends of the hair with wooden beads, one can also choose to incorporate charms into the middle of the knotless braids with beads. These charms can take the form of small shells or similar items, creating a hairstyle that is perfect for the hot summer or for attending a party. With such embellishments, you will undoubtedly stand out as the most unique individual in the room.
3. Medium knotless braids with beads with a high bun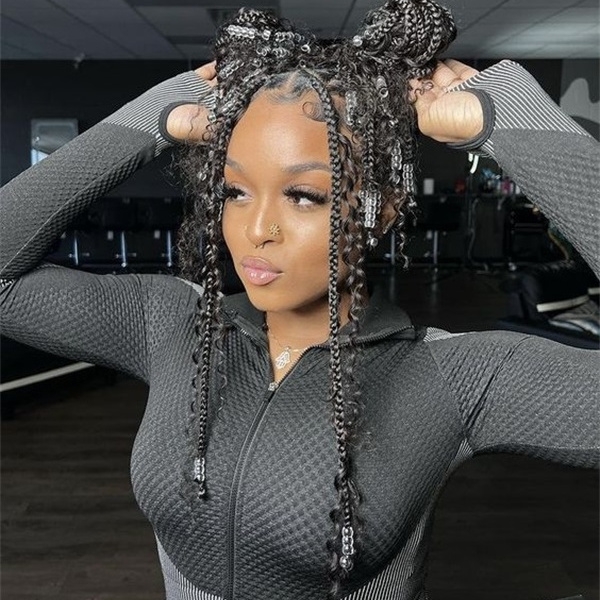 Rocking a high bun with knotless braids and beads is undeniably one of the trendiest hairstyles around, instantly transforming you into a rap diva. The addition of beads enhances the allure of the hairstyle, infusing it with a sexy and stylish edge. For individuals blessed with thick, voluminous hair, medium knotless braids with beads are the perfect choice. Opting for medium-sized braids prevents the hair from becoming overly bulky and ensures that the beauty of the braids remains intact. This size strikes a balance, allowing for manageable volume while still achieving a captivating sense of style and intricate design.
4. Knotless braids with beads with two buns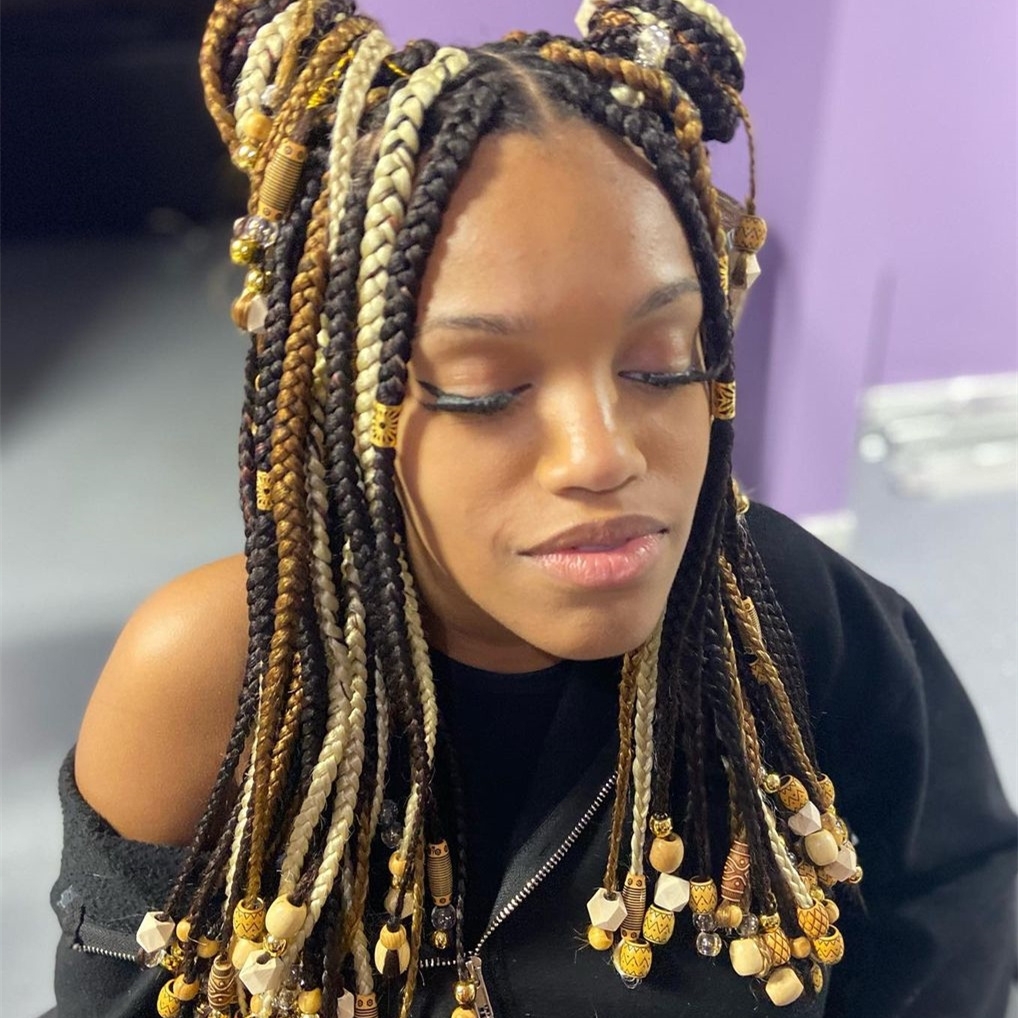 Knotless braids with beads styled into two buns are not only a great choice for adult women but also an adorable option for children. Adult women can infuse a touch of playfulness into their style by trying this hairstyle, while young ones will appear lively and smart with knotless braids and beads. The addition of clear beads and delicate curls will enhance their brightness and cuteness, creating an irresistible charm.
5. Burgundy knotless braids with beads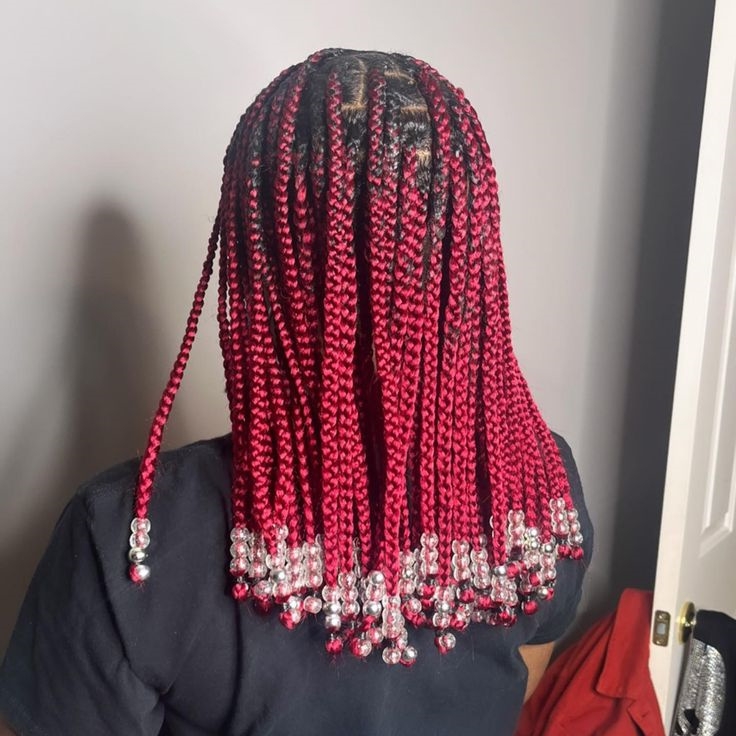 Burgundy hair, with its alluring and seductive appeal, can be beautifully enhanced with the addition of beads as decorations. If you're drawn to warm-colored hair but prefer to avoid extremely vibrant shades, burgundy is the perfect choice for you. When the sun illuminates burgundy hair, it exudes a rich texture reminiscent of red wine. Weaving beads at the ends of your hair adds a delightful sense of movement, bringing your hair to life and enhancing its overall allure.
6. Bob knotless braids with beads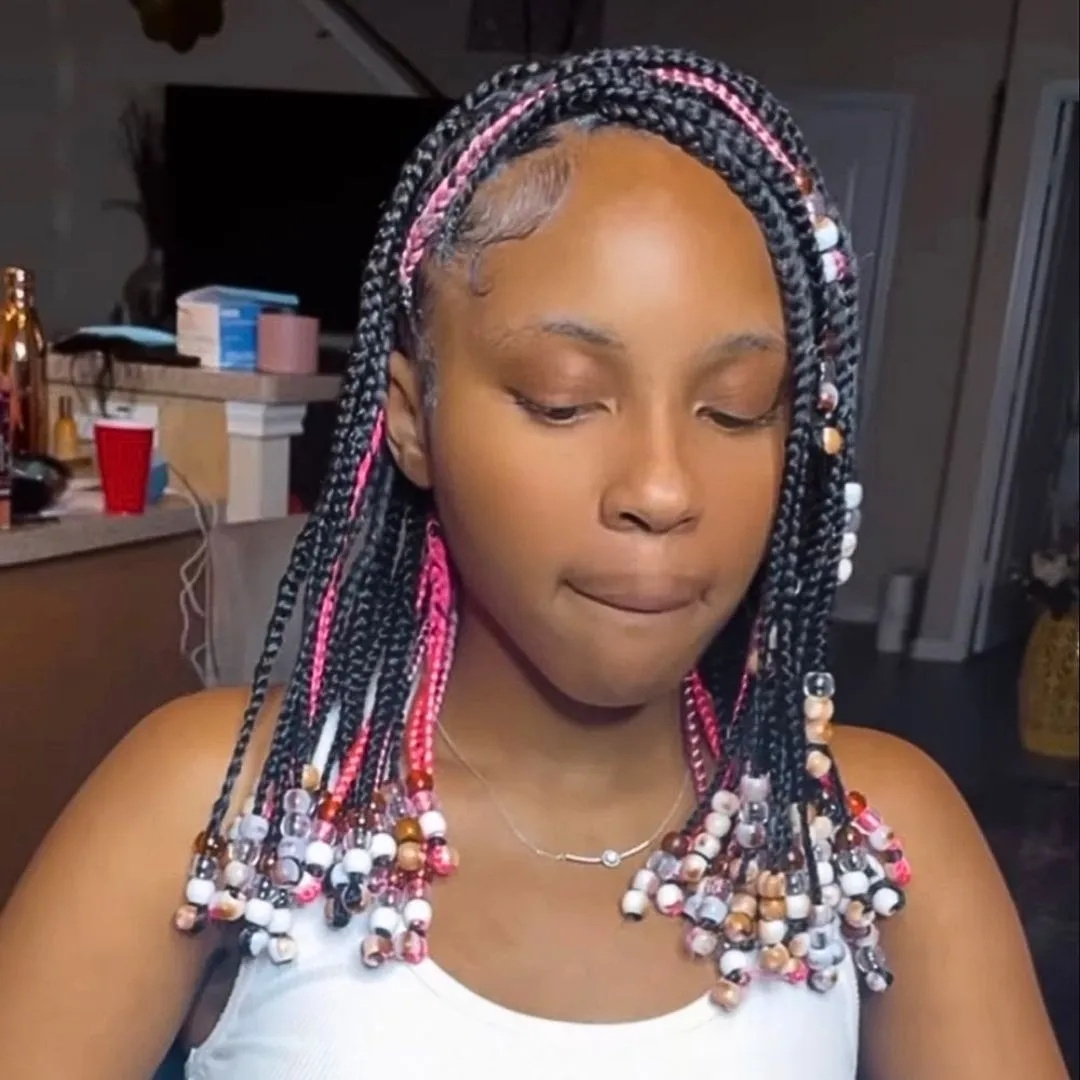 Bob knotless braids with beads are an ideal choice for African-American beauties, as the bob hairstyle offers versatility that seamlessly transitions from daily life to professional settings. It exudes an everyday charm while also providing the sophisticated look of a confident working woman. Bob knotless braids with beads combine glamour, beauty, and a touch of sexiness, resulting in a captivating style that perfectly embodies your unique personality and garners attention wherever you go.
7. Orange brown knotless braids with beads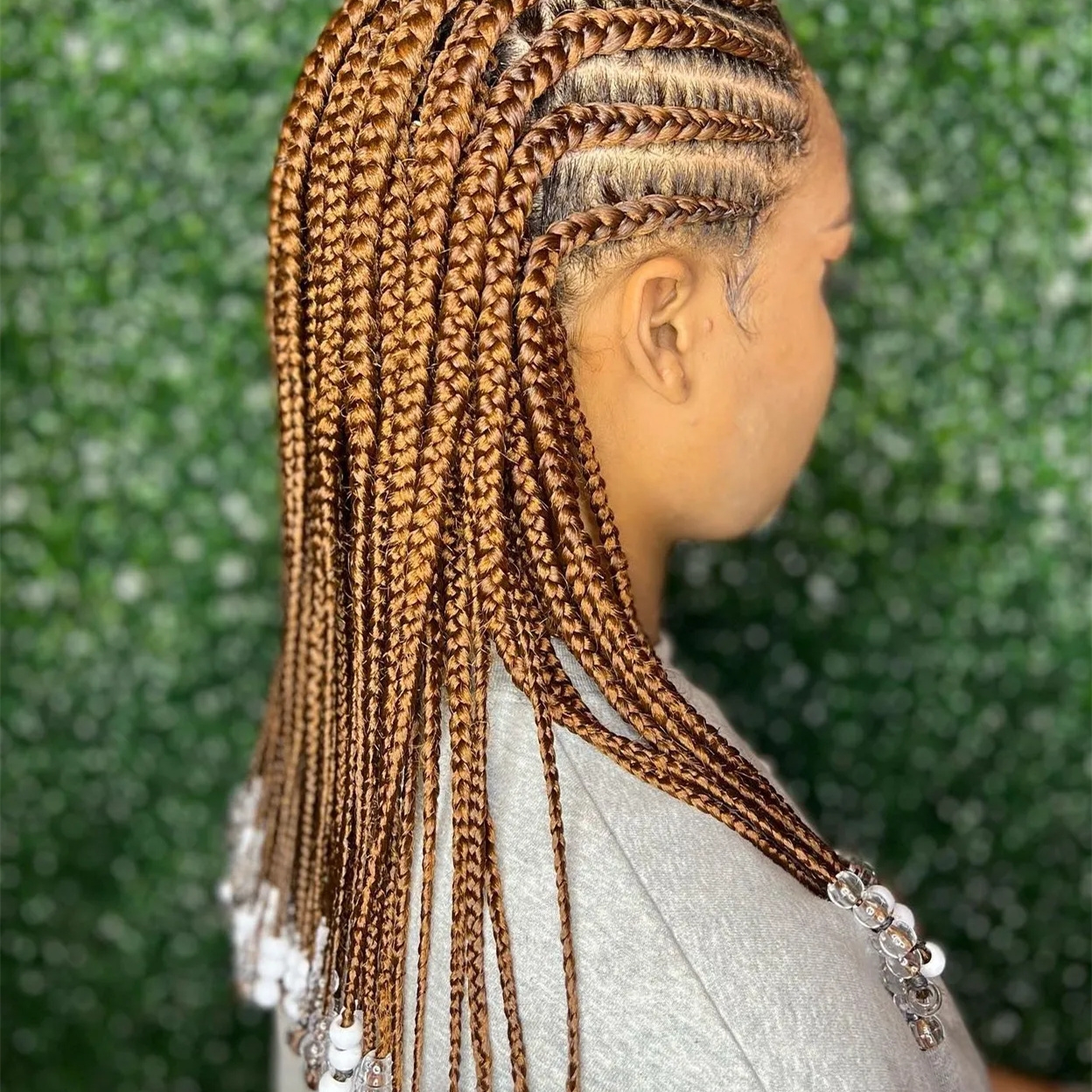 Light brown serves as a versatile everyday color, allowing you to venture beyond the boundaries of your natural black hair and ease into bolder hair color experiments. Opting for smaller braids when weaving knotless braids with beads may require a bit more time and effort, but it creates a subtle yet stylish appearance that doesn't overpower. Incorporating small knotless braids with beads offers an excellent opportunity to enhance your existing look. You can choose to tie them up neatly or let them cascade over your shoulders, adding a touch of versatility and charm to your overall appearance.
8. Neat knotless braids with beads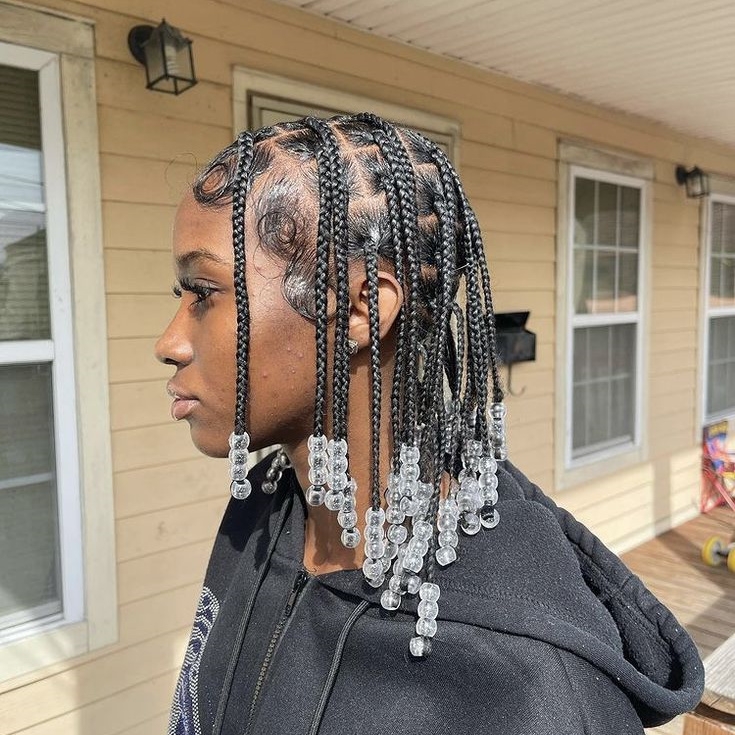 The versatility of braided hairstyles is truly incredible, with countless styles that can be customized to suit your individual ideas and preferences. Among these captivating options, the braided ponytail with beads stands out as a particularly beautiful choice. The addition of face-framing braids adorned with beads at the ends adds a touch of charm and allure, elevating the overall look to new heights.
II. How to make knotless braids with beads
●To begin, divide your hair into three sections and create three separate braids using the traditional braiding method. Continue braiding each section until you have completed braiding your entire head.
●Then, once your hair is braided, gather your chosen beads and begin threading them onto your braids. It's important to note that to secure the beads onto your hair, you'll need to fold the bottom section of each braid in half and insert it into the bead's eyelet. Once inserted, slide the bead upward, and use a rubber band to secure the folded portion of the hair to the last bead, ensuring it is hidden from view.
●Last, Continue sliding the remaining beads onto your braids, positioning them as desired. Once all the beads are in place, apply a small amount of mousse to your hair for added hold and smooth any baby hair or edges. With these final touches, your stylish braided look with beads is complete.
III. Conclusion
Undoubtedly, knotless braids with beads offer a glamorous hairstyle option while also serving as a protective measure for your scalp. If you are drawn to this look, don't hesitate to give it a try! In the event that your hair is too short or lacks sufficient length, you can explore the option of purchasing a wig to create your own knotless braids with beads. This not only eliminates any potential damage to your natural hair but also allows you to experience the trendiness of this stylish hairstyle.
Comment