6 Best Dark Roots Blonde Hair Styles Must Try
Aug 25,2023 | Bella
Once you learn or have dark roots blonde hair, how can you make it look even better? Here are the dark roots blonde hair styles that you will regret if you don't try them! Many celebrities are experimenting with dark roots blonde hair, so if you want to draw some styling inspiration from the next article, then you've come to the right place!
1. Dark Roots Blonde Hair With Side Bangs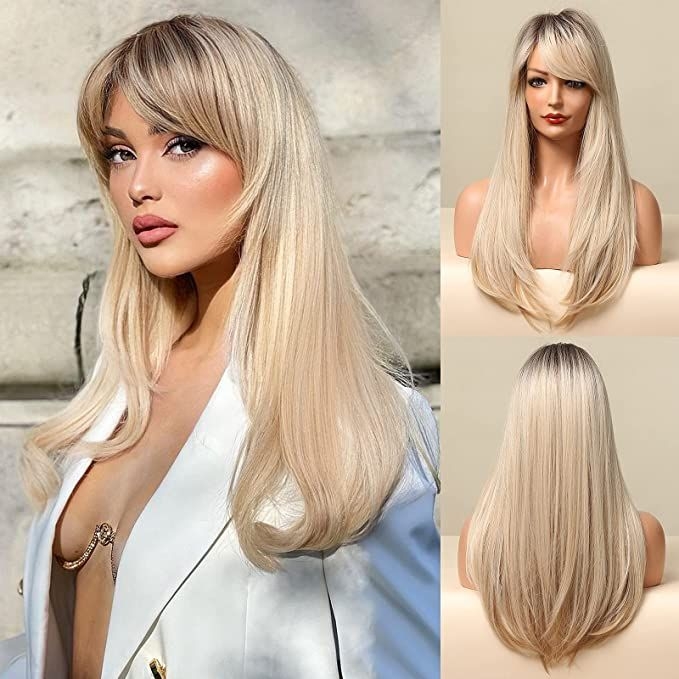 Girls who like more blonde tones and want their dark roots to appear lighter can certainly try this hairstyle. The overall hair color is a light blonde with 3-4inches of black roots near the roots, and the color is picked up to give the dark roots a more natural transition. It is also worth mentioning that if you have a diamond-shaped face or want a hairstyle that will soften your facial features, you will of course opt for bangs cut, which will help us to properly modify the facial features and make your hairline look fuller. This hairstyle is perfect for girls who look very elegant, especially those who are in the fashion industry. Blonde hair is undoubtedly the brightest and most versatile, and a little bit with some accessories will make you look beautiful enough. The length of the hair is below the shoulder, which can add a unique feminine charm to the overall look.
2. Half Up Half Down Shadow Roots Blonde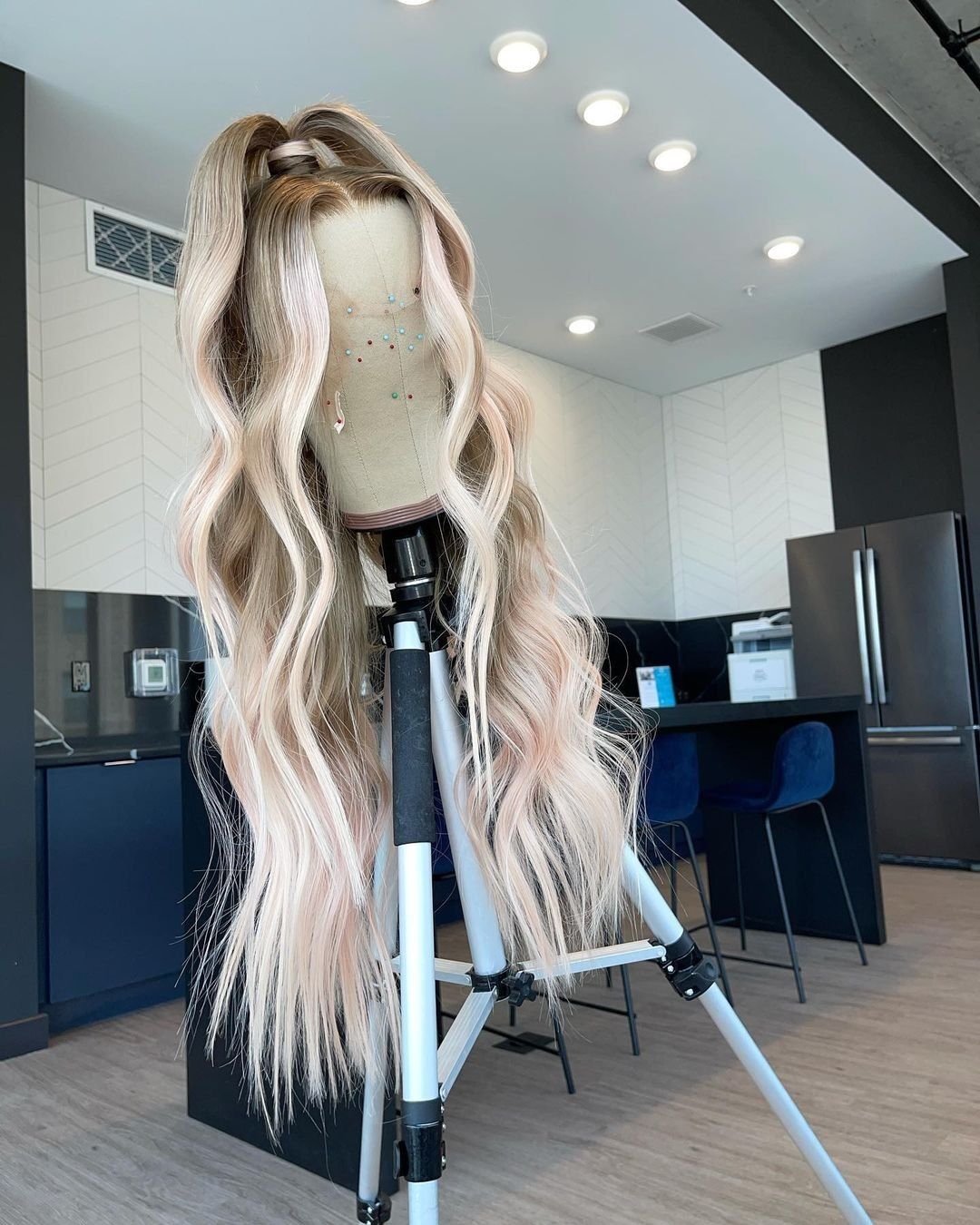 If you have straight dark roots blonde hair then you should be very happy because you can change the texture or style of your hair according to your preference, Half up half down shadow roots blonde is a successful example. All you need is to put your hair on a curling iron, let it sit for fifteen minutes, and then remove the curling iron, your hair texture will have a very loose and natural state, then divide your hair into two parts, tie the top part up, tie it on the top part of your head, then take out a small part of the hair and wrap it around the ponytail, then deal with the hair on the forehead, leaving two bunches of hair as the most natural bangs, your Half up half down shadow roots blonde hair is done. The high ponytail is inspired by Ariana, and such a hairstyle will look very cute and energetic no matter who tries it. Imagine, whether it's an outdoor event or an indoor party, blonde hair can brighten up your overall look, and dark roots can make the hair look unique enough, with half up half down look, add vitality to you.
3. Bob Haircut blonde with dark roots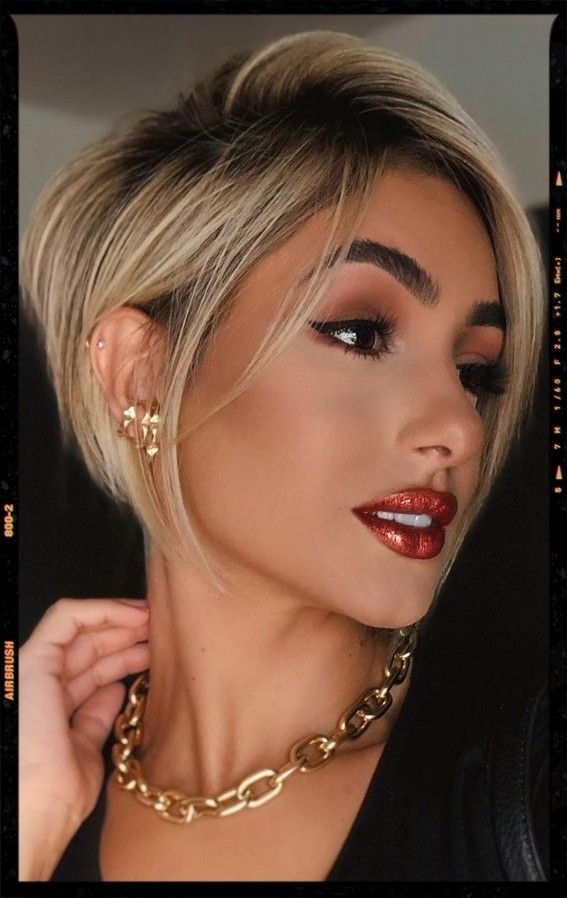 The bob haircut with dark roots blonde hair looks another beautiful match. Although I have to admit that this hairstyle is a bit challenging, it can definitely work 100% on the right person. If your face is thin and your cheekbones are obvious, this hairstyle will not only give you the overall look of an international supermodel's delicate face, but it will also make you look different from others. The shorter hairstyle is already cool, if the pure blonde hair will make it more difficult to match the makeup or clothing, dark roots can help you neutralize the color, even if the darker skin tone of girls can easily try black eyebrows and earth tone eye shadow, will not be abrupt because dark roots and they echo.
4. Long Shag Hairstyle With Blonde Dark Roots
The shag hairstyle is inadvertently revealing your beauty, seemingly lazy but intriguing. If you want the hairstyle to look naturally grown, then you can totally try this hairstyle to give you the laid-back, lazy temperament of a fashionista.
5. Half Up Subtle Dark Roots Blonde Hair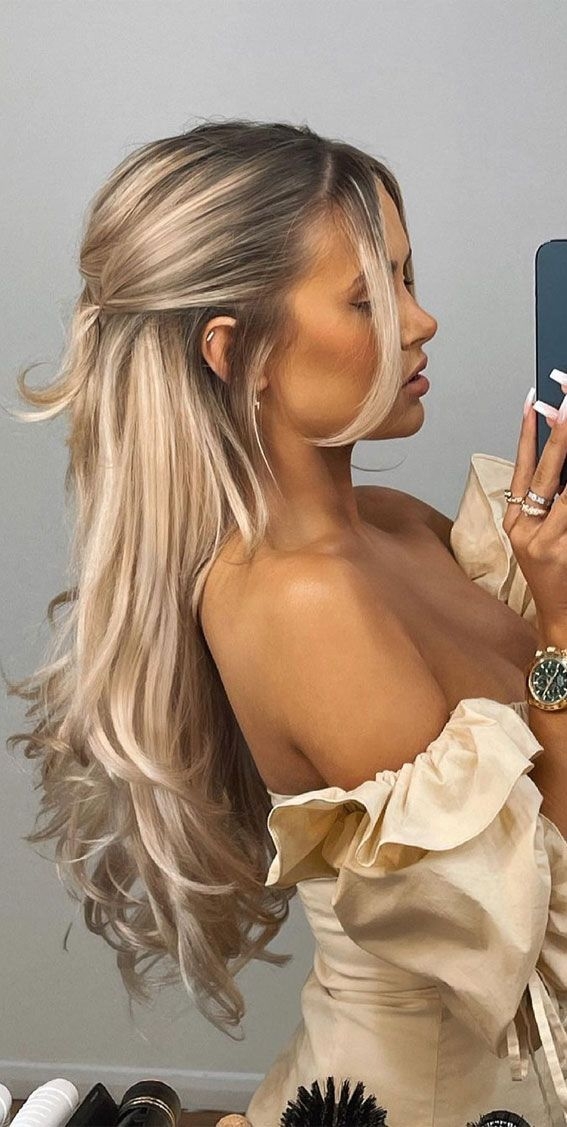 If you also like long hair and like to dress up with waist-length hair, dark roots blonde hair can let you avoid monotony and boredom. There are many different ways to style long curly hair, and the half-up look is one of them. The hair in the front part of the hair is taken out of a small part and then divided into two parts, using a small hair band to tie up the two parts of the hair, and finally use a small clip to fix the hair, finishing a part of the bangs, leaving some hair on the side of the ear. The beautiful hair is perfectly cloaked in the back, and the tied-up hair can help you show your facial contours and upper body curves, when wearing long dresses and gorgeous jewelry, such hairstyles are perfect.
6. Platinum Dark Roots Hair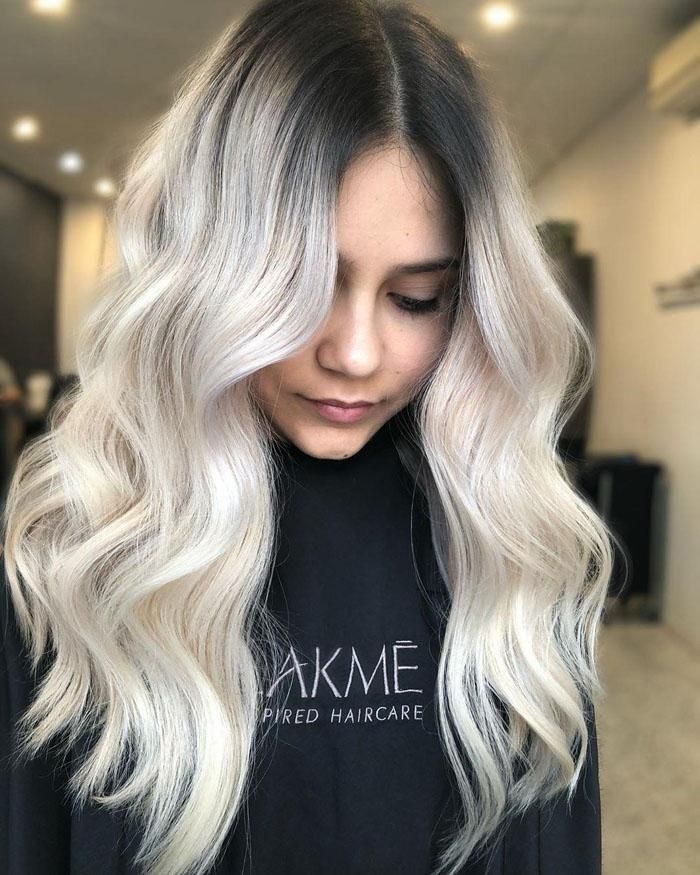 If you want to try a more daring and novel color, think blonde hair is not enough personality and features, try platinum dark roots hair, there is always a novel hair color that can meet your pursuit of fashion and personality.
Dark roots blonde hair is really new and unique enough hair color, may as well use your hair to create more than your imagination hairstyle, let your look more charming, more wonderful hair and hair color, as in donmily!
Comment