What Is Beige Blonde Hair Why It Become Charming?
Aug 04,2023 | Bella
Everyone desires a chic look for their blonde hair, so what can the latest beige blonde hair bring to the table? Here's everything you want to know about beige blonde hairand how to maintain it, this article will help you to understand everything before you decide to choose this hair color, so read on!
Ⅰ. What is beige blonde hair?
Beige blond is a very shiny, rich blonde color with a light mix of light browns and light yellows, these lighter shades will make your overall hair color look extremely soft. It's like the color of the beach in the sun, and just like the color of the beach some parts are golden and some parts are slightly darker.
beige blonde hair is the same, the beige part of the hair is darker than the blonde part of the hair. Still, the combination of the two together is very natural in your hair color application of beige blonde hair will give It a looks warm and manageable, shiny like the summer sun slowly spilling on the beach. Still, at the same time, it is so understated that the perfect combination of gold and beige gives beige blonde hair a pearly smooth texture.
If you are into bronde shades but don't like the brassiness in your hair color, beige blonde hair might be a better choice for you, not bringing too much shine and harshness, but presenting you with a light champagne look in a low saturation way.
Ⅱ. What kind of look does beige blonde hair have?
beige blond is a transitional color from light brown to light blonde, this shade is closer to platinum blonde but at the same time it is so warm and less cold in texture than platinum blonde, it can add the freshest and trendiest touch to your current hair color, it is the best transitional color to break out of your current hair color and try new hair colors.
In terms of color, beige blonde hair is a bit more intense than ash blonde hair, and it wants to convey a soft and gentle feeling like mushroom blonde hair. But it also has different levels of brightness and darkness, you can choose lighter beige blonde hair or darker beige blonde hair according to your skin tone or preference, the darker color can better match the color of your native hair, and set off your facial tone more brightly and look better skin.
Ⅲ. Things you need to consider before dyeing beige blonde hair
Unlike brown hair color, which may not require bleaching, light hair must be bleached before you can dye it light because only by bleaching out the color of your natural hair can you ensure that the light dye will show up on your hair. So please take the following factors into consideration before you dye your beige blonde hair
1. Evaluate the color of your virgin hair
The first step to take is to make a color determination of your original hair color so that you can better tone your hair and the beige blond color will not look so abrupt on your hair and give you the desired effect and eye-catching color.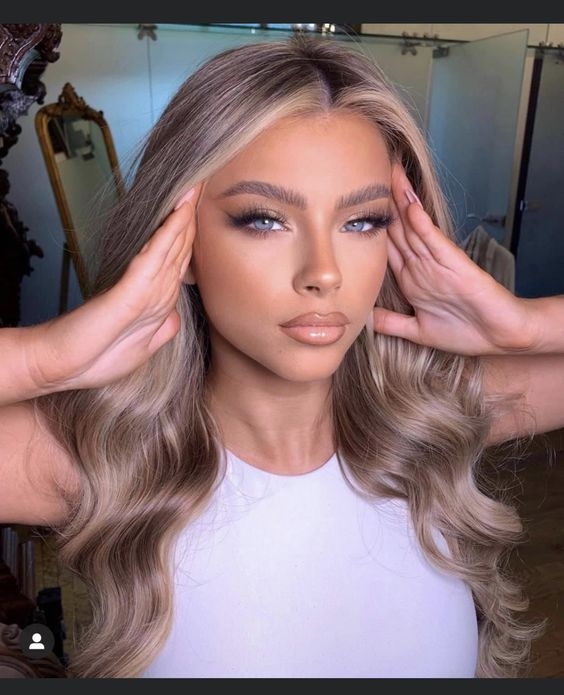 2. color according to skin tone
Beige blonde hair does have a very attractive color, but no matter how good the color looks if it doesn't match your skin tone it won't look good, so you have to decide the shade of beige according to your skin tone.
3. find a reliable hairdresser
A reliable barber can help you get the color you want, but if you are buying a wig and plan to try to dye the beige blond on the wig itself, it is recommended that you watch the relevant videos on social media platforms and pay attention to what the bloggers say in the videos and the comments section, because the comments section will have some relatively objective and realistic comments, so you can take a lot of detours.
Comment