Stop Looking For Tinsel Hair Near Me, DIY Tinsel Hair Is Easier Than You Think!
Oct 07,2023 | Bella
For many girls, achieving shiny hair is a top priority. Recently, a new trend called tinsel hair has gained popularity on social media. Previously known as fairy hair tinsel, this trend adds a touch of sparkle and glam to your hair, making it perfect for parties and events. With summer approaching, adding tinsel to hair can give your look a fun and eye-catching twist. Never think hair tinsel installation is hard, stop looking for tinsel hair near me, DIY hair tinsel is easier than you think, here is your complete tutorial.
I. What is hair tinsel and how does it work?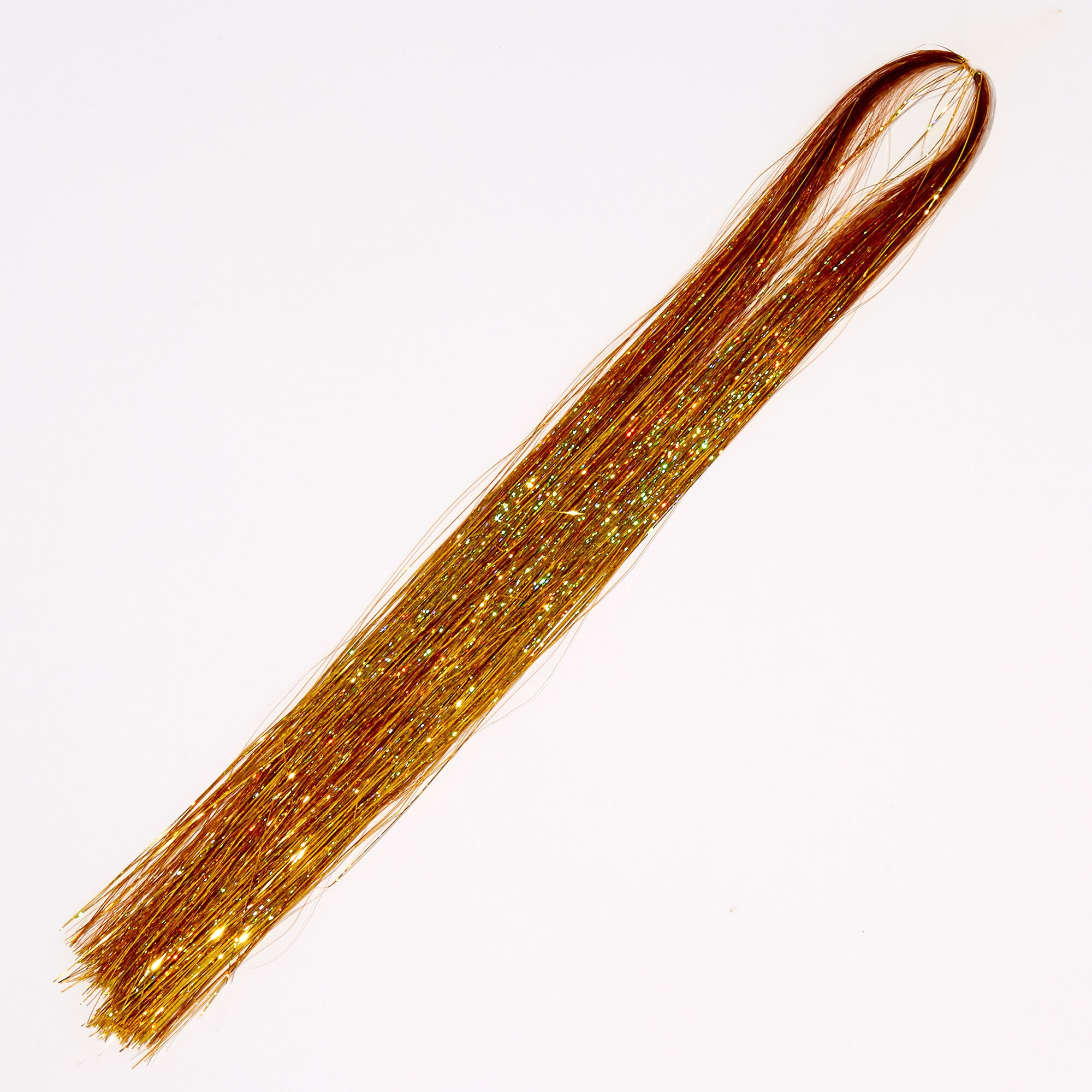 Glitter hair tinsel refers to a few strands of shiny material that can add an extraordinary effect to your hair. Also known as angel hair, it can create a subtle yet attractive look that easily catches the eye. Regardless of your hair color, you can enhance its shine by incorporating tinsel strands. These strands come in various colors and thicknesses, allowing you to choose the perfect match for your hair and desired style.
II. What color hair tinsel should I get?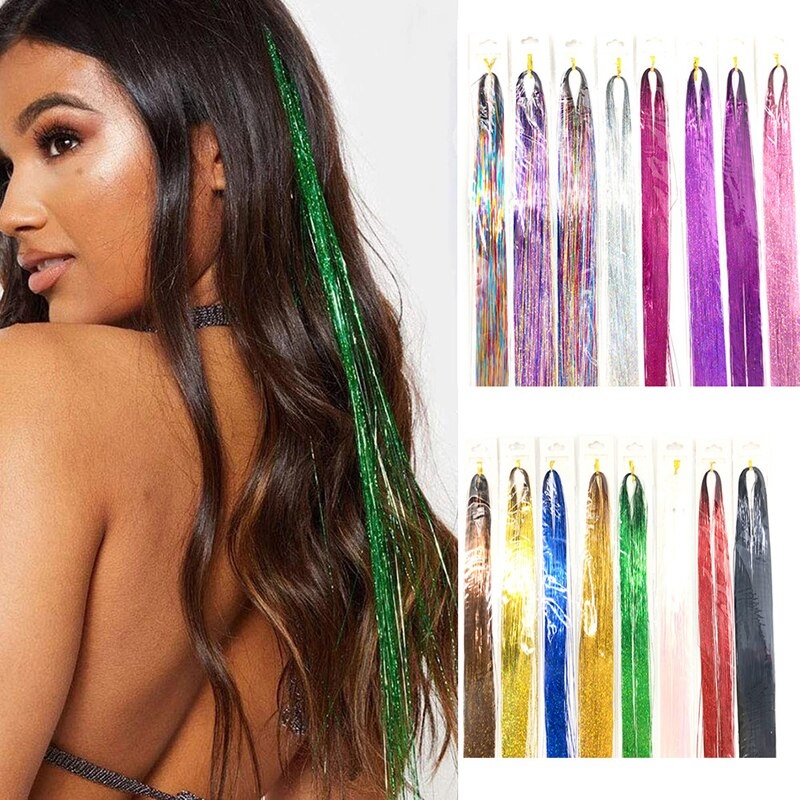 This is a very subjective question as it depends on your personal preference, but you can also look at color matching. tinsel hair is a great way to add shine to your hair, and it comes in a variety of colors to choose from, with blonde, iridescent, or gold being the bolder options. Generally speaking, you can choose hair tinsel with contrast to your natural hair, and the blonde is a great choice for achieving a subtle yet natural shine.
III. How much does tinsel hair cost?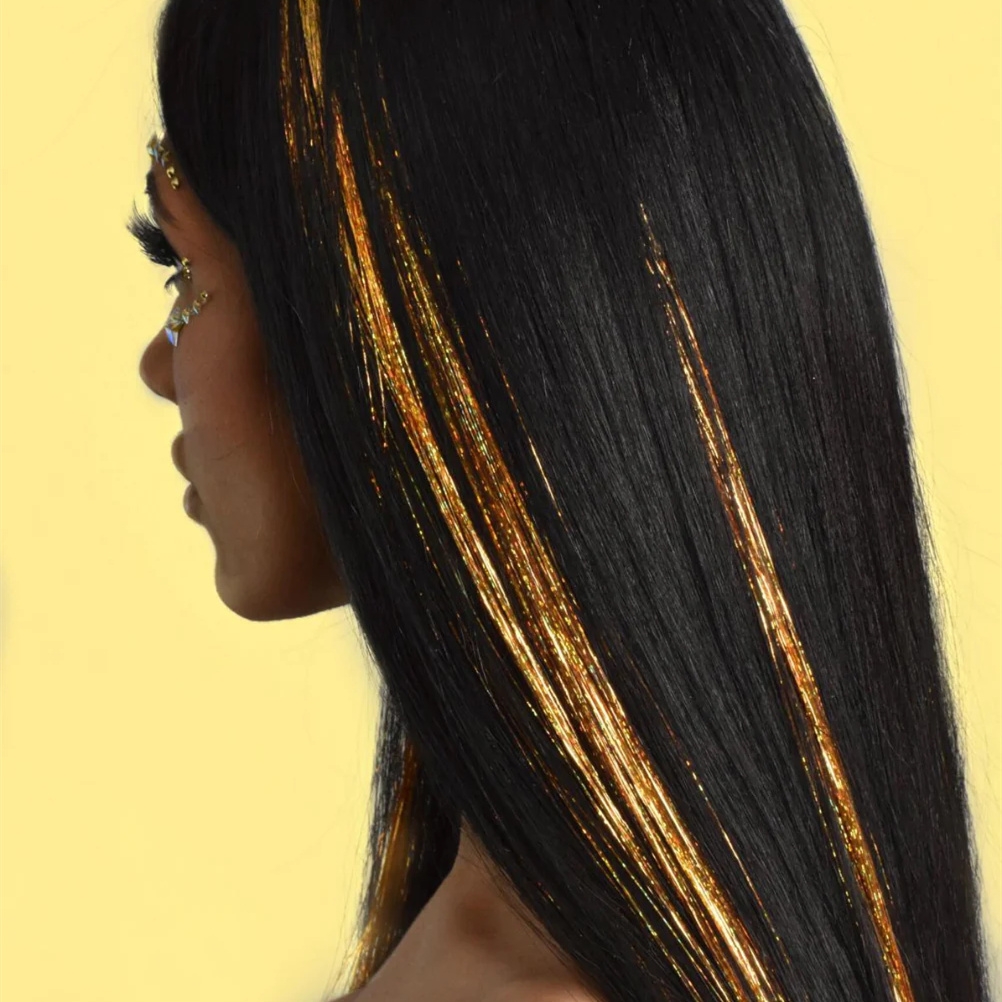 The cost of fairy hair tinsel installation may vary based on the amount and thickness of tinsel required. On average, it can range from $10 to $20. Moreover, the cost of weaving tinsel hair may vary based on your hair type, with permed hair usually incurring a higher cost. However, learning how to install tinsel hair on your own can help you achieve a stylish look without breaking the bank. Pairing hair tinsel with other hair accessories can also make for a great party look or elevate your style for special occasions.
IV. Step-by-step tutorial to make tinsel hair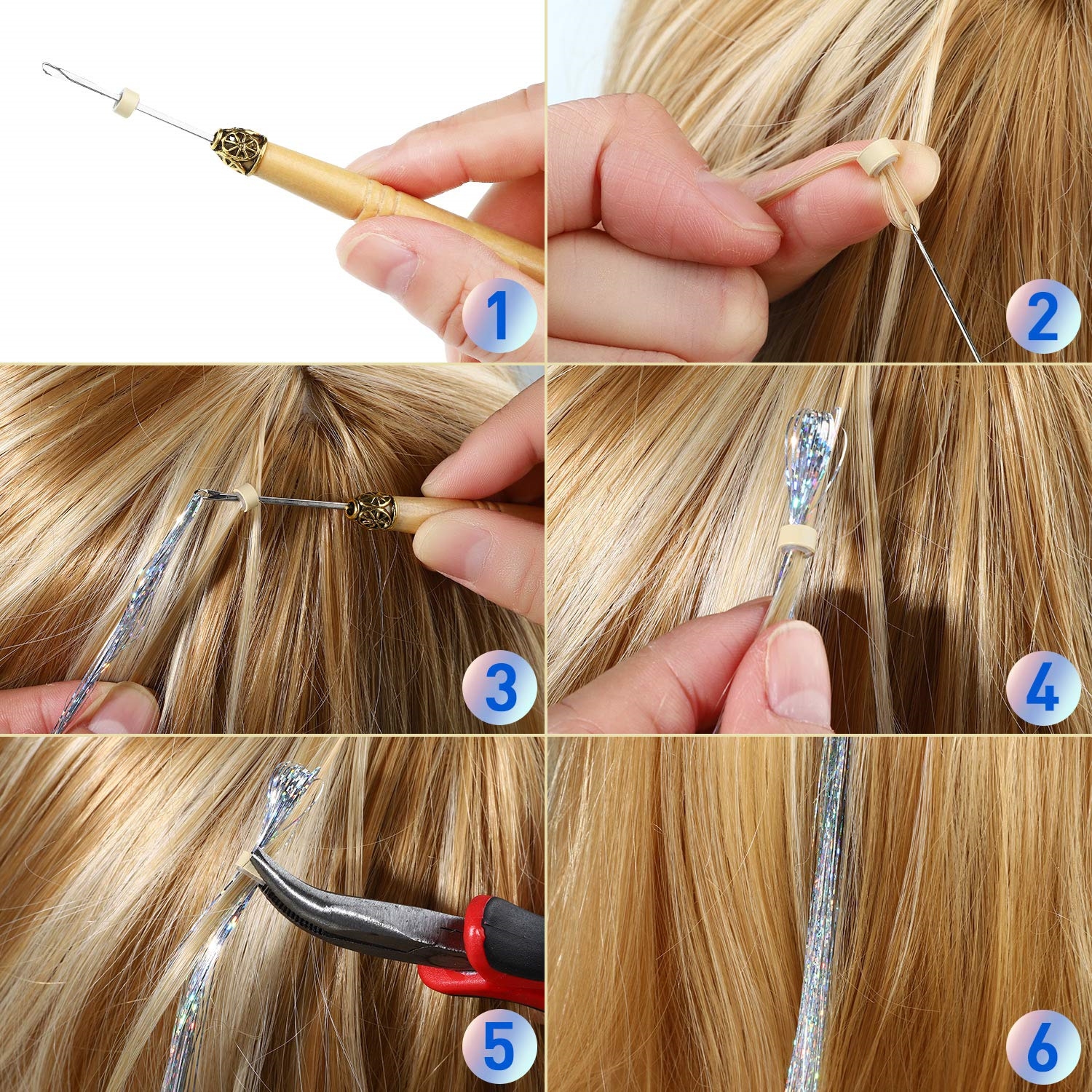 Step 1: Tie a knot
Start by dividing your hair bling in half and crossing the two halves. Put your fingers through the loop created by the cross and pull the other side to create a knot that can be tightened. You can tie the knot very close to the root of your hair and make it strong. If you prefer a more delicate look, you can use a small clip to secure the knot.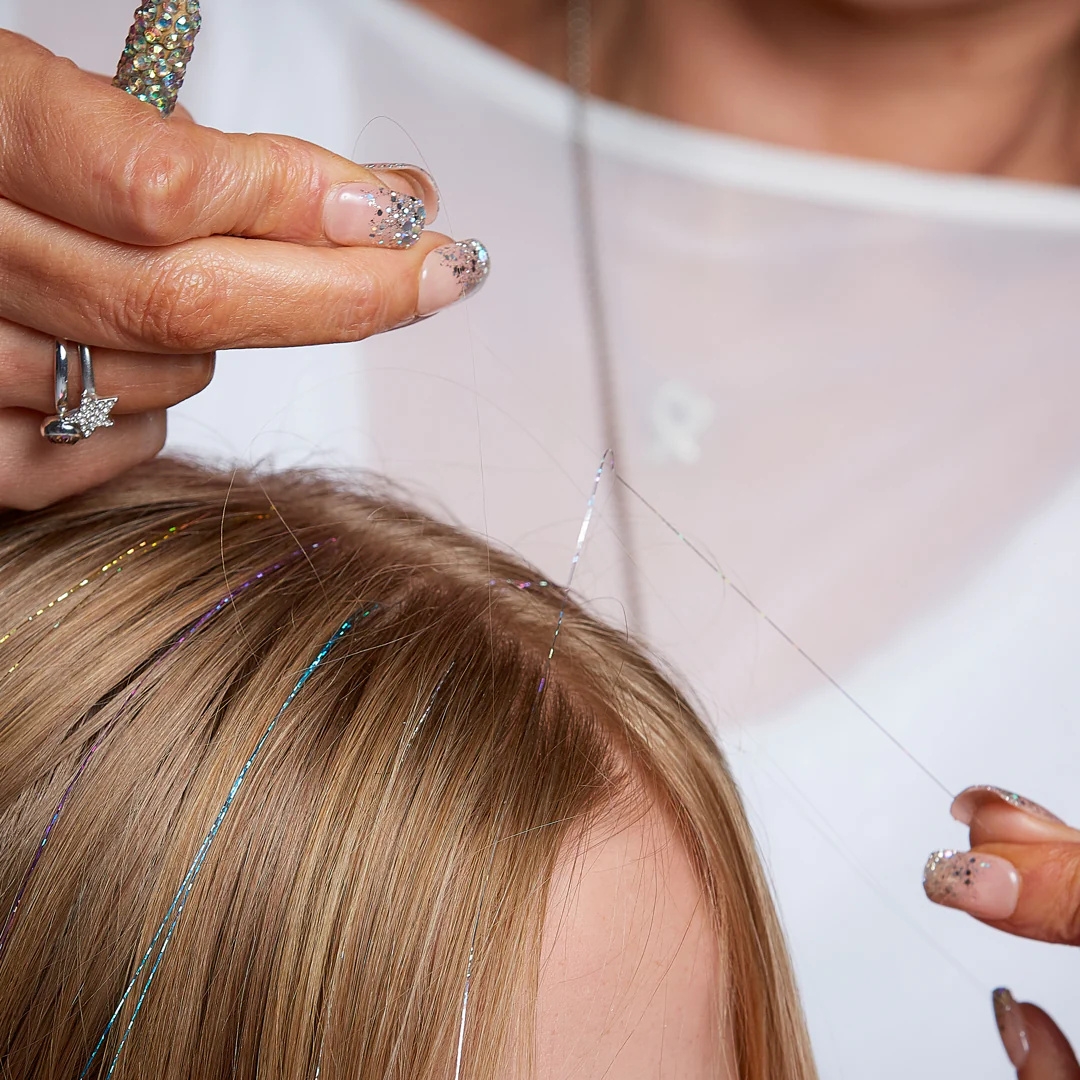 Step 2: Weave the tinsel
Separate a small strand of hair and remove it from your head. Thread the hair tinsel with the knot through the loop in the removed strand of hair and pull it tightly on the other side. You can tie another knot and repeat the process to create more tinsel in your hair.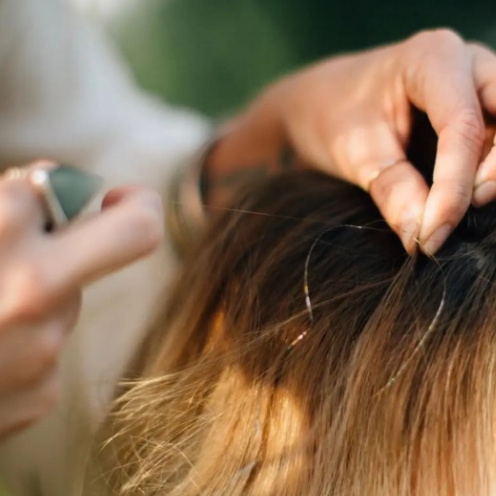 Step 3: Create more tinsel
If you want to make a large amount of tinsel, there is a quicker method you can use. Take a strand of hair tinsel and a piece of double-sided tape. Fold the hair tinsel in half and attach it to the tape, cutting off the excess at the top with scissors. Stick the hair tinsel at the root of a section of your hair, then place a layer of double-sided tape on top.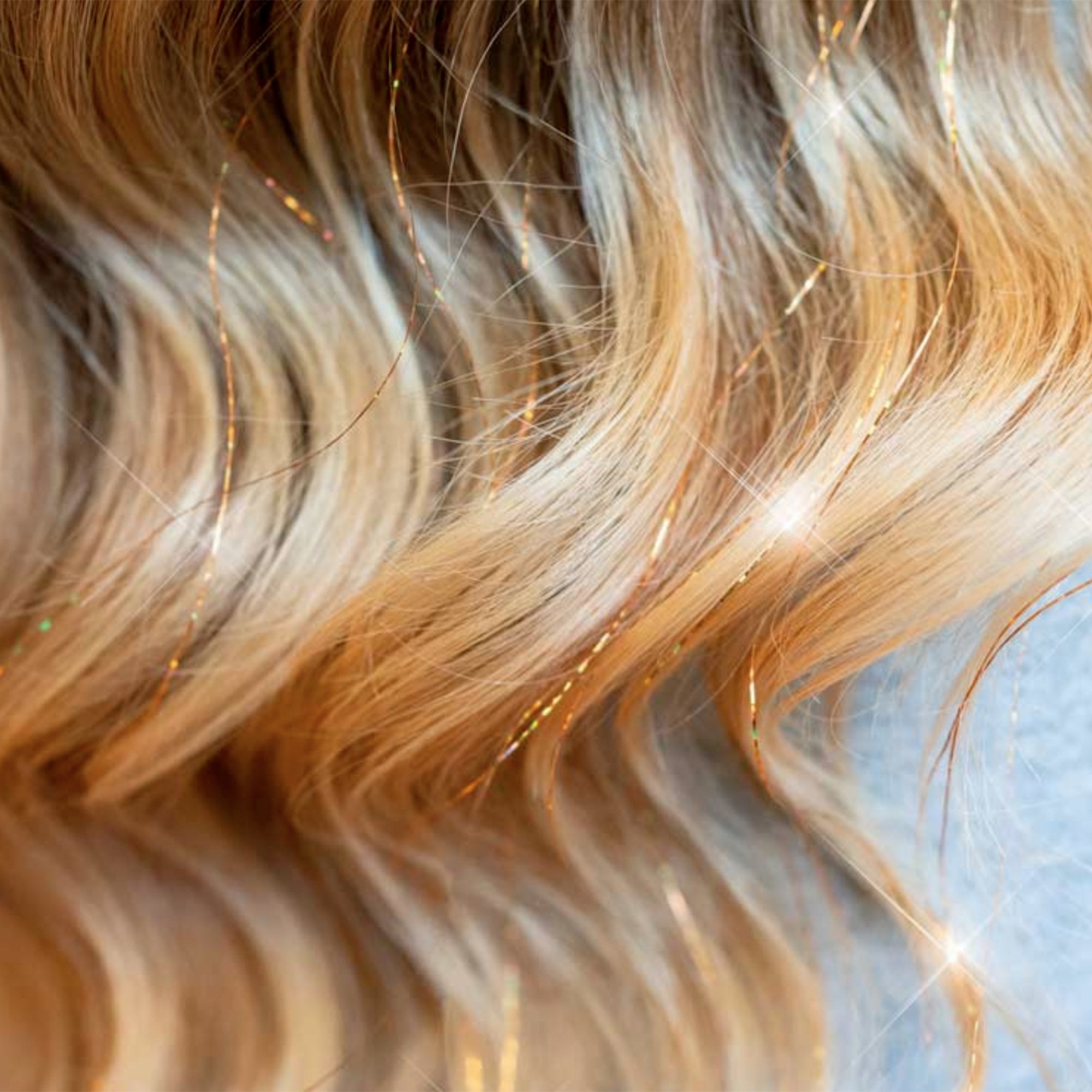 Step 4: Trim and style
Once you have placed all the tinsel you desire, trim the ends of the tinsel to match the length of your hair with scissors. Use a comb to gently comb through the section of hair to hold the tinsel in place. Finally, spray the tinsel with hairspray to keep it secure and shiny. And voila! You're ready to show off your new tinsel hair.

V. Why does my hair tinsel keep falling out?
If your hair tinsel falls down easily, it's actually because your hair is too smooth, which usually happens to straight hair. You can prevent hair tinsel from falling down with the help of some necessary tools. Apply some hairspray or dry shampoo to the roots of your hair, which will create resistance and make it easier for tinsel hair to stay on top of your hair. Also, it is okay to tie the hair bling tighter in your hair, but you will need to spend more event and effort to remove it.

VI. How do I remove the hair tinsel?
To remove hair tinsel, it's important to do so gently to avoid damaging your hair. Simply remove it in the same way you would a hairpin, being careful not to tug or pull on your hair. If some of the highlights shed during the process, don't worry. You can easily wash them out with shampoo. However, it's important not to pull on your hair as this can weaken it and lead to breakage. Typically, hair tinsel lasts for two to three days before it needs to be removed.

VII. How do I care for hair tinsel?
While hair tinsel can be a great addition to your look, it requires some special care to keep it looking its best. When combing hair with tinsel, use a gentle touch and avoid pulling or tugging on your hair. Use a comb with wider teeth to avoid damaging the tinsel. Also, avoid using heat-styling tools, as they can cause the tinsel to become bent or damaged. When washing your hair, use sulfate-free shampoos and conditioners to protect the tinsel from damage. By following these tips, you can maintain your hair tinsel and enjoy its sparkling effect for longer.

VIII. Conclusion
As summer approaches, every girl wants to achieve a glamorous and shiny hair look. A great way to achieve this look is by trying out hair tinsel. With its sparkling effect, hair tinsel is the perfect accessory to elevate your summer hair game.
Comment