5 Must Try Coi Leray Braids Hairstyles That Will Lead Fashion Trend
Oct 13,2023 | Bella
Is there a more popular and fashionable weave than Coi Leray braids today? No! After going viral on social media, this braid has swept the distribution world. Many people are already experimenting with it as a very well-maintained and innovative hairstyle. Want to find different Coi Leray braids hairstyles? Want to get more inspiration? Here are some Coi Leray braids ideas you will regret if you don't try them!

1. What Are Coi Leray Braids?
Coi Leray braids is a hairstyle that originated with Coi Leray, a female rapper from New Jersey who often appeared in public with short but thick braids and curly ends. It gradually became a signature look for her. After gaining popularity on social media, people were inspired by Coi. They named the braids the Coi Leray braids. This traditional braid is created by choosing different ways to weave the hair and has a very distinct ethnic personality and character that many African American girls see as a way to protect their hair. Stylists often add charms or small objects to the braids to make them look more unique. Coi Leray braids can also be made unique using different colors and hair accessories.

2. Coi Leray Braids Hairstyles Ideas
Here are some very innovative and fashionable Coi Leray braids hairstyles for you. Come and see if there is a look you like?
2.1 Coi Leray Curly Braids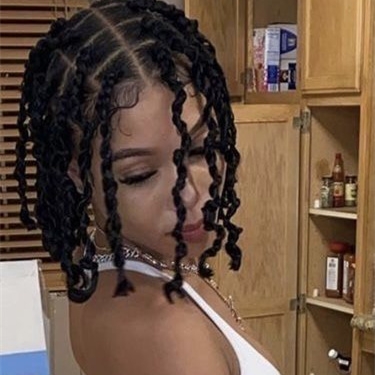 The first look is heavyweight! Short hair can also do Coi Leray braids with curly ends, compared to long hair for short hair to be more personalized and hip-hop style. All the hair will be divided into equal squares. In the process of weaving hair pay attention to the hair weave tighter to help create a more curly appearance at the end of the reserved part of the hair to make the tips of the curly hair appearance. In the hot summer, this look is convenient and brings a touch of coolness.
2.2 Maroon Burgundy Coi Leray Braids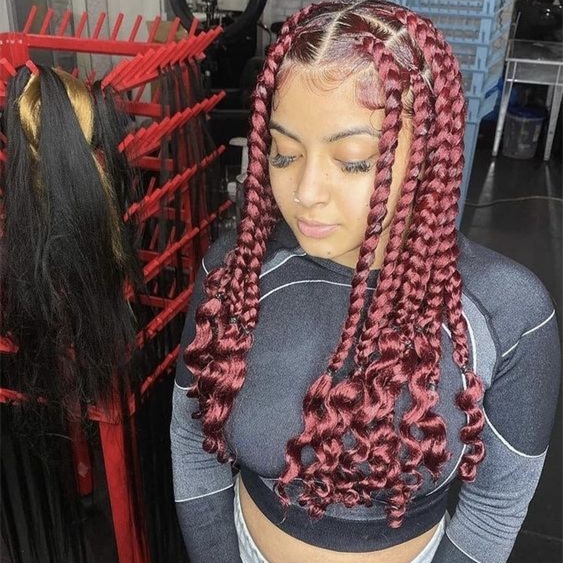 Burgundy weave hair looks so bold and edgy. When you are tired of the usual black and brown hair, burgundy hair can give your look a new look. One very big advantage of choosing colored hair is that your complexion will look more radiant by the way the hair color and skin reflect each other. Also, this is perfect for a girl who wants to experiment with different style looks. The curls at the end of the hair can make burgundy coi leray braids are sparkling in the sunlight.
2.3 Black Coi Leray Braids With Long Curly Hair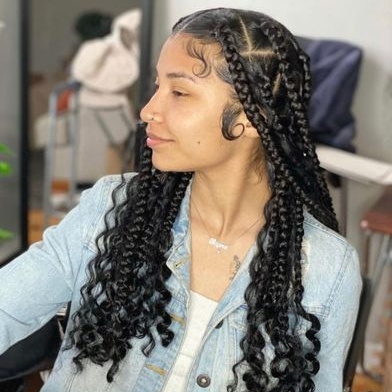 Adjusting the length of the weave and the curls will give you a different look. The longer curly hair will look more elegant, which seems to go better with those long dresses or more feminine clothes. You can make jerry curly hair at the end of the hair, so it looks more accentuated texture. In addition, in the hairline part can also consider combing some baby hair and then using hairspray to fix it so that the whole look looks more distinctive.
2.4 Barbie Blonde Coi Leray Braids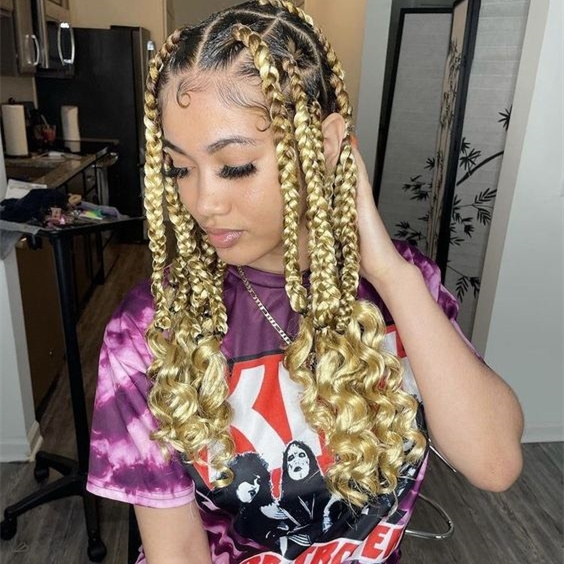 Barbie blonde hair can make you glow like a princess in an instant. It doesn't matter if your natural hair is not blonde. You can buy some quality Human Hair Bundles from Donmily, color #613 will be the color you are looking for and want! Weave the blonde hair around your head by tying your natural hair together and then using crochet hooks, bundles, and some small leather bands. For a more special look, intersperse a portion of the light brown bundle in the middle of the blonde bundles to create highlights!
2.5 Box Coi Leray Long Braids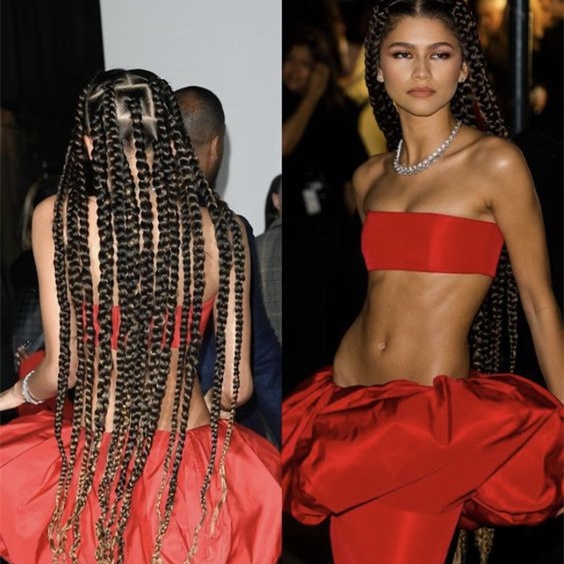 When you are going to attend some grand party or planning to go for a photo shoot, then the long thin coi leray braids will become your best choice. After weaving this hair, people will focus more on your hairstyle and the accent you want to highlight in your outfit. For girls who want to show off their perfect body, this look can help you better show off the curves of your shoulders and neck.
3. Conclusion
Have you chosen your favorite coi leray braids yet? No matter which look, it will undoubtedly become the biggest trend in the distribution world! Be bold and try it out.
Comment