How To Wash A Wig The Right Way
Aug 25,2023 | yang hang
You own your wig like you own your hair. You spend money on it and you dear it. But like everything else that you wear, it will become dirty too. And you need to wash the wig in the right way. No matter how much you try to keep yourself clean, sooner or later, it will need soap and water. They make it sound very easy. Take the wig under the water, wet it, apply shampoo and dry it. Sadly it's not that easy.
Especially if you want it to look fabulous for as long as you wear it. For that, you need to use the right products, follow some rules, and take some tips. In this article, we will be discussing everything small but important things you can do to make your wig look beautiful and last long.
From washing to drying your wig, the whole process completes in 5 steps.
Step 1: Gather the essentials
• A wide-toothed comb
• A sink or basin where you can wash the wig
• Wig shampoo and conditioner
• Clean towel
• Wig stand
Step 2: Detangle the knots
Before anything, you have to detangle the knots, but be very patient. Don't pull the hair fibers or yank them. Start from the tips and gently make your way up to the wig cap. Always use a wide-toothed comb. If the knots are seriously bad, apply some leave-in conditioner to make to loosen them up.
Step 3: Soak the wig in cold water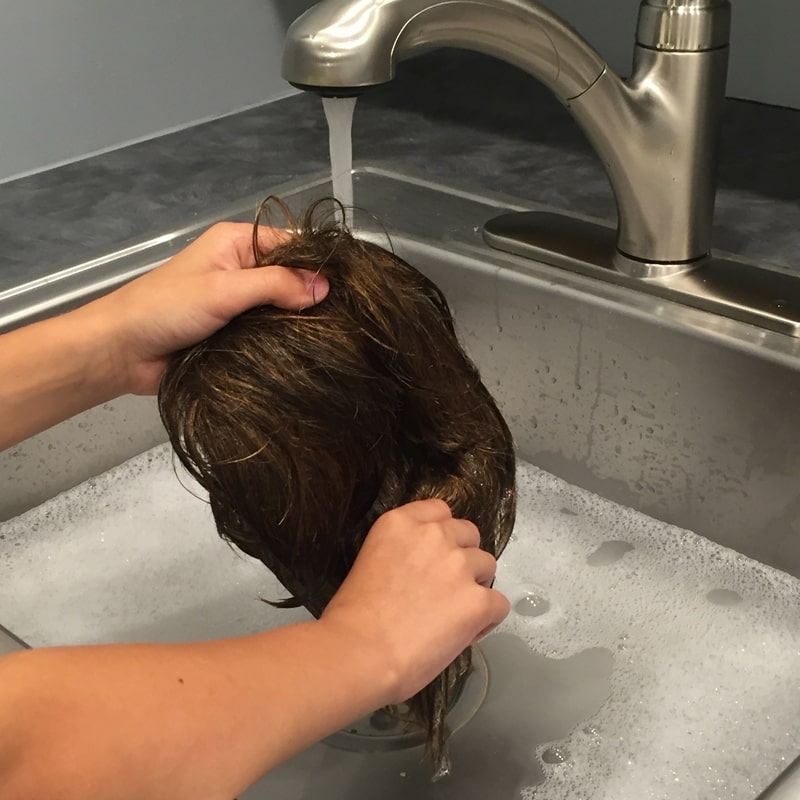 Next, you will be filling the sink where you can place and wash the wig. Take a small amount of wig shampoo (1 tablespoon) into the water. Then swirl the water to mix the shampoo thoroughly into the water. Let the wig stay there for 2-5 minutes. Don't rub or massage at this stage. Just let the wig soak in the soapy water.
Now, there is a trick:
• If the wig is too long. This soaking process might end up creating more tangles in the hair. In that case, we recommend you simply hold the wig under a faucet and let the cool water run until it completely soaks down the wig. Very gently, squeeze the excess water out.
Step 4: Lathering the shampoo on the wig
Take some more shampoo into the palm of your hand and apply it to the wig hair. Lather the shampoo by gently, massaging it into the hair fibers. Focus on the areas around the wig cap where dirt build-up is more. Run your fingers over the cap and massage it in round motions. Be cautious in hand-tied parts. Rubbing vigorously might loosen up the knots.
• In case of long wigs. Take the shampoo, and lather it by gently massaging the hair fibers. Leave the lather to soak up for a good 5-7 minutes. Next, take some more shampoo and then apply them to the areas of dirt build-up. Gently rub it in circular motions.
• If you have curly-hair-wig, keep the hairnet on throughout the process. Otherwise, the hair strands might lose their curls.
Step 5: Rinse the wig thoroughly
Run cool water or simply hold the wig under a faucet and rinse them thoroughly until clear water flows. Gently squeeze the excess water.
Step 6: Apply conditioner to the wig
While the hair is still wet, take a generous amount of wig conditioner. Apply it to the length of the hair. Avoiding the wig cap. Because the slippery conditioner can undo the knots. Leave the conditioner for 5 minutes. Detangle any knots that might be left. Again take the wig and run cool water to thoroughly rinse the conditioner. Take a clean towel and blot the hairs. You don't want to squeeze, scrub or wrench the wig ever. It might tear or break the fibers.
• Some suggest using conditioner spray, but we don't. They are not meant for wigs. And perhaps they can invite even more dirt.
• If it's a human hair wig, you can apply one or two drops of argan oil to keep it lustrous. But never overuse. It can make the wig grimy.
Step 6: Drying your wig
It's best to air-dry your wig. Leave it on a wig stand and let it dry naturally. You can use the blow drier in the cold-air setting.
• Synthetic hair wigs should never come in contact with heat. Be that a blow drier or a heat styling tool. Always air-dry it.
• Synthetic but heat protectant wigs, however, can be blow-dried. Or you can use heat styling tools.
• human hair wigs can withstand the heat. You can style them. However, you want them to. But we will still recommend using them as less as possible.
How often should you wash your wig?
It will depend on how much dirt your wig accumulates. But remember, with each wash, your wig will reduce its lifetime. So, you have to try not to wash it very often. We suggest washing the wig after 14 days of wear or more if possible. Also, try to use fewer hair styling products. And wear a wig cap. It absorbs all the oils and sebum that your scalp produces daily.
Can I use a regular shampoo to wash my wig?
No. You cannot. Or rather you should not. Wig shampoos are far gentler than your regular shampoos. Regular shampoos are made to strip off the oil that your scalp produces. Since wigs don't come in contact with your scalp, it doesn't accumulate the oil. If you use regular shampoo on a synthetic wig, it will strip off the chemicals that keep it softer. If you use it on a human hair wig, it can change or fade the color. If it's colored or a highlighted wig, the regular shampoo will oxidize it and change its color.
Conclusion:
Even after washing it, you have to maintain it. You have to make sure that you never wear your wig to bed. It will damage the hair fibers. Sunlight and chlorine water damages the hair fibers. With time you will lose hair, and the wig will not look the same as it looked when you first brought it. But if you maintain and take proper care, use wig shampoo, and follow other things mentioned in this article, your wig will last a much longer time than expected.
Comment