Do you like ponytails too? Do you want to have a ponytail while wearing a wig? But most new wig wearers shudder at the thought of putting their new wig into a ponytail. Because trying to make a lace front look natural is stressful enough; adding a ponytail style to the mix only complicates things further. But you don't have to worry. With this article, you can achieve having a ponytail while wearing a wig!
Pros: Ponytails keep your hair out of the way, help you cool down, and look super cute
Difficulty level: Suitable for beginners
How long it takes: 10 minutes
Occasions: Casual activities, work, gym, running errands, hanging out with friends
If you want to create the perfect ponytail, choosing the right wig is crucial. A high-quality wig will give you more styling freedom because they will hold up well as you do more styling. As for which type of wig to choose, we think the full lace wig is by far the best. In second place is the 360 lace wig, followed by the lace front wig and the closed wig.
Keep in mind that the less lace there is, the harder it is to pull it into a natural ponytail. While 360 and full lace wigs are the best wigs for ponytails, lace front wigs are the most popular type of wig. Therefore, we have taken this into consideration when creating our guide. However, you can also use the same steps to make a closed wig.
The secret to getting the perfect ponytail.
Leave some natural hair around your head so you can use it to hide the wig's weft. Pulling your hair back may expose the wefts in the back and sides of the wig that are usually hidden when you let your hair down. Be careful not to pull your hair too tightly. Otherwise, you may expose the weft.
However, you can pull your hair into a sleek ponytail, leaving more of your own hair in the back to blend in with the wig. Although we don't recommend this (it requires a lot of work).
How do I put my wig into a ponytail?
The ponytail is the most common hairstyle we see on a daily basis, so naturally you'll want to try it with a wig. While mastering it may take a few more tries, once you get the gist of it, you won't regret it. Without further ado, here are step-by-step instructions on how to tie a wig into a ponytail.
Put on your wig cap
First, pull your natural hair back and secure it in any way you like. You can braid your hair, twist it into a twist, or any number of styles. The goal is to make your hair as flat as possible to create a good base for your wig.
Leave a little hair around your hairline, both in the back and on the sides, so you can use it to hide the wig's weft. Once you're satisfied, put on your wig cap. A smooth, well-fitting wig cap is crucial to creating a natural-looking ponytail. The wig cap eliminates volume and helps the wig sit naturally on your head.
Secure your wig
Put on your wig and make sure it fits well and is comfortable. Pull out any loose natural hair so they poke out from underneath the wig. Then, fasten the wig in the way you like. As you pull your hair back, the backward motion will put a lot of tension on the wig. This can cause it to shift backward slightly, so we recommend using a more secure method of wig attachment, such as the following.
Wig grips
Gel
Glue
Tape
Prepare the wig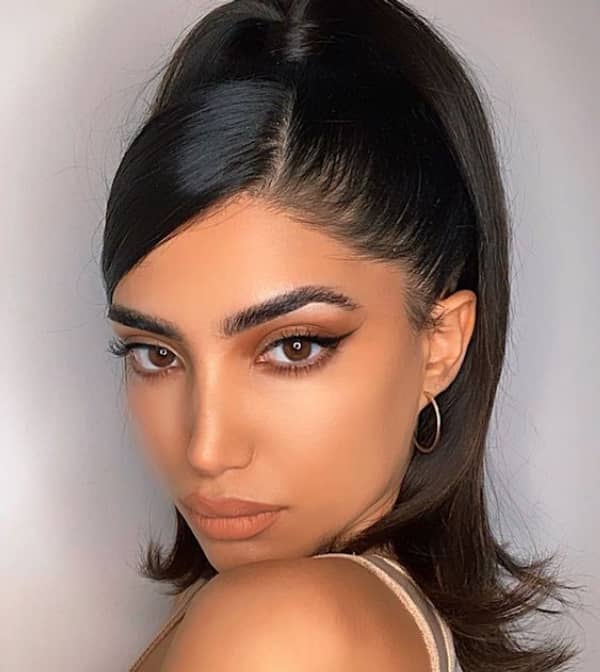 Once your wig is secured, carefully comb through any knots. Double-check your lace to make sure the glue has had enough time to dry. Then leave a bit of hair around the wig, both in the back and on the sides, so you can use it to hide the wig's weft. Decide how high you want your ponytail to be and gently brush your hair in that direction.
We recommend that you wear medium to low ponytails because they will give you the most natural look. Use your hands to pull your hair into a ponytail, looking for any visible weft. If you see any, adjust the position of the ponytail so they are hidden.
Pull your hair up and secure the ponytail
Use your hands to gather the wig into a ponytail. Remember the hair you left out? Gently tuck it into the ponytail to smooth out the edges of the wig. Then, use a cloth ponytail holder to secure everything in place. While you can also use metal or plastic hair ties, they can snag or rip the hair out of the wig. Wrap the ponytail holder around your hair two or more times to make sure it stays in place all day.
What kinds of wigs can be worn in a ponytail?
A human hair wig is created with the same wefts of hair as a human hair wig, but the wefts face upward. This enables the wearer to tie their hair up in a high ponytail.
Is it possible to wear any wig in a ponytail?
While you can wear varied densities in a ponytail as long as you have a hairband or some form of closure large enough to hold it, I recommend wearing your hair up with a lighter-weight density wig. Using this procedure, you WILL be using both your natural and wig hair, and those strands might mount up.
Can you wear lace front wigs in a ponytail?
Is it possible to wear a lace front wig in a ponytail? Lace front wigs can simply be worn in a ponytail for people who prefer low or side ponytails! Low ponytails are a terrific hairstyle to remove the hair off your face because the hair still covers the neckline, disguising the lace.