How To Maintain The Silver Blue Hair?
Aug 09,2023 | Bella
In our previous article, we explained in detail what silver blue hair is, discussed the characteristics of this hair, and introduced the most detailed steps and instructions for dyeing this hair. In the summer heat, cool hair is undoubtedly the best match, not only because it is a new and trendy color that allows you to catch up with the trend, but also because you can visually feel the coolness and pleasure that silver blue hair brings to you. However, we know that there are many points that need to be taken care of when dyeing this hair, and there are also many things that need to be done to maintain this hair. Since we all spend a lot of time getting silver blue hair, it must be worth to take care of it, and in this article I will take you to know how to maintain silver bule hair!
Ⅰ. Is silver blue hair hard to maintain?
In the previous blog we have mentioned that before dyeing silver blue hair we need to identify the color of the original hair, if it is black or dark brown hair, then you may need to bleach it 3-4 times to get the lightest color hair color, and then dye it with silver blue dye, so as to get the most ideal color effect. During the dyeing process, we use a lot of bleach as well as developer, which are bleaches that can harm our native hair as well as destroy the structure and cuticle in the hair, which means that it will make your silver blue hair more frizzy.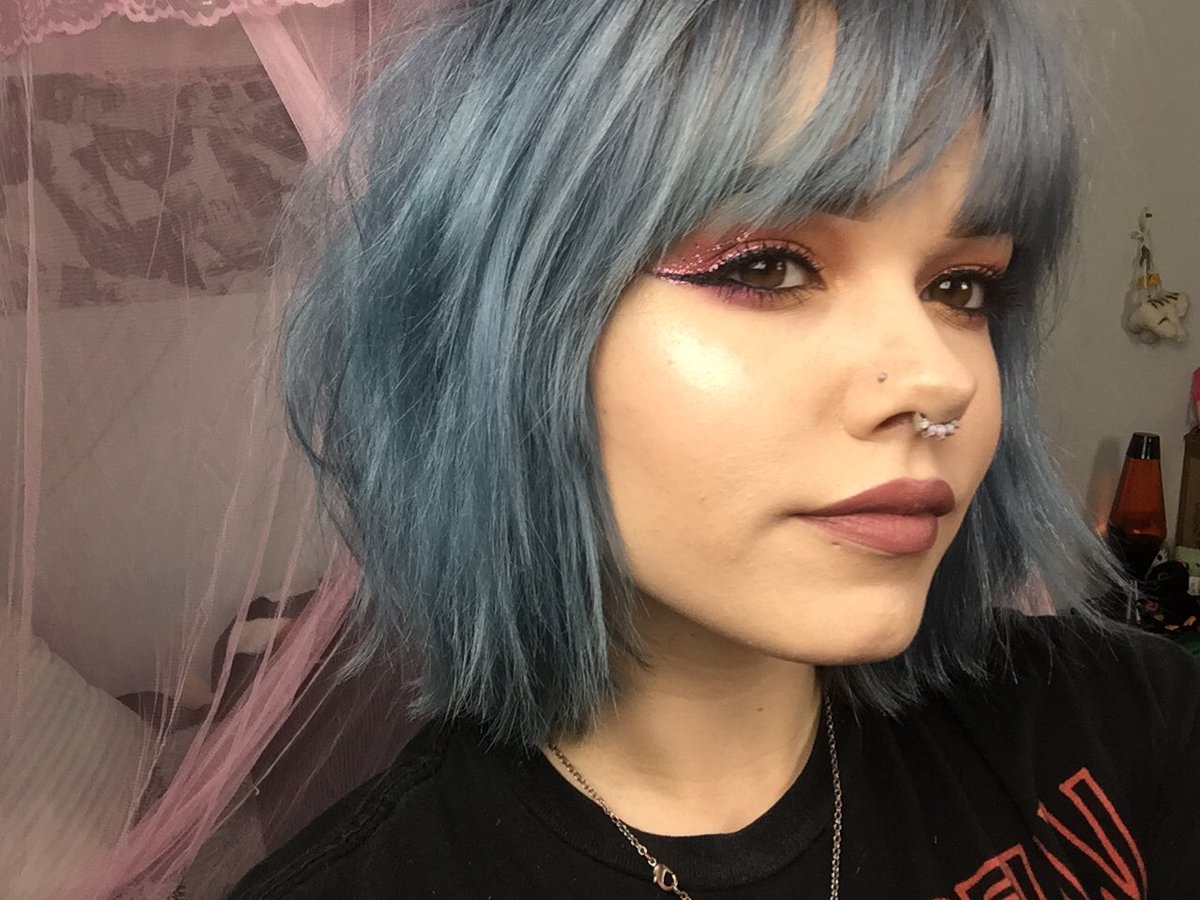 And speaking of this particular color, silver blue is so light that it may start to fall out after you wash your hair a few times. So caring for silver blue hair is a tricky and methodical thing to do, and we certainly need professional knowledge and methods to do so. Silver hair has become popular in recent years, and nowadays, among the rich variety of hair colors, silver hair is still one of the most popular hair color trends, people have blended many other colors with silver, combining two or more colors together to create a new color, and that's how silver blue hair came about. Whether the hair you try is a wig you bought or the result of hours spent in a barber store chair, silver blue hair is a dazzling color that represents the undefined, younger and more trendy color. Let's take a look at how to take better care of silver blue hair.
Ⅱ. How to maintain the silver blue hair?
1. Reduce the frequency of washing hair
I know you probably want to say that it's too hot in the summer and three days without washing your hair is too much, but this step is really necessary and you can ignore what I'm about to say if you don't want your silver blue hair to last longer. These words. All we need to do is wait a week for the lost oil and natural protective layer to recover, if you wash your hair right away, you will risk hair breakage and breakage.
2. Know the right way to wash your hair
After a week you can start washing your hair, but before you do so you need to condition your hair, i.e. put a layer of hair oil on your hair and leave it for an hour before washing it off with water, this will help you strengthen the natural barrier of your hair and lock in the pigments in your silver blue hair so they don't get lost too quickly. Likewise, you can use a hair mask instead of a hair oil, just let the mask stay on your hair for 5-10 minutes, or longer if your hair is very dry. In the matter of choosing shampoo, you need to be extra cautious and careful because it is best to choose a shampoo with safe ingredients that does not contain sulfates and also need to choose a color safe so that it will not ruin the color of silver blue hair. Secondly, in the process of washing your hair, we usually recommend you to use warm or cold water to wash your hair, hot water is not only harmful to the original untreated, permed hair, but for silver blue hair it will cause the color to fade faster.
3. Hair care
You need to deep condition your silver blue hair at least 1-2 times a week, either by going to a professional hairdresser or by buying a mild hair mask and doing it yourself at home, which usually stays on the hair for 5 minutes. In addition, you also need to try to avoid heat treatment to bring damage to silver blue hair, that is, hair dryers or hair straighteners, curling irons such as heat styling appliances should not be used. This is because they not only damage the hair but also cause premature color fading, so just blow dry your hair naturally after washing. If you have to use heat treatment, remember to keep your hair dry, set the temperature and use a heat protectant before you use it.
4. Local adjustments
If you notice that your silver blue hair is starting to fade, find your hair stylist and have your hair color treated. Alternatively, you can choose a shampoo that contains purple precipitates, which will help you lock in the dye in your hair.
The above details for you in our dyed silver blue hair how to continue the use of this hair period, how to more scientific and reasonable care of silver blue hair, I hope these simple practical tips can really help you, if you want to know more about silver blue hair everything welcome you in the comments section Leave a message to tell us.
Comment