How To Do Quick Weave Hairstyle, Here are Tutorial And Tips
Aug 07,2023 | Bella
In the previous article, we introduced a new and very simple and fashionable wig style quick weave hairstyle. We introduced quick weave from the perspective of what is quick weave and what are the pros and cons of quick weave and recommended a few very stylish and beautiful quick weave hairstyles. In today's issue of this blog, I will systematically introduce you to how to do a quick weave hairstyle and how to take out quick weave, this issue of the blog is very practical, don't miss it!
First, let's review what quick weave is. Quick weave is a wig weaving method that glues wig strands directly to the wig cap, so it's very quick and easy. The simple and quick way also provides a variety of possibilities for styling and is therefore popular. Let's take a look at how to do a quick weave hairstyle.
Ⅰ. How to do quick weave hairstyle
First, we still need to prepare the tools first, you need to use a fine tooth comb, some clips, styling products, a hair dryer, straightening clips, glue, hair ties, and the most important wig
1. Do preparation before installing quick weave hairstyle
Make sure you are washing your hair and your scalp is not greasy so that the quick weave hairstyle will last longer. Use a fine tooth comb to part your hair from the middle of a small, because we need to leave this part of the hair after the quick weave hairstyle so that our quick weave hairstyle will look more natural, the hair seam can also be better articulated. After parting the hair in this section, please fix them up temporarily with clips. Then leave some broken hair on your forehead to create a perfect and natural-looking hairline. The next thing you need to do is to weave your original hair into braids, from front to back in tiny braids, because this will make your quick weave hairstyle fit better in the wig cap and not appear small bulges.
(PS: because quick weave hairstyle will use a lot of glue, it will damage our original hair, you want to maintain a very healthy hair state, you can weave the braid before wearing a wig cap to their hairbrush on a layer of protective hair film and other hair care products, which will better reduce quick weave hairstyle (on our original hair damage, and this hair care products can better promote the penetration of the glue, so that your quick weave hairstyle more durable)
2. Install the quick weave hairstyle step by step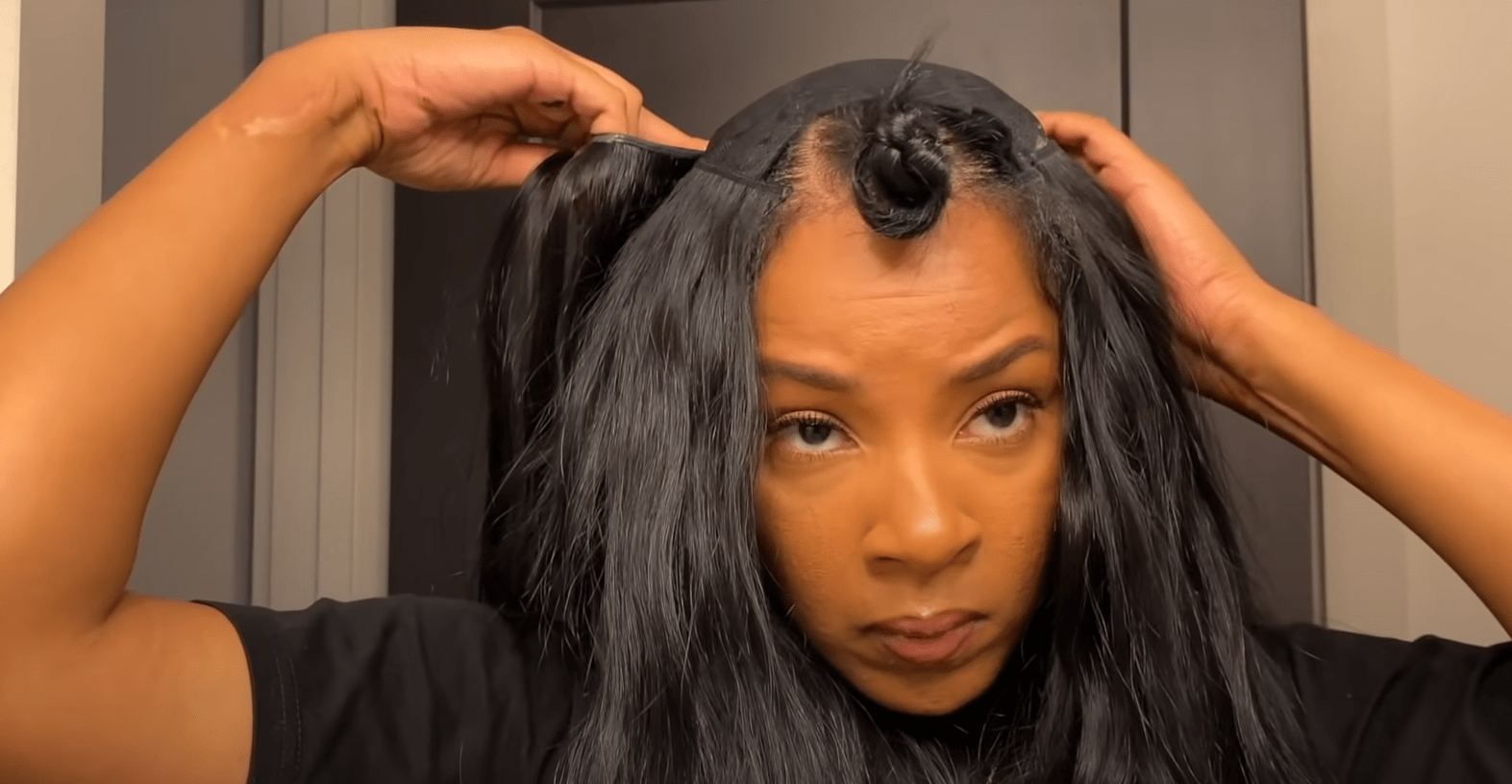 After wearing the wig cap, apply a circle of glue evenly on top of your wig cap, and use a hair dryer to dry the glue some, but do not blow dry completely, because the semi-dry state is easier to paste, but do not need to apply too much glue, because the wig edge is also with glue. After finishing this step you need to take out your wig, from the bottom of the head to start pasting, layer by layer, so that your quick weave hairstyle looks more layered, when you paste on the wig, please use your hand to press a little, so that the wig is better fixed in the wig cap. And then soon after the wig, will be the middle of your wig cap cut out a small U-shaped mouth, for a quick weave hairstyle to leave more natural bangs. Then put your handful of hair out, gently comb it straight and divide it into the bangs you want, please pay attention to the edge part of the quick weave hairstyle to make the quick weave hairstyle look more fitting and natural.
3. Create your favorite quick weave hairstyle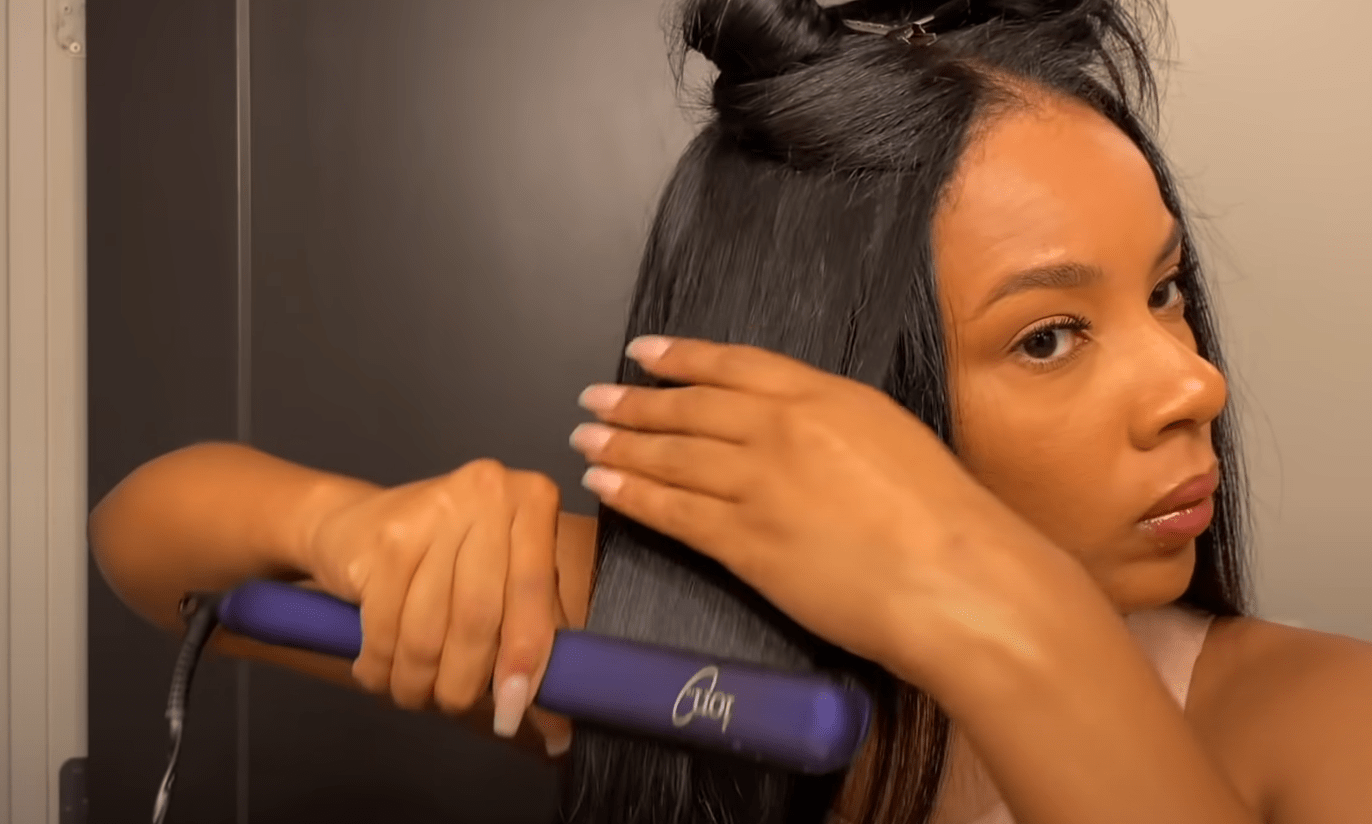 You can choose to straighten your hair or make it curly depending on your preference and styling needs, it all depends on what you want, but one thing I need to remind you is to always straighten or curl your hair from the bottom to the top. This will give your quick weave hairstyle a more layered look. Finally, deal with the hairline of your quick weave hairstyle, and you're done! Questions like how to do quick weave hairstyle should be very easy for you.

After the quick weave hairstyle, how to take out quick weave is also something we need to learn, but take out quick weave is much easier, take a look.
Ⅱ. How to take out a quick weave
1. Softening glue on your quick weave hairstyle
Use the glue softening product to soften the glue on the edge of the wig first, and after applying it, rub it gently with your hands to make the product better absorbed. Then gently remove your quick weave in the place where the softening agent was applied, if you feel that there is a bad removal please do not pull vigorously, please apply the softening agent before removing the quick weave hairstyle.
2. Take out your quick weave hairstyle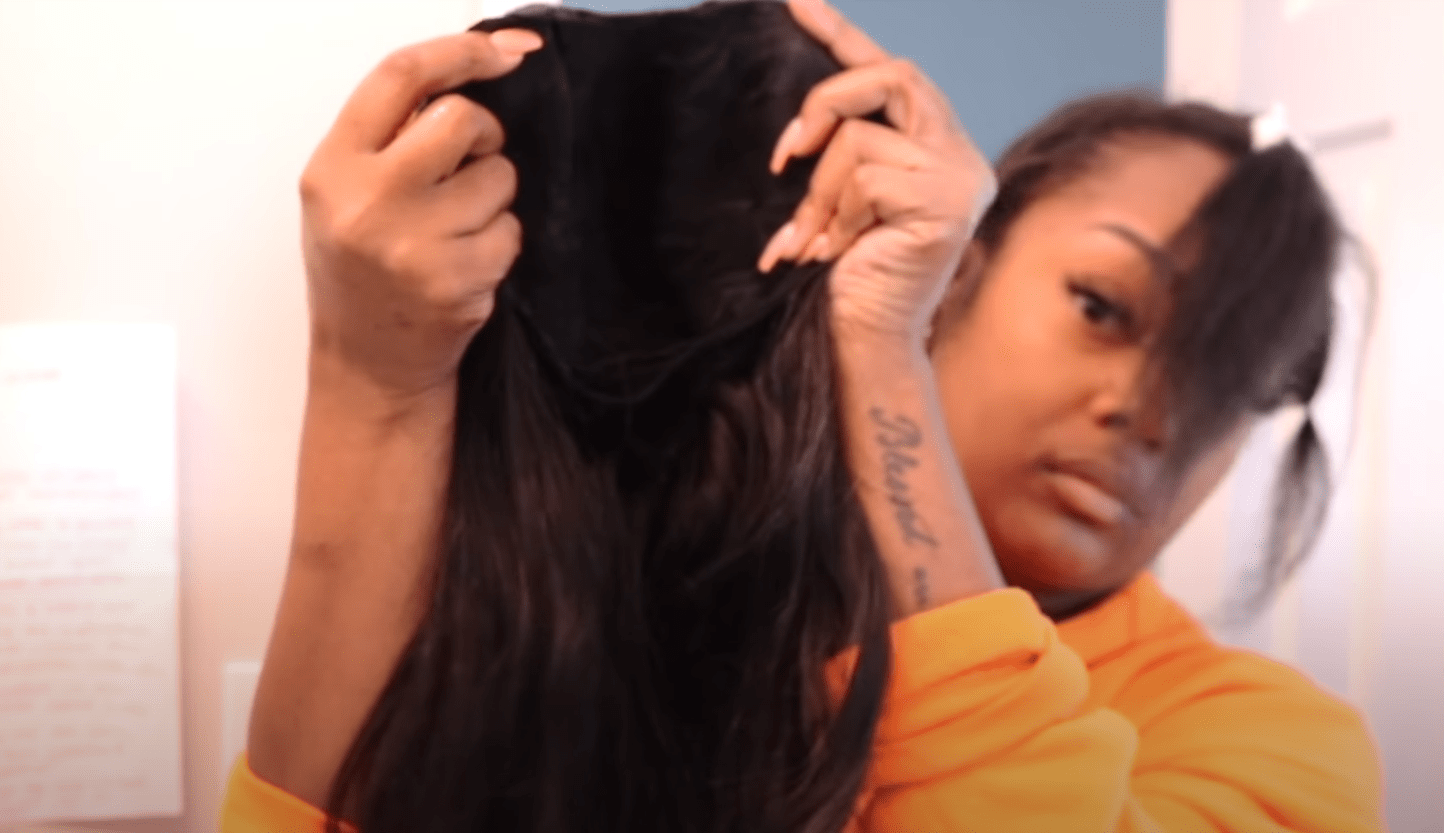 Will your wig cap under the weave of the braid one by one, your hair is likely also stained with the production of quick weave glue, so you need to gently straighten your hair, and knot places, please apply some softeners. Finally, you can wash your hair well, please pay attention to the use of hair care products to better protect your hair and reduce the damage caused by quick weave hairstyles.
Ⅲ. How long does a quick weave last
After making a quick weave hairstyle, you will want to ask how long does a quick weave last. There is no very specific answer to this question, but most people's quick weave hairstyle lasts about 1 month, depending on the glue product you are using and how you are doing every day. Maintain your quick weave hairstyle. If you choose good quality bundles, you can also extend the life of your quick weave. Donmily mall has many high qualities and very affordable bundles, if you also want to create a quick weave hairstyle, come to Donmily to buy bundles! Will not let you down!
Comment