How Can You Create a Natural-Looking Hair Topper?
Aug 26,2023 | Bailee
As we get older, more stressed, and stay up late more often, our hair falls out more and more quickly, and many of us have started to thin our hair and even experience hair loss. Do you want to make the hair on your head look full? Do you want to hide your thinning hair? Then hair toppers are a perfect choice because they can help you with these problems. Maybe you are interested in it, but you are a beginner and don't know how to make the top of your head look very natural. So, in this article, we will show you how to make the top of your hair look natural.
1. What is a hair topper?
Hair toppers, also known as half wigs or top pieces, are a type of hairpiece that usually covers only the top part of the head. They can cover different stages of the head that are exposed due to different levels of hair loss. Depending on how much you need to cover, the size of the hair topper will vary and you can pick the right size according to your requirements.
2. How can you make your hair topper look more natural?
If you already have a hair topper, you must want to know how you can make it look more natural. Refer to the following methods to make your hairpiece look very natural.
2.1 Pick the right size hairpiece.
In order to make your hair topper look more natural, you need to choose a hair topper that matches your head size. This is because it will look calmer and have a high level of realism, giving a very natural look.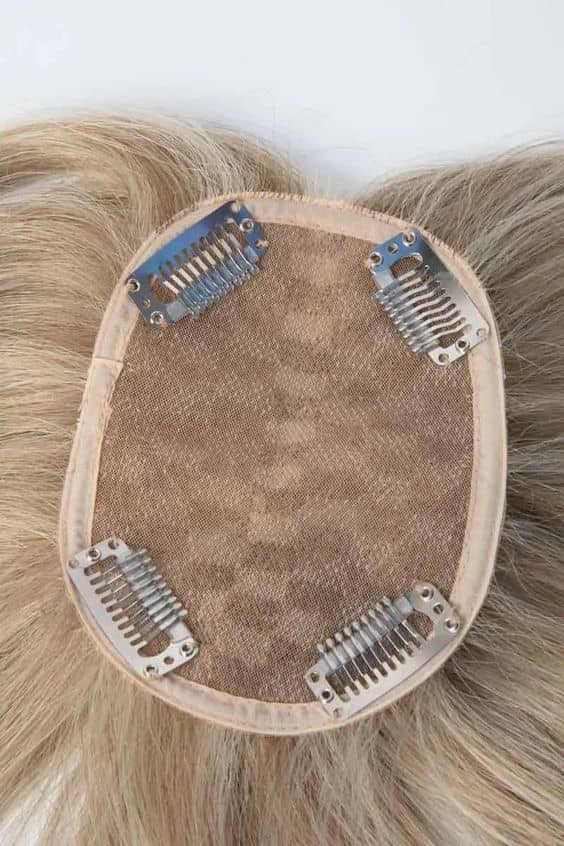 2.2 Trim the top of your hair.
Most hair accessories need to be trimmed after purchase to match the length and unique style of your hair. It is extremely necessary for you to customize your hairpiece by trimming it as this will help it blend best with your natural hair. However, we suggest that if you are not confident in trimming your hair set, you can consult a professional stylist who will help you trim and design your hair top until it fully meets your needs and expectations.
2.3 Keep your hair topper clean.
Keeping the top of your hair clean is crucial. If the hair topper is very dirty, then it will give a very unnatural look to others. Not to mention the tangles and knots, which can make them look even more unnatural and give a bad feeling. So you need to wash your tops regularly and use a gentle shampoo and conditioner designed for the tops of your hair to keep them clean and look very natural.
2.4 Use a wide-toothed comb.
A wide-tooth comb has a considerable distance between the teeth and less friction on the hair, preventing as much damage to the hair topper as possible. It gives the top of the hair a more natural appearance. A wide-tooth comb's teeth also brush onto the top of the hair like a brush, making the top of the hair look more realistic and natural. Additionally, before your hair dries, run a comb over it to give volume.
2.5 Select a suitable color.
Choosing the proper color is especially important when it comes to making the hair topper look natural. To make your hair look more authentic, choose a topper color that is similar to your actual hair color. However, it makes little difference if the color you select is not near. Because the top of your hair is composed of actual human hair, you can match it to your natural hue and then dye or tone it to match your hair properly. This can help your hair look more natural and realistic on top.
2.6 Do not use excessive force on your hairpiece.
Excessive stress on your hair topper can damage it and makes it appear unnatural and fake. As a result, if you want to keep your hairpieces looking natural, you should avoid using extra force on them and be more careful when caring for them because they are weaker than your actual hair.
2.7 Keep the top of your hair out of the sun.
We're all aware that the hair topper can gives us a unique look. However, we must protect them from the sun. Because the sun can harm not only our skin but also our hairpins. It will cause the hair on top to dry and fade. You should avoid direct sunlight if you want the top of your hair to look beautiful and natural.
2.8 Before going to bed, keep the top of your hair dry.
To keep the hair topper looking natural, dry it before going to bed. If you go to bed with damp hair, the top of your hair may become tangled and knotted, necessitating a lengthy combing session. This is not only a waste of time, but it can also damage the tops of your hair, making them look even more unnatural. That is why you should dry your hair before going to bed.
2.9 Properly store your hair toppers
If you don't wear your hair topper anymore, clean it and store it on a wig stand or wrap it in silk to keep it from becoming damaged. One thing is worth noting: keep it in a cool, dry spot away from direct sunlight and humidity. As a result, you should store your bobby pins carefully to keep them looking natural.
To sum up
Hair toppers are the best choice for beginners because they are easy to install, especially because they are lighter compared to other wigs. These methods will let you know how to make the top of your hair more natural. Practice makes perfect, and you can only get better at the method after trying it.
Comment