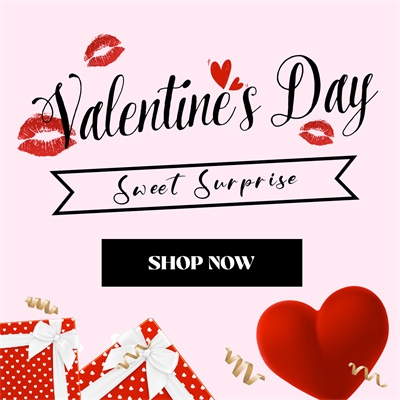 Valentine's Day Sale
Time:from 6th Feb to 15th Feb
$30 OFF over $399 code: VSD30
$18 OFF over $269 code: VSD18
$10 OFF over $129 code: VSD10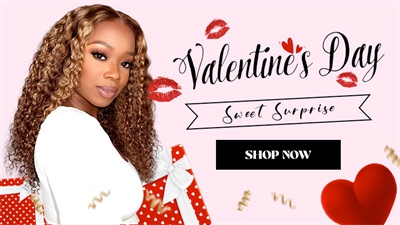 1. List of the best Valentine's Day wigs to choose and buy
Why would I recommend a wig for women and a wig for men as a gift for their significant other? For women, a wig can dramatically change your appearance, making you look more attractive through a combination of color and texture. For men, a wig as a Valentine's Day gift symbolizes a kind of inseparable companionship, because the wig can be worn every day just like you can be by your lover's side. Here is a list of wigs worth buying for you.
1.1 Honey blonde money piece jerry curly wig
honey blonde is a hair color that goes very well with the warm spring season, it can make people look very sweet. jerry curly curl texture, showing compact and small curves, highlighting the texture, and at the same time can provide the wearer with a variety of hair options. You can try to make the wig as wet and wavy hair or you can try to weave braids around the forehead to the sides, which looks very sweet. More noteworthy is that this jerry curly wig is the same hairstyle as Beyonce, is not already feeling the same charm as Beyonce?
body wave curly texture looks most feminine, 180% density makes the hair look very full and voluminous, and large "C" curls present a wavy appearance, in the sunlight real hair will be shinier. Pre-cut lace allows newcomers to wig wearers can save some time, but also simplifies the wearing steps. The top wig is 5*5 HD lace, which means that on any skin tone, the lace will blend in better with your skin, even like your original skin tone.
Straight black hair is never out of style and never wrong because it will help you restore your purest beauty. Choose a size that suits you best between 14-28 inches, longer hair can create a more beautiful look, especially in the summer, a long straight black hair will always make people passing by can not help but want to look more. The wig you choose from donmily is a good guarantee of quality, and the most important thing about straight hair is its smoothness. donmily hair is made from real hair, which is very smooth and not easily knotted, so you can fully feel the charm of straight hair.

1.4 99J Burgundy wet and wavy hair 13*4 lace frontal wig
burgundy hair and ginger color are the most popular colored hair in recent years, 99J wig has a very bright color, and the traditional black and brown hair is not the same as it has a very big leap in color. From the appearance, burgundy hair is like Valentine's Day night poured into a goblet of red wine, in the light and the night of the backdrop to show the purple flamboyant as well as the red open. Take a look at the lace composition of this wig, the 13*4 lace coverage area can perfectly cover your entire hairline and provide a natural look. This will be one of the most worthwhile wigs on your Valentine's Day wig-buying list.
1.5 brown roots with blonde highlight lace part wig
If you think a single color is a bit boring, then it's time to introduce you to the highlight wig. the most basic shade of this wig is dark brown, with light blonde highlights interspersed between the brown hair. Get rid of the boring single tone and look brighter and more interesting. A good mix of colors will always give you a different charm.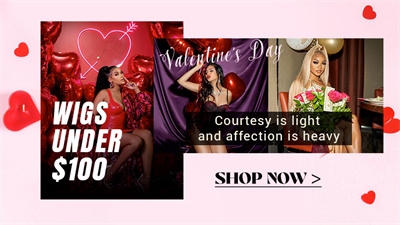 2. Conclusion
Ready to buy a wig for your Valentine's Day? Giving a girl a good wig will not only show the man's full heart but will also make you feel that you are getting more than your money's worth. Buying a good wig for yourself will help you look more attractive on Valentine's Day, so come and shop for Valentine's Day wigs at donmily!
What is the true meaning of Valentine's day?
It originated as a Christian feast day honoring one or two early Christian martyrs named Saint Valentine and, through later folk traditions, has become a significant cultural, religious, and commercial celebration of romance and love in many regions of the world.
Are Jerry curls natural?
The traditional Jheri curl uses a chemical softener to permanently change the curl pattern of the hair. This new natural Jheri curl is not a permanent style. It uses a curl cream, a kind of styling cream, to make natural hair softer while defining its natural curl pattern.
What is the most common gift for Valentine's Day?
Chocolates As cliché as it might be, the heart shaped box of chocolates is still one of the most popular Valentine's gifts, and nearly 48% of consumers say chocolate is one of the top gifts they present to their sweetheart.