Doja Cat And Her Hairstyles With Music
Oct 28,2023 | Meru
Doja Cat hasn`t stopped trending since she went viral for her song "Mooo!" back in 2018. The singer/rapper has been dominating the charts ever since with singles such as "Tia Tamera," "Say So," and her latest hit with SZA, "Kiss Me More." And she`s been the start of more TikTok trends than we can count. Virtually every top track on the app comes from the artist. Other than her music, one thing we obsess over endlessly are Doja Cat`s
wig hairstyles.
We know she`s had some issues with her wigs in the past, though she`s since seen the error in her lace. Now she has an amazing team of hair stylists to create looks that only she can pull off. From her music videos to her red carpet appearances, Doja Cat's hair is always the center of attention. I'm here. Many of them live rent-free in our hearts, so we decided to round up our most favorite Doja Cat hairstyles of all time. Find out...I can't wait to see this list grow as her stardom continues to grow!
Sleek Straight
The sleek straight style she showed at the 2021 iHeartRadio Music Awards was so simple, but so perfectly executed. This is one of the many Doja Cat hairstyles that we will try to recreate on our own hair.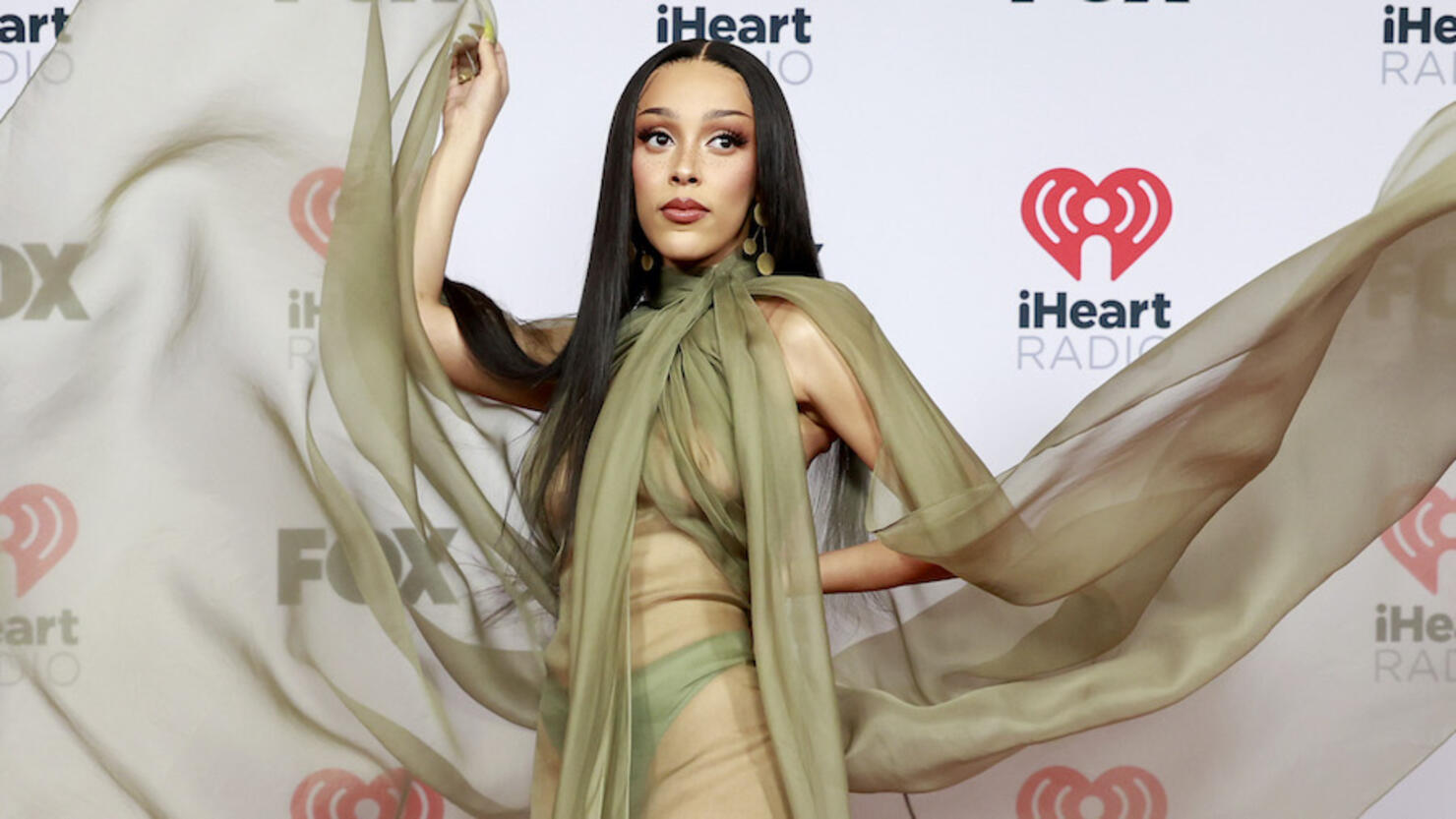 This straight hairstyle wig is very simple, but it actually puts a higher demand on the wearer's own temperament. This hairstyle invariably reflects the sense of power and stability of women, showing a very elegant temperament, a kind of strong woman - or Valkyrie feeling.
Romance in the Hair, Body Waves
It goes without saying that this romantic semi-undulation also comes from the 2021 iHeartRadio Music Awards. Those body waves, that delicate crown, perfectly laid baby hair. Doja Cat looks as beautiful as the red carpet photo. With hair that starts with a straight section against her scalp at the root and turns into big, wavy curls at the middle behind her ears.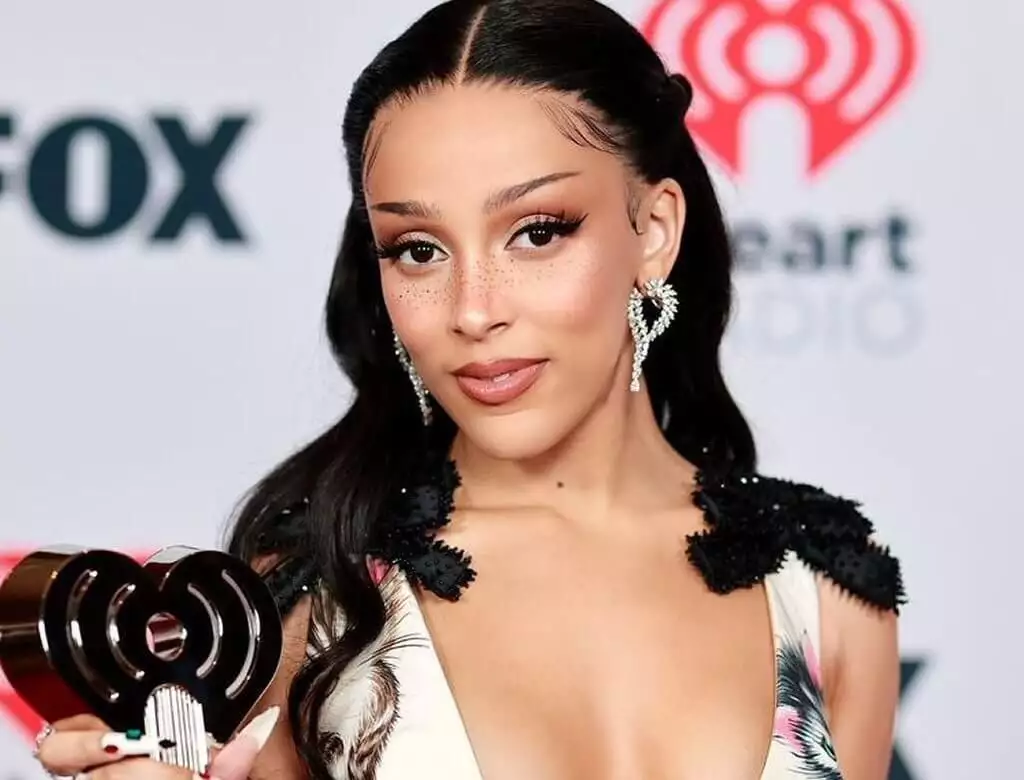 In fact no matter how we look at the wigs of these big stars, we always feel a very natural feeling. We will find that the celebrities' Baby Hair is always so delicate and natural, very obvious to be seen at first glance, but not so much that it feels fake - as if they are growing out of your forehead. If the user want a better baby hair appearance, a better lace wig is necessary.
Funky Mullet
As if we weren't already obsessed with the return of the mullet, Doja Cat attended the 63rd Annual Grammy Awards wearing black and an edgy signature hairstyle.
Bold and rebellious, female mullet has grown to be one of the biggest hair trends of this year. Clearly nonconformist, yet practical, it is now seen everywhere, from a schoolyard to the red carpet.
Once the celebrities known for their prominent hairstyles like Rihanna and Miley Cyrus took up the trend, it became clear that the girl mullet would be a big thing now. If you dare to try it too, here are the styling tips you will definitely need.
Future Braids
At the 2021 Billboard Music Awards, this futuristic braid has us ready to up our own braid game. Instead of just two braids cascading down Doja Cat's back, there are actually three braids all connected at the end.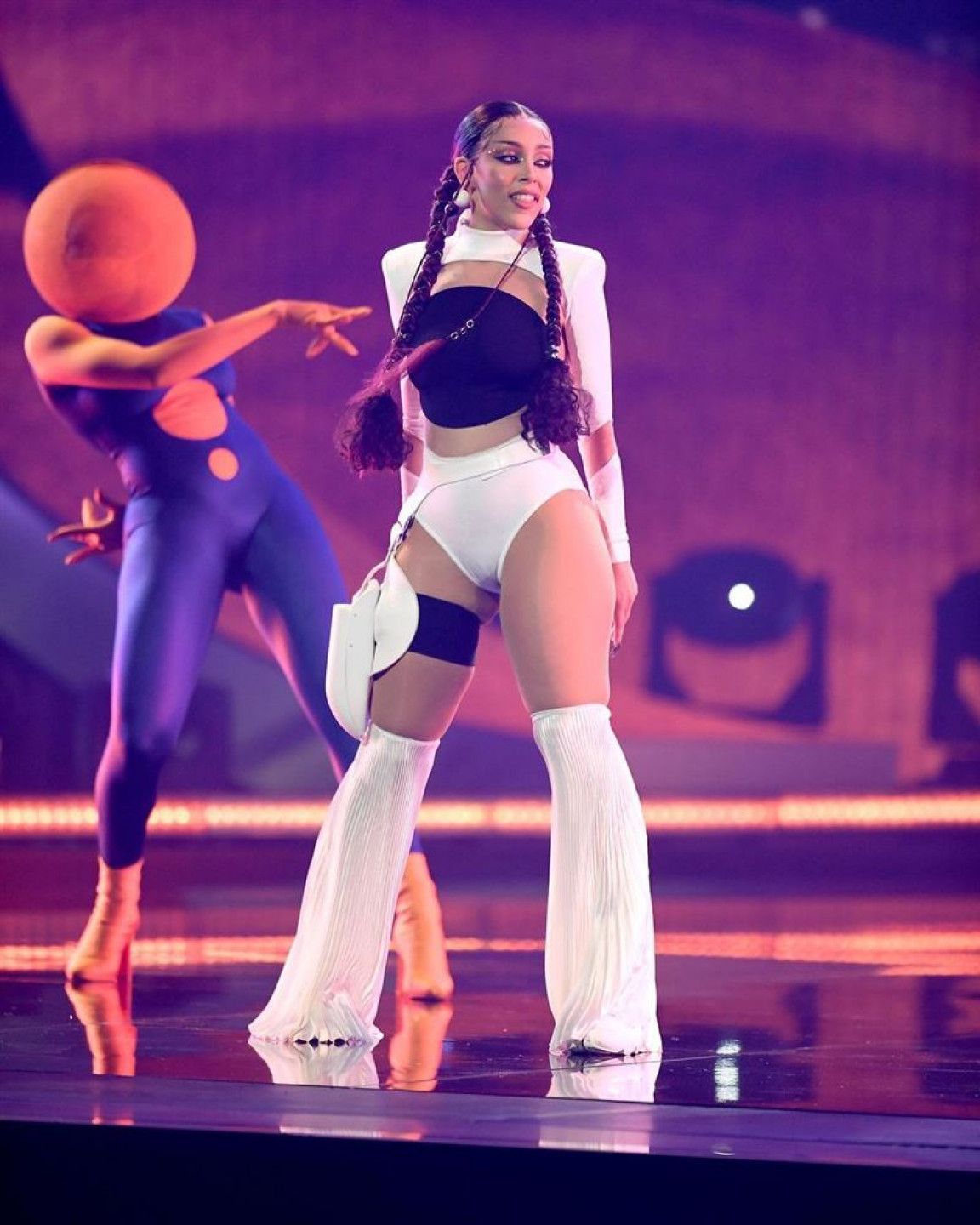 The more braids you have, the better. This futuristic double braid is really full of cyberpunk style, just like the whimsically shaped futuristic people in a popular video game Cyberpunk 2077.
Silver Bob with Thick Bang
Come on, how cute was this silver metallic wire bob Doja Cat wore while performing with Ryan Seacrest at Dick Clark's New Year's Rockin' Eve? We remember this Doja Cat hairstyle like it was yesterday, although it definitely got the attention it deserved. Dare we say it's one of her best styles to date?
This silver wig is obviously not very common, but if you want to use it, then I am sure you are a very confident person about your body and proud of you.
Disco Queen, Kinky Curly Blonde
Doja Cat's "Say So" music video is full of 70s-inspired hairstyles. While they're all incredible in their own right, we especially love these tight ringlet-sized curls cascading out of her scalp. These little curls couldn't be more perfect!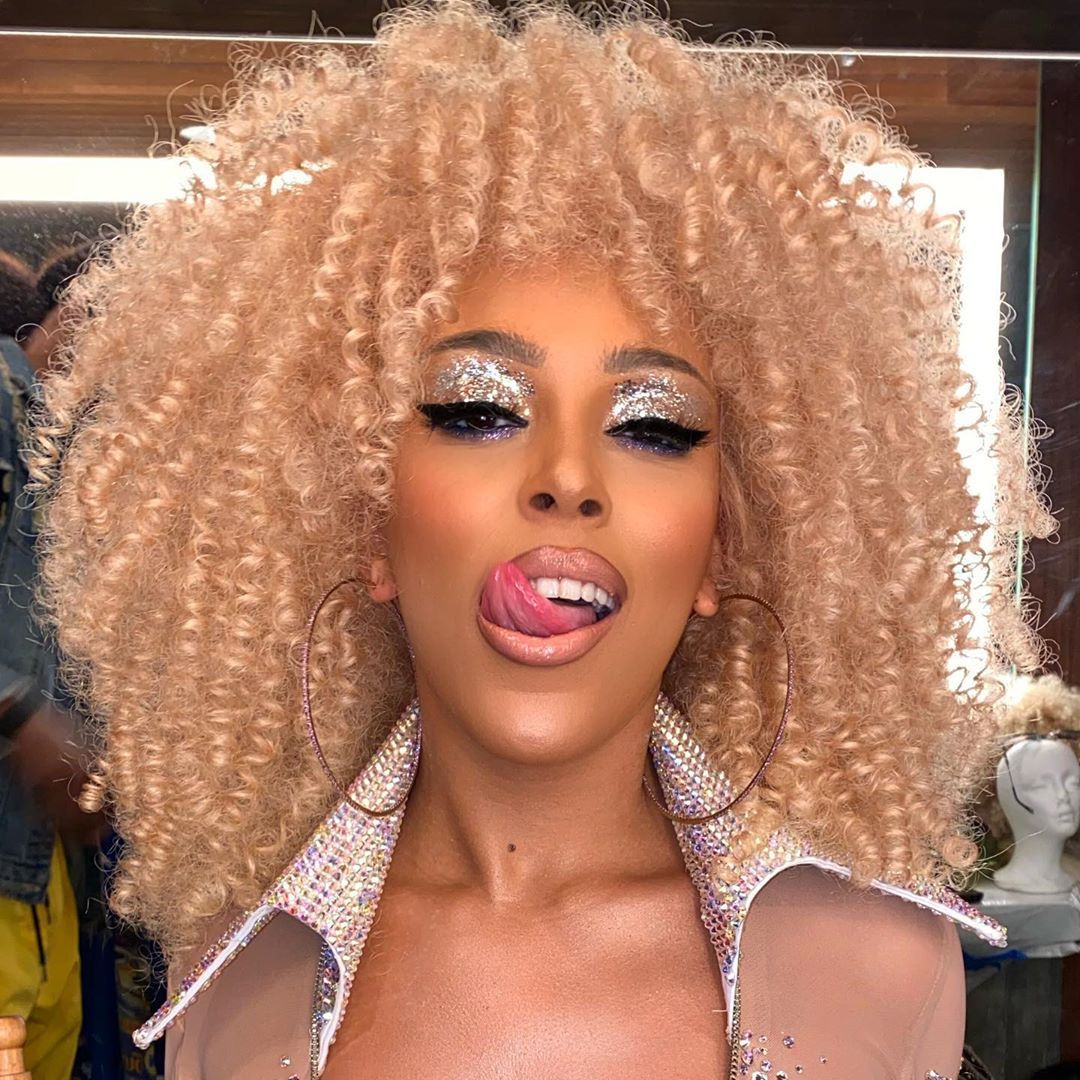 Blonde kinky curly hair is one of our favorite color and texture combinations for many reasons. First and foremost, blonde coloring is great for curly hair as it brings out all the depth and highlights in your strands. Whether you have naturally curly hair or create it yourself at home with hot tools, the styles look amazing in different shades of blonde. You can easily achieve this color style combination.
Split Dye Wig, Double Ponytail
We haven't seen anyone else rock the split dye look with platinum and neon green, further proof that Doja Cat was the hair trendsetter of her era.
Half and half hair (or split dye) is when you divide the hair right down the middle and dye each half a different color. This can range from subtle, natural colors to bold, contrasting colors. It is the perfect way to achieve a unique look that will have everyone asking how you did it.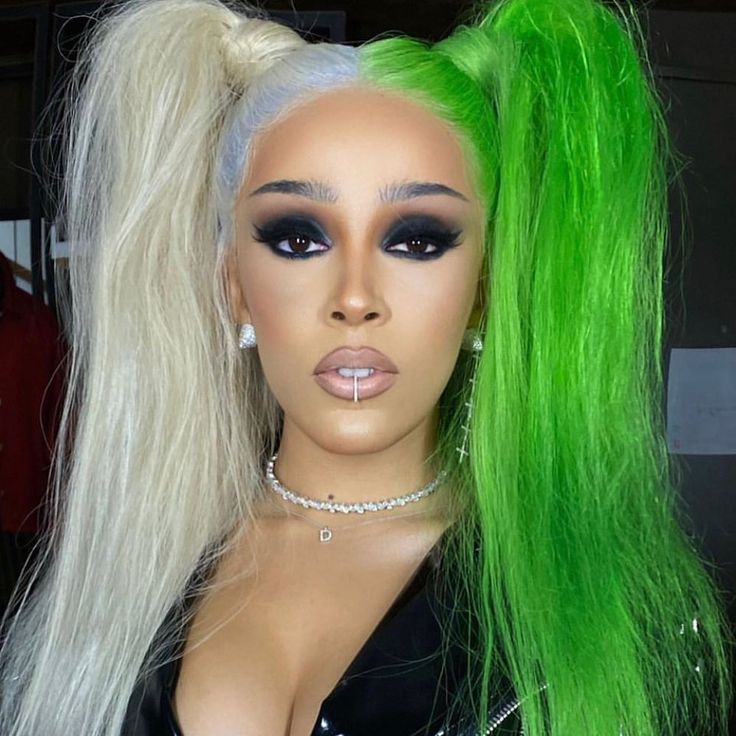 Doja Cat used her unique creativity to create a Split Dye hairstyle that is half blonde and half fluorescent green. Although obviously this hairstyle is not suitable for daily or more solemn parties and events, but if you have this wig, you can probably make a splash at parties or nightclubs.
Wet Hairstyles
Not just anyone can pull off wet hair, but Doja Cat is one of them. This style looks understated, yet very special and is the style that most people like and she looks like a carefree badass. If you learn how to get this hairstyle, I'm sure you can turn into a beauty in your everyday life.
Red carpet beauty looks serve as a major source of inspiration and trends. If you've been paying close attention, you may have noticed some celebs rocking wet hair looks. But you can sport hair like wet glass yourself without an attractive team to create the look for you...the best part? It's actually pretty easy to create.
Why is Doja Cat so popular?
Doja's star power is a unique one; she is the pop star that best understands how to blend and bend the rules of the old school and new school, handling the ever-evolving ecosystem of TikTok trends with the same dexterity that she handles traditional blockbuster awards show performances and radio singles.
Is Doja Cat's hair a wig?
hairstylist would like you to know that her new haircut and color are not a wig. Just like no one ever has to "confess" to getting Botox or injectable fillers or plastic surgery, no one is obligated to announce when they're wearing a wig.
Why does Doja Cat always wear a wig?
Admitting that she had struggled with her natural hair, she said during an Instagram Live, "When my hair is straightened or I have a wig on, I'm pretty much OK.
Comment