How Do African American Women Select A Wig Based On Their Face Shape?
Aug 25,2023 | Bailee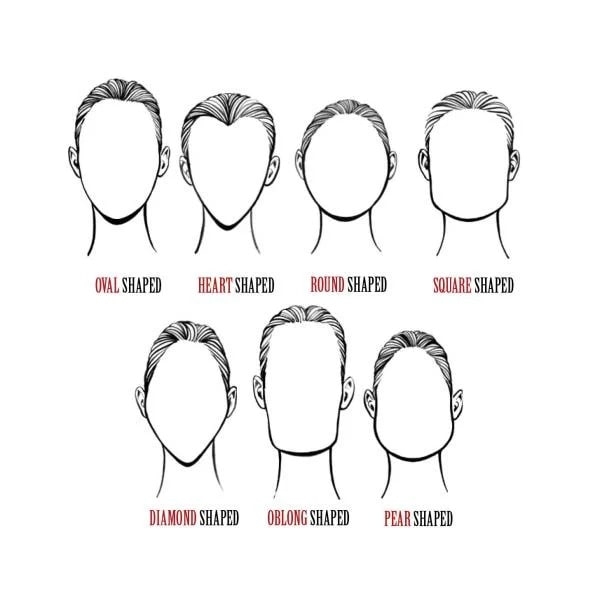 As wigs move further into the mainstream, more women than ever are trying them out (especially black women). You don't have to go far to see black women wearing wigs, whether it's long and luxurious, big and curly, or short and sweet. Why do black women use wigs and weaves is one of the most often Googled queries concerning them. There are a plethora of topics to discuss when it comes to black women. Some are considered sacrosanct, some are excruciatingly uncomfortable. Every black women has their own hair narrative and relationship with their hair, and appreciate the variety that weaves and wigs provide. Obviously, it is the same person, but a different hairstyle can give others a different feeling. When a black woman wants to buy a wig online, it can be hard to know which style is best for her. Picking the right one is really the equivalent of changing your head! It's very important. So let me tell you what kind of wigs suit black women with different face shapes.
Wig styles for oval faces.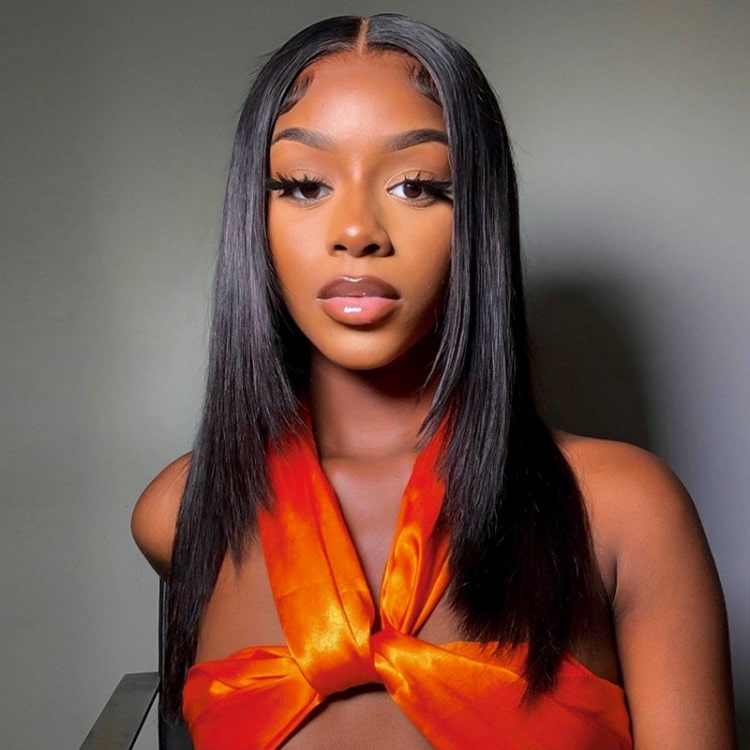 Some black women have oval faces,because it is symmetrical, has a small chin and a slightly rounded hairline, the oval face is regarded as an ideal face. If it is a black women with this face shape, then any wig will suit her, so don't be afraid to try. The most attractive wig styles for oval faces are the ones that emphasize their contours. So, black women has oval face can choose long waves with bangs or having long hair with layers, which will give you more volume and an attractive look.
Wig styles for square faces.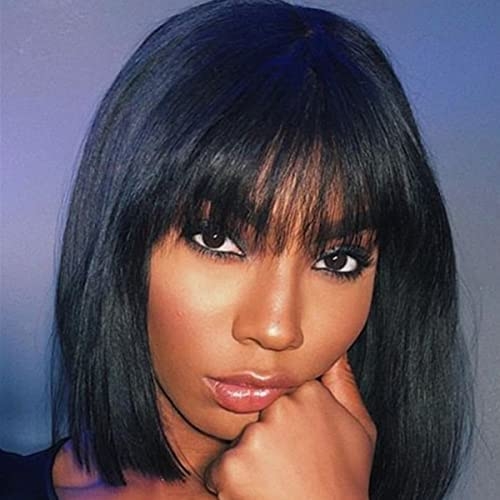 A square face is characterized by a wide and angular chin that is as wide as the forehead. Therefore straight and angular wigs such as BOBs should be avoided because of the prominent jawline and hairline. Avoid straight styles that end at the jawline because they accentuate the angles of the face too much. So black women with this face shape should look for a wig that adds height to the top of your head to make you look taller. Try layered or wavy hairstyles that break up the sharp edges and corners of your face to soften your face and make you look better. wigs with bangs are also great for black women with square faces, but choose a wig with longer hair length to flatter your face.
wig styles for round faces.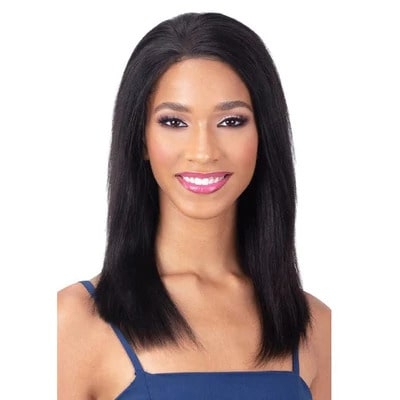 A rounded silhouette and a wide hairline are characteristic of round-faced black women. A round face has a full face below the cheekbones, which are usually short and wide. The cheeks and ears are placed at the widest part of the round face. Wigs that lengthen the face by making the top of the head larger and higher and flattening the cheekbones are suitable for black women with round faces. Wigs with dividers are great for softening the roundness of the cheeks. Avoid blunt hair cuts with rounded chins as they will reflect your face shape and round out your chin. For black women with round faces, long wigs are a good choice to compensate for the rounded areas of the cheeks and chin.
Wig styles for long faces.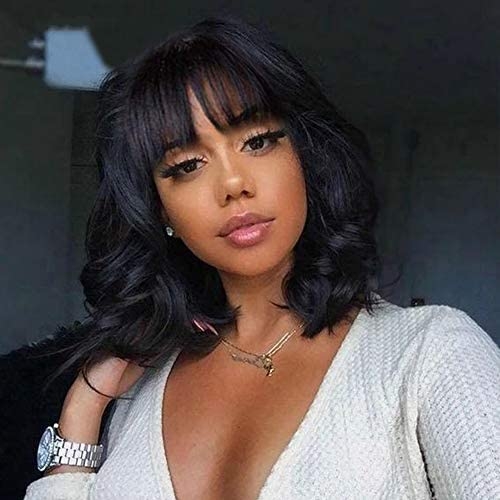 Long-faced black women have a pointed chin that is thin in width and long in length. The cheekbones, especially on the sides, are usually straight, and the forehead and chin are about the same width. In general, the width of a long face should increase compared to the length. For black women with long faces, chin-length wigs or hairstyles that fall between the chin and shoulders are a fantastic option. Keeping a wavy wig with relaxed curls is a great technique to add the width and volume needed to balance the face. Much shorter hair can also be used to complement a long face if the layers are short enough to provide volume and the edges are soft and curly rather than straight.
Wig style for heart shaped face.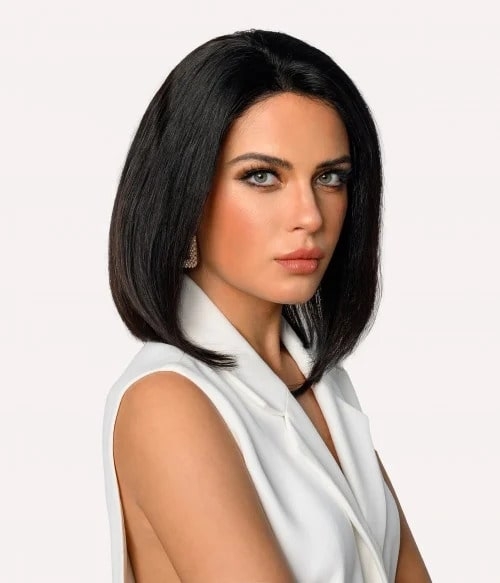 A wide forehead, high cheekbones, and a thin chin that looks like an inverted triangle are the hallmarks of black women with heart-shaped faces. This style is perfect for short hair with a tapered neck that enhances your pixie features. Black women with heart-shaped faces are suitable for wigs that have thin bangs. Hairstyles that cling to the head as the hair approaches the eyes, especially those with longer layers, can also flatter this face shape. Wigs with layers on the face or BOB hairstyles are also suitable for black women with heart-shaped faces because they balance the face and restore symmetry. Black women with heart-shaped faces should avoid hairstyles that have a lot of hair and a high crown, as they may emphasize a narrow jaw and make the face look cluttered and disorganized.
Wig style for Diamond face.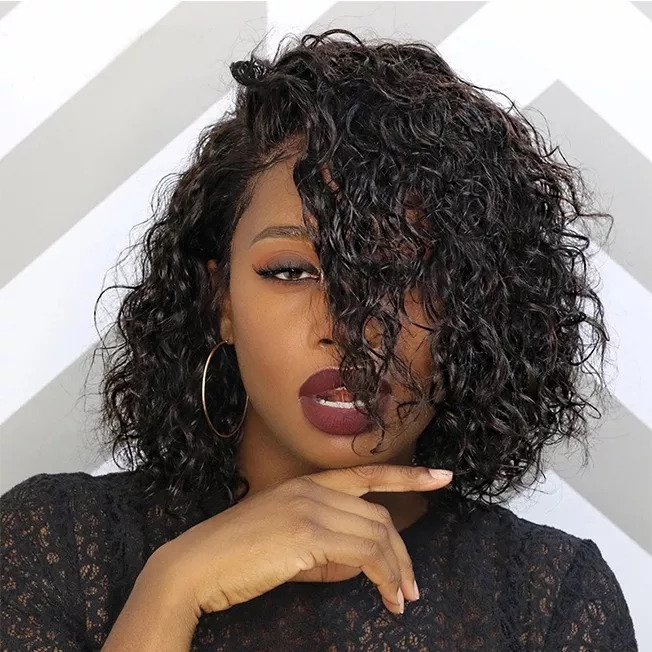 The diamond face is symmetrical and lovely. It is thin at the top, then widens at the cheekbones and narrows again at the chin. If you are a black woman with a diamond face, your cheekbones are probably the largest part of your face. If you want to make your jawline look wider, then you can go for a wig with short bob. Medium-length layers, either straight or wavy wigs, look great, and this short haircut wig is perfect for black women with diamond faces.
Wig style for pear shaped face.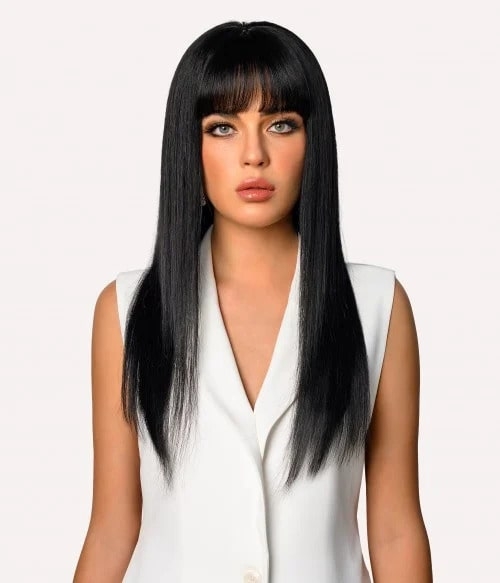 Black women with pear-shaped faces have the narrowest foreheads and the widest chins. A slender, square or rounded jawline is possible. So this face shape should add width at the top to flatten the wide jawline rather than accentuate the narrowness of the head. Long side-swept bangs or blunt bangs that look like they would widen the width of the head are the right wigs for black women with pear-shaped faces.
Comment