How About Colored Wig? How Can We Maintain The Colors?
Oct 13,2023 | Meru
Recently, intense color wigs are very popular among fashion pursuers. Lots of customers who have already purchased them value their wigs significantly, and also need to know exactly how frequently they must clean their shade wigs prior to they can keep their wigs stunning for a long time. This write-up will certainly provide you with an overview to help you clean. So, reading this post to find out exactly how about colored wigs and how to treat with them.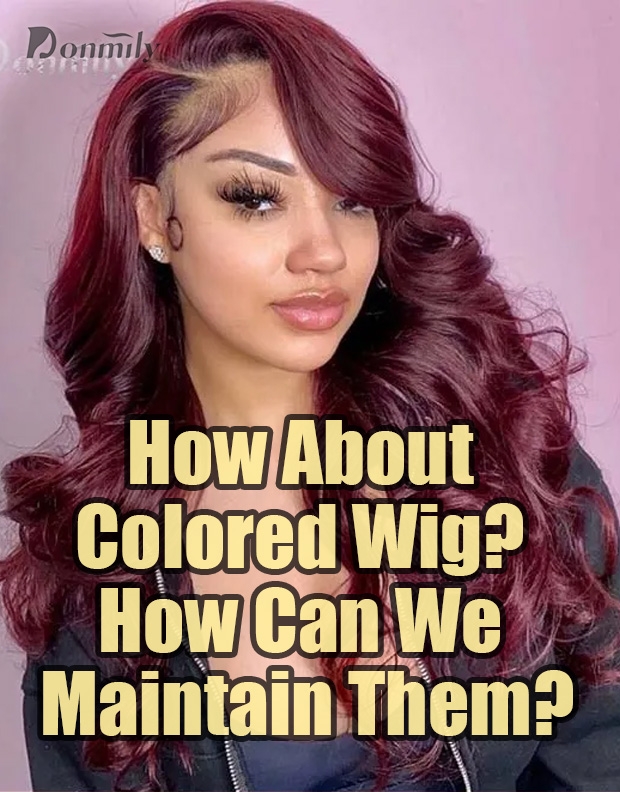 Why choose to purchase colored wigs
1. Budget friendly price
It's more affordable to purchase a color wig from a hair producer than to buy it yourself as well as color it.
This is since when you choose to tint a wig, you will have to get all the tools required to color it, which will enhance the expense of buying a wig again.
2. Save time
You still need to spend precious time tinting the wig. You can get color wigs from reputable hair producers to avoid all the difficulties.
3. Numerous options
Wigs in our store can be found in various colors, and you can freely discover as well as select what you
4. Regularity of using wigs
If you usually use a color wig, it implies it will certainly obtain dirty promptly. So you need to clean it consistently, two times a week. If you don't put on wigs commonly, after that you don't need to clean them often, normally when a week or 2 weeks later on.
5. The top quality of the wig
The top quality of a wig can likewise figure out exactly how typically you clean it. The reduced quality wigs are cleaned, the less complicated it is to degrade, and also they start to fall off and also tangle.
Yet Donmily Hair store uses 100% human virgin hair, which is of top quality and not easily harmed.
Maintenance of colored wigs
A well-maintained color wig doesn't require even more cleaning. If you rest without a wig, shop it correctly, and also look after your wig at normal times, after that you don't need to cleanse it commonly, since it remains in good condition. Too much cleaning will likewise harm our wigs.
If you want a wig that has been dyed in various bright colors, such as blue, red, green, or any more bright colors you can think of, then you should be prepared for it to fade.
Why are brightly colored wigs more likely to fade?
Assuming you are using or want to use a human hair wig, then I'm sure you have no doubt that the materials used to make it are just like human hair - yes, this makes them exactly the same in nature as human hair. If you have experienced coloring your natural hair and have dyed it in brighter colors such as red and blue, you will be surprised at how quickly these dyes fall out. Since wigs have the same properties as human hair, it is only natural that they would fall out of color. This is caused by the higher activity of the dyes they use compared to the brighter colors that are duller.
How to prevent color wigs from losing color?
Just like how to prevent your natural hair from losing its color after dyeing, wigs also require your efforts to prevent color loss. Specifically.
1. When washing wigs, it is best to use low temperature water, that is, the lowest temperature you can afford. Because the higher the water temperature, the faster the loss of color.
2. When washing wigs, it is best to choose a full set of functional shampoo products, that is, shampoo and conditioner supporting the kind. Because this kind of shampoo can better balance the pH of the hair, especially the conditioner, has the effect of making the hair scales closed, can effectively prevent the loss of pigment.
3. Conditions, use after dyeing special locking color type of shampoo and care products, this product is specially designed for dyed hair formula, it has a certain complementary color effect, can make the color fade twice as fast.
4. Try not to use high temperature hairdressing tools as often as possible to do styling, such as electric curling irons, electric clipboards and hair dryers. Even if you have to use a hair dryer, it is best to choose medium temperature to dry your hair, as high temperature is also a cause of pigment loss.
5. You can give your wig a hair mask treatment if you can, because the hair mask can enter the inner layer of the hair and play a very good protective role for the stability of the color.
Summary
Human hair wigs can come in a wide variety of vibrant colors, but you want to protect them from losing the dye component.

Donmily is making the biggest sale of the year: Black Friday!
In this promotion, we are offering two coupon stacking
Stack One: Black Friday Only Coupon
$20 off $135 or more Code:BD20
38 off $265 or more Code:BD38
60 off $388 or more Code:BD60
We also support the stacking of daily coupon offers! (Only one available)
6 off $99 or more
29 off $229 or more
60 off $500 or more
Compared to last year's $10 off $69, $25 off $169, and $40 off $269, the 2022 offer is much stronger. Hurry up and place your order at Donmily Hair.
Comment