Are The Stitch Braids Worthy?
Aug 25,2023 | lya
The beauty of stitch braids is their versatility. You can style stitch braids in a variety of ways, if you are looking for a unique and easy-to-create protective hairstyle, you can try the stitch braids, in this article you will learn what stitch braids hairstyles are and the most popular stitch braids hairstyles currently.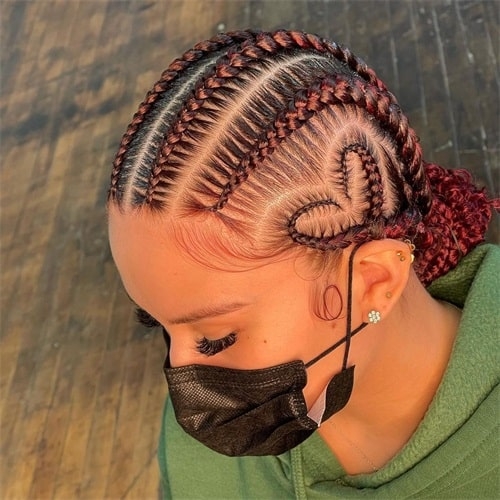 What is stitch braids hairstyle?
Stitch braids are made using the suture braiding method and are often made using a feed-in technique, it is also called feed-in stitch braids. The Stitch braids hairstyle is a versatile protective hairstyle, with many similarities to cornrows. It gives you a break from hot styling and helps with natural hair growth. Stitch braids can be stylish and will open up your face and highlight your features. This is also a great braided hairstyle for beginners, and this style will encourage natural hair growth.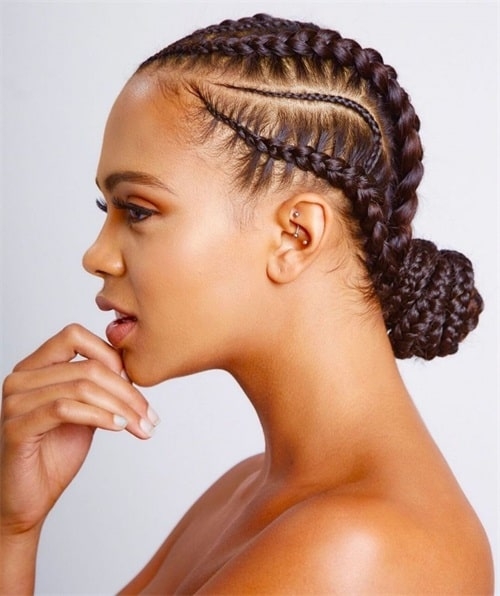 What is the difference between stitch braids and cornrows?
I mentioned in the last section, stitch braids and traditional cornrows look very similar. Stitch braids require you to use more fingers to create the "stitch" look, and it requires more precise parts.
The difference between the two is very subtle, but stitch braids have a more pronounced appearance, require more styling work with your fingers, and need more products to keep the hairstyle frizzy. To achieve a smooth look, you will need hairspray to set the edges, and a holding mousse to tame flying hair and get a smooth and glossy hairstyle.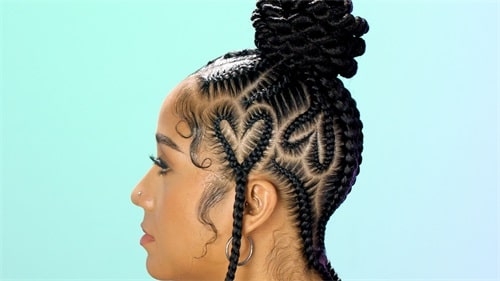 If your hair grows quickly, stitch braids may not last as long and need to be taken out earlier. New hair growth can make braids frizzy and look sloppy, so once your new hair growth starts to appear, you know it won't be long before you take them off.
What are the hottest stitch braids in 2023?
Stitch braids to the back! Whether you're a famous hair stylist or an ordinary DIY queen, stitch braids are something you should definitely try. Here are 5 different stitch braids that will be a new hair trend in 2023.
1. Stitch braids with heart
Stitch braids with heart, how wonderful a name! Are you looking for a unique stitch braid style? And what better way to do that than with a charming pattern? Adding a heart to your scalp is a creative trend, and stitch braids with heart like this can show off your personality. If you're looking for an edgier, more unique style, consider stitch braids with heart, you will be on the right way forever.
2. Small stitch braids
Except for box braids and butterfly locs, stitch braids are a gorgeous choice for your next protective hairstyle. They can come in different thicknesses and lengths, depending on your preference, and last from four to seven weeks. As you know, braids are made by dividing the hair into different horizontal lines that have different thicknesses, including fine and small. Small stitch braids may take longer to install because you need more braids, but they usually last longer and are more resistant to fiddling.
If you want your stitch braids to last longer, the small stitch braids will be your first choice. Goddess stitch braids with the same character.
3. Stitch braided bangs
Have you never seen braided bangs before? Get creative and instead of braiding your hair straight back, braid the front of your hair forward to create a fringe, right above your eyes. If you like, you can also add beads to your stitch braided bangs and fasten the rest to a low ponytail with a heart shape on each side to enhance the look.
4. Stitch braids high bun
Stitch braids are a lovely and versatile hair option, which gives you style freedom and allows you to experiment with a variety of updos, including bun hairstyles. Stitch braids high bun is gorgeous. A bun placed high on the head is ideal for formal occasions and can look stylish and sophisticated, completing the sharpness of the style. You can also give the stitch braids low bun a test.
5. Stitch braids with ponytail
The ponytail is a simple hairstyle that takes very little effort to achieve, which is the charm of stitch braids with ponytail. It looks good with all hair types and thicknesses and can be worn with long or short hair. A stitch braids with ponytail pulled up high for a glamorous look will make the eyes shine, while a long stitch braids with ponytail is practical and cute, creating a more laid-back aesthetic.
Conclusion
Stitch braids are braided hairstyles that are made using the technique of the strip-braid, where you add extensions to your hair, which can help you achieve the thickness and length you want. Trust me, you're going to love this easy-to-wear protective hairstyle.
Comment