Wash Synthetic Wigs, What Should You Do?
Sep.24,2022
This entry was posted in
Care
By Meru
The advancement made in artificial wigs makes them simple to manipulate and maintain. And, cleaning synthetic wigs is a good way to make them look gorgeous and resilient. Lots of people discover the process complicated. They often question how to wash a synthetic wig the proper way without damage. In this post, you will discover how to do it easily. Let's get started!
Can I Wash Synthetic Wigs?
Yes, you can wash synthetic wigs however we suggest only utilizing wig shampoo and conditioner specifically developed to clean fibers gently and thoroughly. Routine hair care products might include chemicals that can harm synthetic wigs so we do not suggest using routine hair shampoo or conditioner to wash your wigs.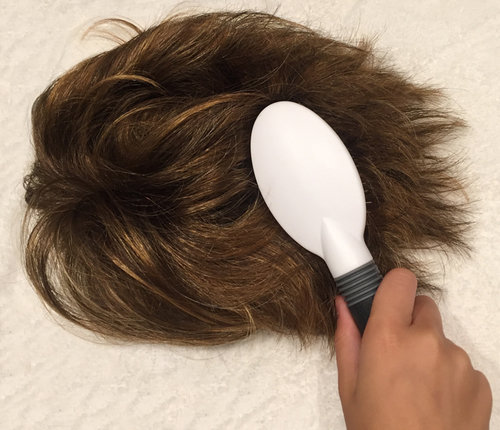 How typically should I clean?
Identifying how often to wash your wig usually depends on how typically you wear it. Your wig needs to be cleaned after about 6-8 wears, or every two to three weeks. Nevertheless, your lifestyle also plays a huge part in how typically your wig must be washed. If you're around heavy smoke, perfume, or strong smells of any kind, you must clean it regularly. A great indication that it's time to clean your wig is if it looks and feels lifeless.
You will need the following products to wash your wig:
1. A wig brush.
2. Wig hair shampoo and conditioner.
Wig hair shampoo and conditioner are specially developed to tidy fibers carefully to keep your hair soft and simple to manage. Note: If you're cleaning a human hair wig, human hair shampoo and conditioner need to be utilized. Nevertheless, you will still want a wig brush and a wig stand.
3. A wig stand, like the PORTABLE WIG STAND.
4. A tidy towel.
Preparing to Wash Your Wig
Take a look at your wig. Wigs should be cleaned when they are dull, lifeless, over-sprayed, or tangled from too much teasing. Start by carefully brushing your wig from the bottom in short strokes to remove knots and any spray build-up, and likewise to separate the hair fibers.
Step-by-Step Guide to Washing Your Synthetic Wig:
STEP 1: SOAK
Mix cool water with wig shampoo in a sink or basin (never utilize a cleaning maker). Soak your wig for five minutes, or a bit longer depending upon how stained it is. Even if your wig is quite soiled, never ever rub, twist or wring it. If your wig is longer or tends to tangle, avoid soaking and simply hold it in your hand while allowing the water to run from root to ends.
STEP 2: CLEAN
After the 5 minutes, gently dip it up and down in the water. If there are makeup discolorations on the cap, tidy them carefully with a small brush (like a tooth brush).
STEP 3: RINSE
Wash your wig gently however thoroughly in cool water.
STEP 4: CONDITION
After cleaning your wig, conditioning it will bring back the original design pattern of your wig. Conditioning the wig will keep it looking terrific and long lasting longer. Artificial wig conditioner includes specifically combined oils that soften dryness and highlight the radiance and mobility of the fiber. To condition your wig, refill your sink or basin with clean, cool water. Include one or two capfuls of conditioner to the cool water (for human hair conditioner, follow product instructions). Immerse your wig in the conditioner solution, gently working the service through the wig with your fingers.
STEP 5: RINSE AGAIN
Rinse your wig once again gently but thoroughly in cool water.
STEP 6: DRY
The weight of the water could extend the wig fibers and ruin the style. To prevent this, pat the excess water out of the wig with a towel. Hang your wig loosely on a wig stand or a spray can to dry at space temperature. Never position a wet wig on a Styrofoam head or a blockhead which can extend the wig cap. Likewise, never comb a damp wig or effort to speed dry it with a blow dryer. Air drying takes just a couple of hours and ensures healthy-looking, manageable fibers. Note: For human hair wigs/hairpieces, blow-drying and heat styling is suggested for optimum outcomes.
How to shampoo a synthetic wig?
Steps Browse your local beauty supply store for a good synthetic wig shampoo. Comb out the wig using a wide tooth comb or a wig brush. Fill up a sink or basin with cold water. Place the wig in the water. Let it soak for five minutes. Take the wig out of the water and drain the water out. Shake the wig by the nape or the back of the wig.
Can You Wash Synthetic wigs with fabric softener?
You can definitely wash your synthetic wigs using a fabric softener. Fabric softeners are a great help to prevent stiffness from wigs. Making the wigs softer, the softeners also ensure an excellent revamping of the unit of your wigs. Moreover, the softeners can play a great role to hold on to the exact color of the wigs and their brightness.
Should I buy wig wash shampoo?
Also, ask the person who is in charge of the shop if it strips the color. If it does, then don't buy it. If it doesn't strip the color, buy the synthetic wig wash shampoo. Don't worry, it is easy to find and costs cheap.