8 Types of Bangs, 2 Steps to Choose Based on Your Face Shape
Oct.28,2022
This entry was posted in
Style
By Meru
It is a recognized fact that if your hair doesn't fit, your face won't look good. In addition, many people now have "baldness anxiety", bangs have become a key beauty tool for everyone to consider. The reasons why people want to create bangs are: bangs can adjust the hairline, make you look like you have more hair, and can also modify the face shape.
The right bangs are the equivalent of changing your head, but the opposite is ugly, even for idols! So, is it suitable for you to have bangs? And what kind of bangs are suitable? Next, we will share the practical tips on how to choose bangs with your face shape. Two steps are in place to improve your face value in a flash!
Step 1: Do The Exclusion Method According To The Face Style
Many people cannot accurately determine which type of bangs they are suitable for. The fundamental problem is that they have a vague understanding of their own face style. Face style basically includes the three basic elements of face shape, the ratio of every part of your faces. When choosing bangs, the primary consideration is face shape, while the other two factors should be taken into account.
1. If Your Face Shape Is Short And Square
For example, flesh round face, short square face, diamond face, etc., generally speaking, it is not suitable for thick Straight bangs, bangs on eyebrows and other bangs that cover large area of forehead. This is because such bangs will cover the forehead and cause the visual center to move down to the lower half of the face. This will not only fail to modify the face shape, but will make your face appear shorter and more square, with a sense of dun.
2. If Your Features Are More Focused
If you have more concentrated features and more white space on your face, which causes your face to look bigger; such type is also not suitable for exaggerated bangs. In other words, it is better to leave a little hair on the sides to modify the face shape than to cover a large area of the face. Here you can refer to Song Joey, the dragon beard bangs are a good choice.
3. If Your Forehead Is Short, Or The Middle Part Of Your Face Is Long
If your forehead is short or the middle part of your face is long, this situation is also not suitable for bangs that cover the forehead in a large area. Generally speaking, heart-shaped faces and long faces are more prone to this problem. For short foreheads, large bangs will severely compress the proportions of the face and require a lot of refinement on the lower half of the face. People with longer atria look more mature, large bangs will make people look older. Light air bangs can reveal some forehead, which is better than thick bangs.
3. If Your Features Give a Bigger Look
If you have darker colored features, thicker hair, or if you are good at this type of makeup, it is better to not keep bangs. Because such type visually leaves less white on the face and stronger visual impact, if you have bangs, it will look more crowded on the face and the overall temperament will be depressing.
4. If Your Forehead Is Wider, Higher
In this case, or if your hairline is more backward, it is very suitable for large bangs, flush bangs, air bangs, and bangs on eyebrows can be arranged up. If your forehead is wide, but shorter, you can choose bangs with two-eight diagonal points.
Step 2: Different Bangs Types Suitable For People
Different hairstyles are popular every year, and the style of bangs keeps pushing forward. From straight bangs to air bangs, from French bangs to bangs on the eyebrows, various net bangs are suitable for you or not? To help you avoid the mines, here are 8 popular bangs to analyze them.
1. Straight Bang
The most popular bangs are the straight bangs.
The probability of stepping on the mines of bangs is still very high, and if you are not careful, you will look old. The reason why bangs were popular in the beginning was because of its sense of age reduction. It is a great way to create a student girl's temperament and to blur the hairline and make it look like there is more hair. The round face is stronger because of the tonsure, if you have to choose flush bangs, you can slightly part in the middle, the exposed forehead can elongate the face proportion.
2. Thin Strand-Fringe Hair
This is a great way to get the most out of your hair, especially for those who have a square face, long face, diamond-shaped face and narrow forehead.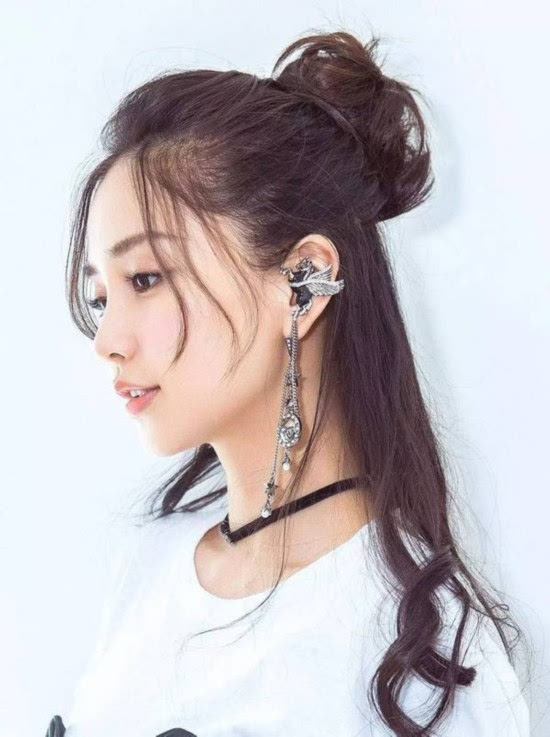 The beauty of thin strand-fringe hair is that it is small and precise. With a small amount of hair, the width of the forehead is subtly modified, making the face more coordinated. For square faces with hard face lines and long faces, creating slightly curly thin strand-fringe hair can soften the facial lines and add femininity. For round faces, thin strand-fringe hair not only weakens the size of the face, but also adds a girlish look with its slightly curled shape.
3. Mid-Parted Full
Fringe Hair
Suitable for people with wide forehead, high forehead, long face, square face and diamond face with square jaw line.
Also, the compatibility of Mid-Parted Full Fringe Hair is very high. Mid-parted Fringe is a bit thicker and more suitable for people with wider or taller foreheads than thin strand-fringe hair. Long faces are also suitable for this type of Fringe, but you may need to curl it to create volume so that you can add width to your face. For those with a square jawline, Mid-Parted Full Fringe Hair also needs to be created with a large curve and a length to the chin is better so as to reduce the harshness.
4. Slanted Bangs
For people with wide forehead, high forehead, square face, diamond face, and high hairline
Slanted bangs are tailor made for them. The intersection of hair on both sides is the starting point of the hairline, effectively lowering the visual hairline. At the same time, it can also cover part of the forehead, which is also very friendly for wide foreheads. For those who have a square face, these bangs are similar to the eight bangs, and at the same time, they can block the face and show a smaller face.
5. Above-the-Brow Bangs/Eyebrow Bangs
The most popular bangs are the above-the-brow bangs, which are suitable for people with long and delicate facial features.
When it comes to above-the-brow bangs, the originator of this is the goddess Audrey Hepburn (refer to the look in "Roman Holiday").
However, this kind of bangs is not easy for ordinary people to manage. If you have a long upper court, you can consider it. At the same time, because it will shift the visual weight to the area of eyes and nose, if you have big eyes and high nose, choosing bangs on eyebrows can be very impressive, otherwise it is easy to step on mines.
6. Airy Bang
Suitable for people with high forehead, high hairline, flat forehead, and convex mouth.
Airy bangs are thinner and have a breathing sensation. It can blur the hairline, weaken the area of forehead and improve the proportion of the face, suitable for people with high forehead and high hairline. At the same time, because air bangs have some dimensionality, they can make the head appear fuller, which is a big savior for people with a flat forehead. In addition, for people with convex mouth, it can echo with the mouth and weaken the visual impact of the mouth.
7. French Fringe
Suitable for people with diamond-shaped face, high forehead, high hairline and long midriff.
French Fringe is similar to air bangs, the difference is that the former is thicker, more layered, with broken hair on both sides, and at the same time, more voluminous, fresh and natural, yet casual and lazy. It can improve the hairline and also modify the face shape, especially friendly for diamond-shaped faces. It not only covers the sunken temples, the chopped hair on both sides trims the high cheekbones and softens the jawline, perfectly fixing all the problems. For those who have a long midriff, French bangs are more refreshing and sporty, which can weaken the mature look brought by a long midriff.
8. Messy Curly Bangs
Suitable for people: Goose egg face, heart shaped face, small round face, square face, diamond shaped face, people with soft and fine hair and little hair volume
Messy Curly Bangs are fluffy and messy like bubble noodles but have an unmistakable beauty. These bangs can hide the wide forehead of heart shaped face and also add volume to save fine hair and low volume. Plus, the sweet and playful temperament can weaken the aggressiveness of square and diamond shaped faces and make people look more lively and cute. Of course, Messy Curly Bangs should not be too thick, otherwise it will easily look dull and lose the feeling of small freshness. In addition, because of the strong sense of shape of bubble face bangs, it is generally easier to present the effect with lighter hair color.
Summing up
Overall, the choice of bangs is closely related to the features of the face shape, but that doesn't mean it is the only deciding factor. Because most people's face shape is not a standard face shape, and face styles can vary, such as the difference in the ratio of every parts of your faces, the difference in the volume of five features, the difference in the delicacy of five features and so on.
The choice of bangs is a multiple choice question that requires a comprehensive consideration of your facial features to make a judgment. After reading this article, I believe you already know the right hairstyle for yourself. Then, you may as well share it with your buddies who need it, so that we can rise together. When you go to your stylist in the future, you no longer have to worry about stepping on potholes!
What are the Best Bangs for heart-shaped faces?
Heart-shaped faces typically have more space from the eyes to the hairline when compared to other face shapes. "It is a great face shape for bangs as you have room to fill in with hair," says Tina Outen, professional hairstylist, and colorist. She recommends going with a longer bang style, like curtain bangs.
Do Bangs make my face look longer or longer?
Do Bangs make my face look longer or longer? If you have an oval face shape, most of the time it will appear to be long too. Bangs can help you either emphasize your face type or reduce the length, depending on your tastes. To show off that you have a long and lovely oval face, try any types of bang.
What are the Best Bangs for a long face?
Grown-Out Bangs: Best for Long Face Shapes Not only are they easier to manage, but longer, grown-out bangs are the most flattering on long face shapes. You have the space to work with, plus cropped bangs will only make your forehead look longer. Go for a cool pair of parted bangs like Rihanna's.
Is Malaysian hair better than Brazilian hair?
Virgin Brazilian and Malaysian hair are both excellent choices. However, if you need hair that is thicker and coarser, then Brazilian hair is best for you. If you're in the need for soft and wavy hair, Malaysian hair is the best for you.