Rihanna: The Super Gamer Of Hairstyles, An Ultimate Chameleon
Aug.06,2022
This entry was posted in
Explore
By Meru
Over the past 16 years, Rihanna has blessed us with her music, fashion sense, and eye for cosmetics. With all of Rih's Bad Gal magic, it's easy to overlook some of her most iconic hairstyles.
Rihanna burst onto the scene with her hit song "Pon de Replay" nearly 20 years ago. Ever since, fans have loved her for not only her music, but also for her style. That's largely because she's never been shy about taking risks — whether it's a Swarovski crystal-encrusted sheer dress and matching thong or a heart-shaped fur coat, the Fenty Beauty founder is continually cementing her status as a fashion icon. In January 2022, Rihanna nearly broke the internet when she announced that she was expecting her first baby with boyfriend A$AP Rocky, and then went on to disrupt whatever we thought "maternity style" should look like by refusing to hide her baby bump.
That same fearlessness also shows up in her beauty choices. More specifically, Rihanna is the queen of the hairstyle change. She's rocked it all in just about every hue: The Barbados-born artist's hair has been blonde, jet black, and fire red (and more), and it's been worn short, long, cornrowed, and half-shaven. And, yes, there have been bangs. As a hitmaker, a style icon, and a beauty mogul, it's hard to keep up. If you need a refresher (or remember vividly but would love to relive the looks), we compiled a timeline that showcases Rihanna's hair evolution, from 2005 to today. Scroll on for the best, most memorable Rihanna hair moments.
The Rihanna hair journey has been a wild one, from pixie cuts and the bright red Loud era to bobs and ponytails. While we're watching her reinvent maternity style, let's take a look back at her incredible hair looks.
Below, see the Rihanna hair evolution unfold.
The Side Bangs
It was 2005 when Rihanna released her debut single (#TBT). At the time, she sported long side bangs that grazed her eyelashes and flowed into her longer honey-brown lengths.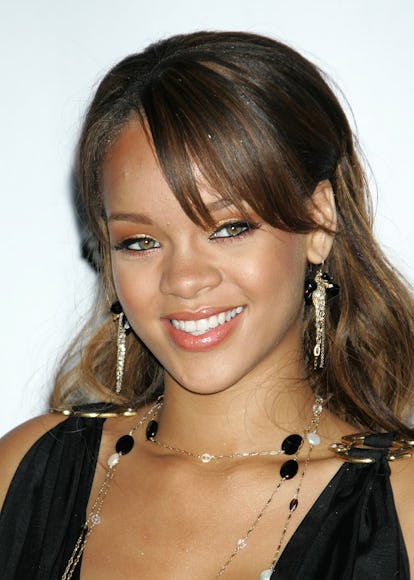 The Beach Curls
Later in 2005, the singer channeled her island girl roots while hosting TRL with beachy, perfectly undone curls along with her signature early aughts side part.
The Bomb Blowout
The singer showed up at the 2006 VMAs with this bouncy brunette blowout that indicates her side bangs have grown out to form a chic, sweeping frame for her face.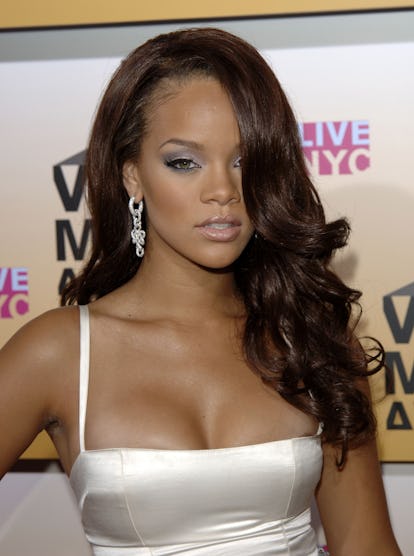 The Blunt Bob
Rihanna chopped off her lengths to reveal a super sharp bob with thick blunt bangs when she performed live on The Today Show in 2007.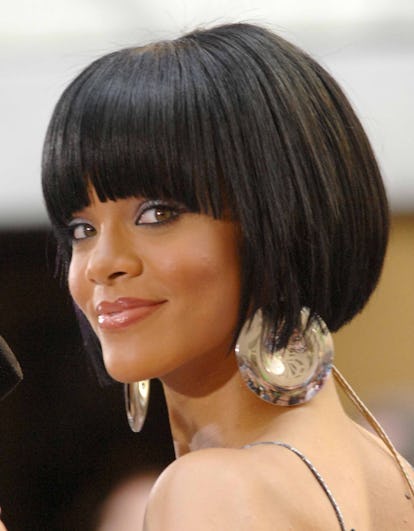 The Reverse Mullet
The star proved that she wasn't afraid to go bold with her beauty looks when she showed up to the 2008 Nickelodeon Kids' Choice Awards with this business in the back, party in the front-style pixie mullet.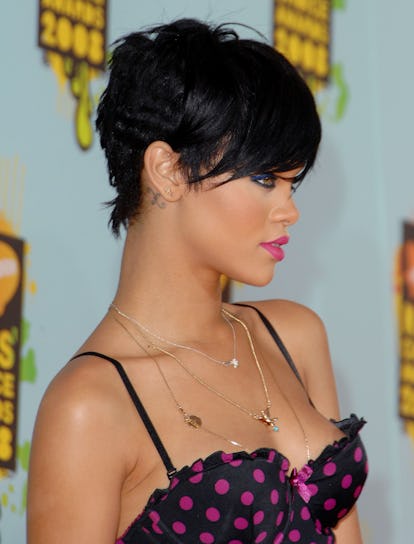 The Red Moment
There's no way you could forget about the time Rihanna rocked crimson red hair for the very first time, as seen here in fluffy ringlets at the 2010 American Music Awards.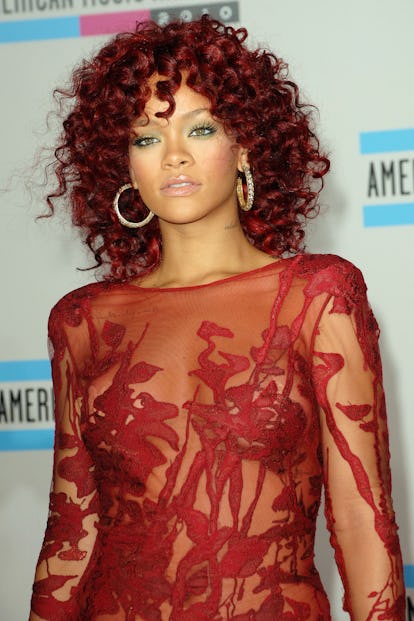 The Asymmetrical Cut
Rihanna kicked off her 2010 world tour by showcasing her edgier side with a two-toned, asymmetrical cut, complete with a shaved side.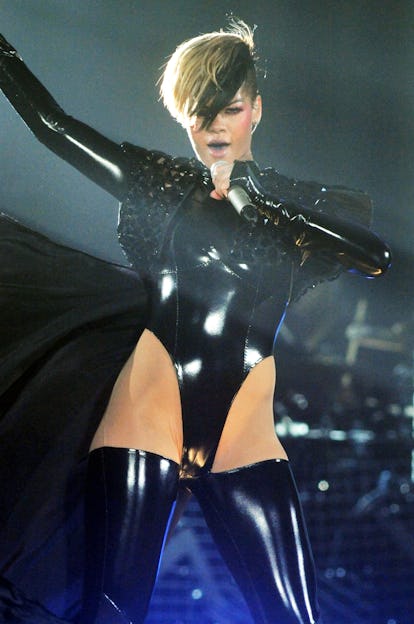 The '60s-Style Pixie
Showing off yet another hair change, the "Diamonds" singer showed up to the 2012 iHeart Music Festival with an adorably mod pixie haircut à la Mia Farrow.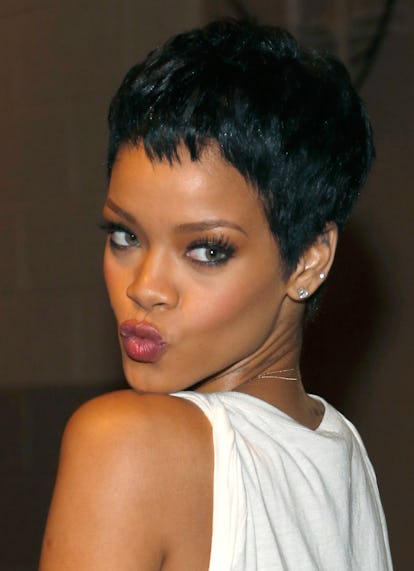 The Strawberry Blonde Shag
The Fenty Beauty founder went strawberry blonde in 2013, seen here at the Chanel show during Paris Fashion Week. She wore the brighter shade with a medium-length shag-style cut with lots of layers.
The Heavy Bangs
Rihanna rocked a super sultry bob with curled ends and a heavy bang at the Christian Dior Ready-To-Wear Fashion Show in Paris in 2014.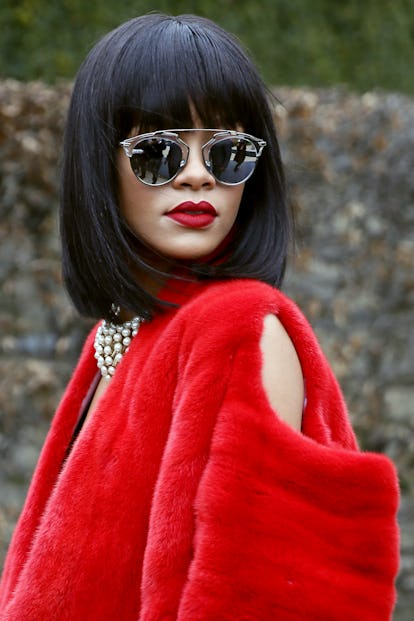 The Short Bob
By now, it's clear that the "Desperado" singer loves a bob. This razor-sharp, chin-grazing version she donned in 2016 screams '90s goth girl in all the best ways.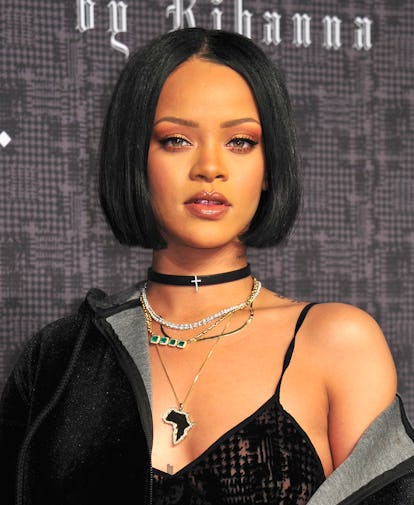 The Voluminous Waves
Rihanna graced the 2017 Grammys red carpet rocking these waist-length auburn loose waves that were the perfect melding of soft and cool.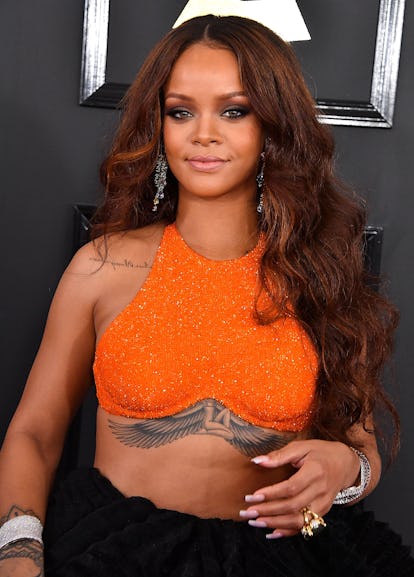 The Cornrows
At the 2019 British Fashion Awards in London, the "Umbrella" singer rocked gorgeous and intricately designed cornrows that flowed down her back.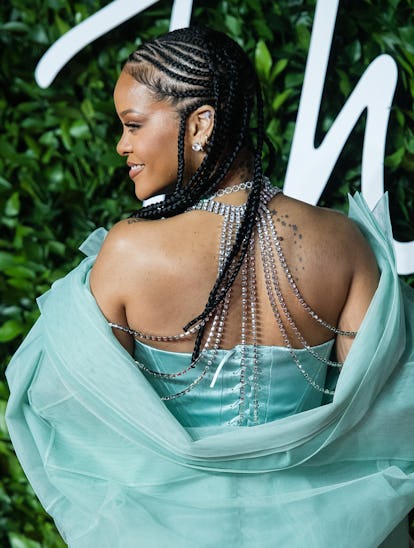 The Classic Black
The Barbados native donned super shiny and extra-long black hair — with the reintroduction of bangs — at the Fenty afterparty in Paris in 2019.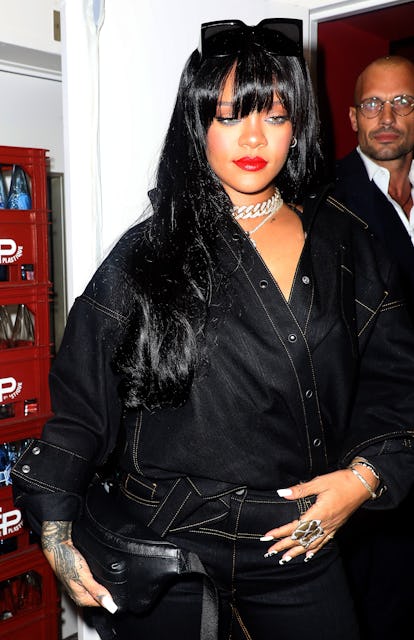 The Water Waves
As of spring 2022, a very pregnant Rihanna has been rocking easy, summer-ready water waves in an almost black hue.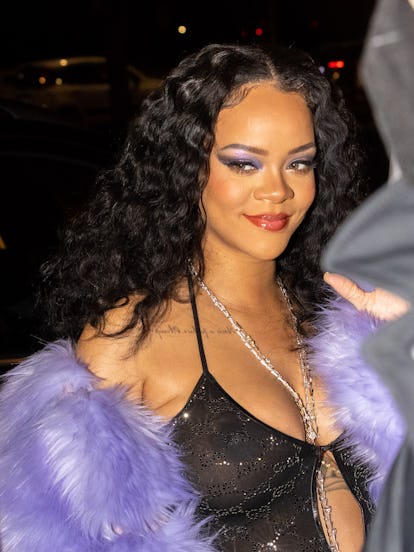 Why is headband wig so trendy?
The unique thing about headband wig is that it allows us lazy girls to install and uninstall the hair very conveniently, not time-consuming. If you are a beginner at wigs, headband wigs are definitely the type to go. It is lace-less and requires no tool, so you don't need glue to stick it on your skin. Everything will be done as easily as wearing a hat. You just throw it on and do anything you want. Headband wigs simplify your beauty routine, and with plenty of styles available, it becomes a new fashion trend exploding online.
Which hair type shrinks the most?
This is completely normal. In general, the tighter your coils, the more contractions you can experience. Those with type 4 hair typically shrunk the most than those with type 3 hair. Some people's natural hair shrinks as much as 75%!
Which wig is better 13x4 or 13x6?
The difference between 13x4 and 13x6 is how much lace is towards the back of the head. The 13x4 can only go back 4 inches, while the 13x6 will go back another 2 inches. 13x6 looks more natural than 13x4. 13x4 will be cheaper than 13x6 because it has more lace on it.