Red Wine and Maroon 99J Hair/Wig Color: Play with Burgundy Red Shade
Sep.02,2022
This entry was posted in
Style
By Meru
Sometimes you like to dye your hair a red shade, or try a human hair wig in red shade(99J wig color). But have you ever thought that if you have the opportunity to try a red that looks more classy?
If you are a loyal player of red human hair wigs, then you must not miss the charm of burgundy red/red wine hair style. This red is so understated and luxurious, it's the perfect way to show off your color taste and personality.
What Color Is Burgundy?
Burgundy is a deep red color with a definitely purple tinge that obtains its name from the Burgundy area of France.
Well, to be more specific, the name really comes from the area's well-known Burgundy wine, which is made from the red pinot noir grape and bears the deep purplish-red color now merely referred to as burgundy.
Burgundy is stated to be a mixture of dark red and violet. The majority of the time, this hue contains hints of brown and even a mix of blue and green, leading to its special reddish-purple shade that errs on the side of brown.
While you might know and associate the color burgundy with a deeper reddish-brown color, there are two other variations of the color burgundy out there, specifically old burgundy, and brilliant burgundy. Old burgundy has a darker and more purple appearance, while brilliant burgundy is rather lighter in comparison.
Burgundy Color on Your Head
Burgundy (dark red, red wine color) is actively utilized for hair coloring in brunettes. Blondes and ladies with medium brown hair in some cases also resort to this noble shade in order to appear better, well, much more vibrant.
Even redheads may try some shades, reminding burgundy, however leaning towards the warmer tints with the admixture of cinnamon. Traditional, vibrant or old burgundy, maroon or oxblood ... so, which one to pick?
Fabulous Opportunities of Burgundy Hair Color
It cheers your hairs, includes a strange undertone or, on the contrary, the boldest shade you might ever imagine on yourself. Burgundy adjusts to your fundamental hair color and lets you attain your objectives. Do you wish to be at the center of everybody's attention? Produce a wise retro look? Add a pop of color for the fall period that will look in tune with nature changes? Present some spice tint and shimmer for your brunette locks? No problem, look through the images below and choose.
At first, burgundy hue was considered a best brown hair shade for real brunettes. Nowadays, even some blondes attempt to go that brilliant and eye-popping. If a step towards strong vinous color tones seems too tough in the meantime, however you are lured to attempt something advanced, think about ombre in red and purple tones with demi-permanent dyes. They wash out after 24 shampoos, so you won't get bored with your flashy ends. This concept looks quite cool on medium brown hair, for example. Vinous highlights, as another compromise service, are ideal for black, dark-brown and medium brown hair.
Is Burgundy a Natural Hair Color?
No, burgundy is not a natural hair color. Maroon is probably most likely to happen as a natural color since (as we'll discuss below) it has more of a brownish tinge. Burgundy, on the other hand, is more of a purplish red, and purple isn't a naturally happening hair color. But with that stated, vibrant burgundy has actually become a popular color for hair dye.
In particular, dark burgundy has ended up being a popular winter color for those who prefer to sport a darker shade during the colder months.
Red Wine And Burgundy Wig Color/Hair Color Recommendations
1. Espresso Hair with Red Wine Highlights
You can quickly accomplish burgundy hair by adding some red white wine highlights to an espresso base. This produces a beautiful reddish purple shade that looks unbelievably striking when it captures the light.
2. Burgundy and Scarlet Highlights
Try a burgundy hair color over black hair and spice it up with scarlet highlights for a stunning blend your good friends will love on you. The soft waves keep the general look womanly and flirty.
3. Intense Burgundy Balayage with Black Roots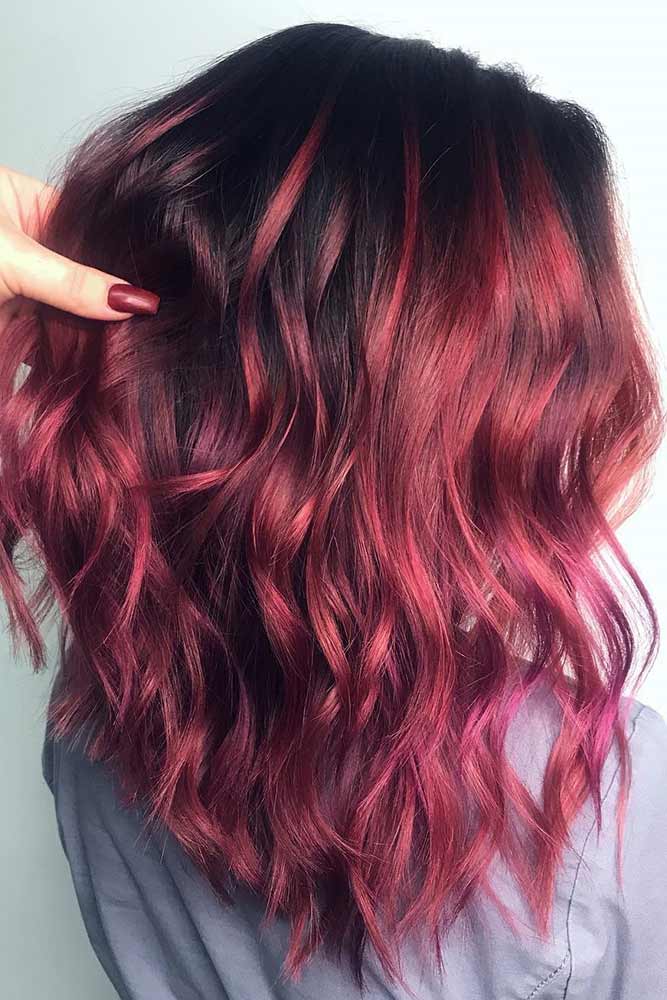 Two-tone and somewhat more alternative, black burgundy hair provides a fascinating contrast for brave, speculative people. To create a more synergized appearance in between the two colors, go with a balayage method.
What color is burgundy close to?
Maroon is a mix of red and brown, while burgundy is a mix of red and purple. This makes burgundy slightly brighter in appearance than maroon and gives it more of a purplish tinge.
Is burgundy hair color attractive?
There are tons of hair colors in hair fashion world, the most popular hair color is burgundy hair color. No one can say no to burgundy hair color in any season. Because burgundy hair color is so attractive and you will fall in love with this color and design.
Is burgundy a feminine color?
Masculine Color Many shades of gray and taupe have understated masculine appeal, and are often paired with blue and burgundy in male-influenced spaces. Warm tones of brown, tan, gold, green and beige are considered masculine colors and can work together to create a masculine outdoor color scheme.
How to Care for Burgundy Human Hair Wigs?
You can mantain human hair wig by following simple tips. Wash your burgundy human hair wig with only the shampoo and conditioner you used to wash your natural hair. Always air-dry your wig to keep it unharmed. Keep your wig moisturized wig with your favorite product but don't overdo it. To keep the wig's burgundy color shining at its best, when the wig is not in use, store it in a silk or put in satin bag .