New Trend Sandy Blonde Wig Of Summer-Autumn, 2022
Jul.26,2022
This entry was posted in
Fashion
By Meru
It's the very middle of 2022, ready to head to the beach? With the latest hair color trends, maybe you need a wig more suited for a summer beach trip! As the latest release of the latest trending colors for fall and summer 2022 from a reputable research institute, couch is a craze for light-haired folks, and it will understandably take over the summer to fall beauty scene - and that's understandable. In the fall, this sandy hair color also sets off the crisp fall scenery even more. Perhaps once you start learning more about this sandy blonde, I'm sure you'll be tempted to make a purchase. Read on to learn all you need to know about sandy blonde wigs.
I. How Sandy Blonde Hair is a Color
So, what exactly is a sandy blonde besides being the latest summer hair color trend? This multi-dimensional hair color is not only the perfect way for people with darker colored hair to lighten up their hair for the summer, but it is also the perfect way for people with light brown hair to add some depth to their hair.
This very colorful looking sandy blonde hair color is actually a light brown to golden brown based hair color with gray-blond highlights interspersed in it, and it is dyed in a way that is close to a Balayage dye. These highlights are then toned with three hair glosses to neutralize any brassiness and add more dimension to the tone. Since the color is a mix of brown and blonde and uses the Balayage highlighting technique, it tends to have a longer life in terms of finishing but, in my opinion, this hair color is more glamorous for Balayage because it is more simple and has more color layers. Who wouldn't like an understated and glamorous hair color.
II. About Sandy Blonde Wigs
Wigs are an essential part of many black women's daily lives and their role in life cannot be underestimated. This sandy blonde is different from the ordinary light blonde hair (or 619 blonde), which looks very conspicuous and high-profile on the human head (in fact, like this light blonde is more suitable for weekend trips or party-type occasions), sandy blonde is more understated on our head, revealing a luxurious atmosphere, suitable for work or party occasions.
III. Sand Blonde Wig Hairstyle
When your sandy blonde wig arrives, are you ready to design your new wig hairstyle? Below, we share some of our favorite hairstyles to flaunt your new color wig.


1. Fishtail braids
Fishtail braids have a gorgeous look because they're made from a small section of hair, but they're not as hard as you might think!
This hairstyle is based on straight hair, which can be very easy to organize, and this braid is also very easy to create. If you've learned how to wear a three-strand braid on straight hair, then a fishtail braid based on a two-strand braid can be a no-brainer for you.


2. Beach Waves
There's rarely a hairstyle for everyone, but beach waves are universally loved. They are the perfect casual style that is easy to create. Today, soft waves are very popular and can be seen on both short and long hair. The key to creating the uneven pattern typical of beach waves is to choose random sections of the entire head of hair and curl them in alternating front-to-back directions using heat pins, so they don't all come together. Finally, part the hair down the middle or to the side and secure it with a hair band or bobby pin.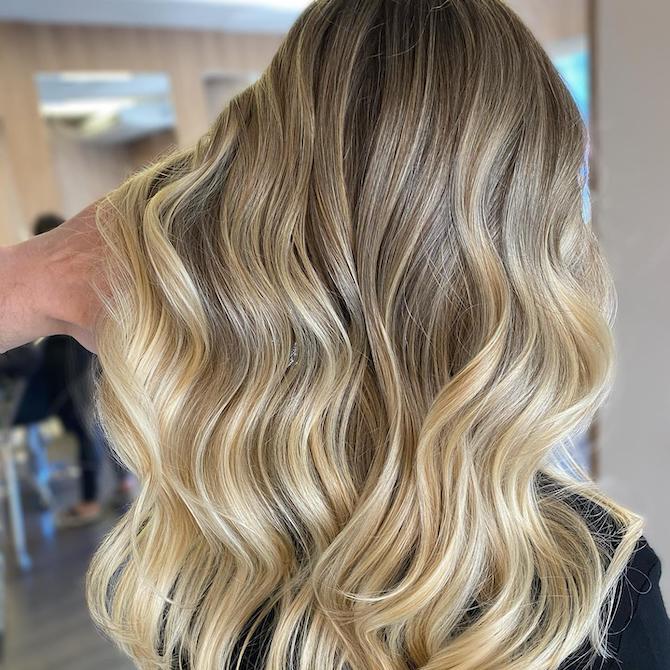 What color is sandy blonde hair?
A sandy blonde hair color is a rich beige-toned shade of blonde that's blended between warm and cool tones. Sparkling like champagne, it's known to give tresses amazing natural depth! Plus, this subtle hue looks the best on fair to medium skin complexions and light-colored eyes.
What does sandy hair mean?
1 : full of or covered with sand sandy soil. 2 : of a yellowish gray color sandy hair.
Should I try this sandy golden hair wig?
Absolutely you should try this new trend of this season in 2022, which make a feeling of high level.