Read This If You Want To Keep Your Wig From Tangling
Oct.19,2022
This entry was posted in
Care
By Meru
When you invest a human hair wig, you will not be more than better to show off your gorgeous look and get lots of compliments after perfect installation. After one day or perhaps a number of hours later on, you might be experiencing hair tangling at your nape, which is frustrating so much. So Why do human hair wigs tangle?
As all of us understand, our scalps can produce natural oil to avoid our own hair tangling or dry. That's describe why human hair wigs are knotted while your own hair is not. Another factor is that wigs are made from real human hair, which have some cuticles. Activity with the cuticles, humidity, and temperature can trigger slight knotting. So many of our customers request human hair which cuticles aligned into one instructions to prevent tangling.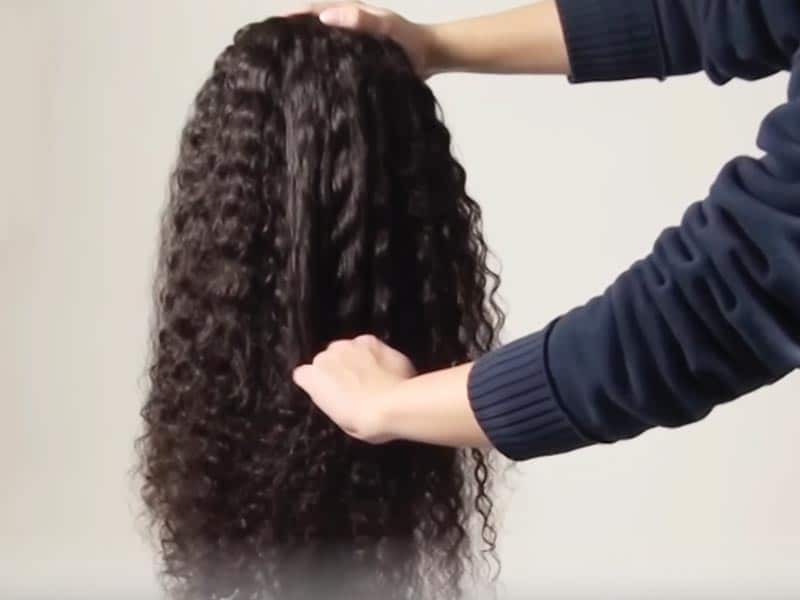 Besides, hair texture is likewise an element which trigger wig tangling. Straight hair is far less possible to be tangled while curly hair is a lot easier tangling since of the tight and small curls. If your hair is extremely thick and long so it can be susceptible to tangling. Also dryness is a nonnegligible element. If your hair is dry, it is nappy and tangle easily.
How To Prevent Human Hair Wigs From Tangling & Matting?
1. Brush Your Hair
Brushing your wig is never incorrect. However, pls use the appropriate method to brush your wig. Normally we recommend to use wide-comb or paddle brush to comb it gently from end then upwards. This will assist your hair strands from being divided and prevent from tangling or shedding. Kindly advising, you 'd better brush your Brazilian hair while dry. If your wig is in wet, you can ran your fingers through your hair or utilize wide-tooth comb to brush it from bottom to up.
If you are offered, cleaning your lace wig and do a hair care routine will make your wig tangle free. Rinse your wig into warm water and include a squeeze of wig hair shampoo. Rubbing a little shampoo to your hair with your fingers gently, rinse it and apply some excellent quality conditioner for a while, you will observe the knots are looser. Cleaning your wig is not only good to make your wig tangle complimentary but also can assist bring it back to life.
3. Sulfate-Free Hair Products
Utilizing hair items which contain sulfates can strip the extensions which trigger them to end up being weaker as the item sits. Constantly use a good conditioner and shampoo combo when cleaning hair. Likewise, use products that use moisture and supply hydration to your hair extensions as dry hair can cause tangles and ultimately matting. Using the right hair items can keep your wigs soft and workable.
4. Tie Your Wig Up At Night
If you wear a wig while sleeping and let it alone, it'll be damaged by excessive friction. Friction can deteriorate the fibers and trigger a hair loss in time. It also leads to tangles, frizz, and dryness, all of which are a discomfort. To secure your wig from friction, lay the hair flat versus your head and pin or tie it into location. Then, wrap your head in a silk or satin scarf. This will keep your unit in place while likewise protecting it from friction.
Do you have any other pointers on how to avoid wigs from tangling? Remark down below, we 'd enjoy to hear from you.
Should you detangle wig wet or dry?
Only towel dry it. You have to be gentle. Never rub the hair as you would with naturally growing hair as to do so would cause a tangling of the hair roots at the base and undoubtedly breakage of hair would occur as you tried to comb it free.
How do you detangle a wig without ruining it?
Whether you have a human hair or synthetic wig, there are two detangling hair tools that you'll need: A wig comb -This type of comb is specifically-designed to comb out your wig's tangles gently without damaging hair. A wig brush -This type of brush will remove your tangles without getting "caught" in your wig.
What can you use to detangle a wig?
Prepare your conditioner. You are aiming for roughly 3 parts water to 1 part conditioner. Shake the mixture well. You may also choose to use a leave-in conditioner, or a product designed specifically for untangling wigs. These products do not need to be diluted in water.
Quinn

Good for me I am wondering if I can

10-24

Abandon

Pretty them on the pics

10-24