A Guide For Hot Trend Mid-parted Full Fringe Bang
Oct.27,2022
This entry was posted in
Trend
By Meru
In our normal life, you can often see girls with a medium Full Fringe hairstyle, and their faces will be highlighted with a very good silhouette with these bangs. The center parted Full Fringe is a very nice looking bangs that are very popular both online and offline and is very well taken care of without any intentional styling.
Can You Not Take Care Of Your Full Fringe?
The most important thing is that you have to be able to get a good idea of what you want to do. If you're looking for a good deal more than just a few days, you'll be able to use a curling clip to roll your bangs upward, and then put the clip down when you go to bed. The next day the bangs are still very fluffy, a little curved upward, use a comb to comb down the sides on the line.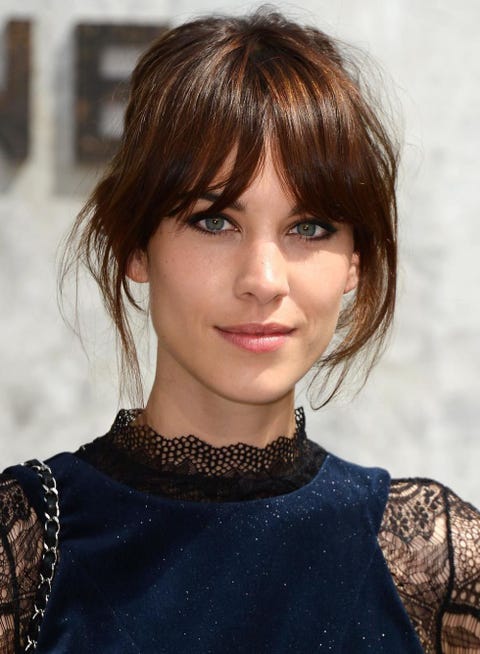 How To Blow After Washing Your Hair With

Mid-parted

Full Fringe Haircut
If you have a Mid-parted Full Fringe haircut, blow dry your hair normally after washing it, then use a curling iron, clip the bangs with the curling iron and roll them outward, don't stay during the curling process, so the gentle, feminine Full Fringe is ready. As the curve of the hair next to the two bunches hanging down the cheeks is very and no, the middle part Full Fringe is better to modify the face shape, suitable for almost all face shapes, especially for people with a low hairline, narrow forehead and high cheekbones, can cover up the shortcomings of the face.
How to Trim a Center Parting Full Fringe Hairstyle
For this hairstyle, to trim it, you should.
Step 1. Seperate the hair
First, part the bangs on your forehead and separate the bangs according to the middle line.
Step 2. Trimming
Pull the bangs on the left side of the parting line to the right and cut the hair into a straight line with the length of the diagonal line from the nose to the chin, and do the same on the other side, so that the first section is trimmed.
Step 3.
The second part of the trimming
The part that was just trimmed will be divided into two thirds, this part of the hair to the bottom of the cheekbone as a reference, trimmed into a smooth slant, so Full Fringe is trimmed well.
P.S.: It is recommended to go to a barber store for this bangs haircut to avoid ruining the hair style. When styling the Full Fringe, you need to use a round comb to curl the hair and then use a hair dryer to heat it up and blow dry it, or if you don't have a round comb, use a hair dryer to dry the hair normally and then use a curling iron to curl it out.
Does Mid-parted Full Fringe with Straight Hair Look Good?
Straight hair cut Full Fringe is very good-looking, but how good it looks also depends on the face of the individual, straight and curly hair can choose Full Fringe, but the effect of bangs cut out of each person is different, if you want to cut a good look, you can choose a good technical hairstylist, and then pay attention to the skills of cutting, such as the clipboard can not use very strong, we clip the hair not too much, cut out The effect will be particularly good-looking.
What Kind Of People Are Suitable For The Middle Part Full Fringe
The round face is not suitable for air bangs and Full bangs, bangs are too dense but will look more round face. If you want to have a good look, you have to have a good look. The most important thing is that you can have a good look with the bangs.
The Daily Maintenance Of Mid-parted

Full Fringe Hairstyle
Full Fringe is easy to get oily, so you can wash your bangs in the morning. After wetting it, you can rub it gently until it becomes foamy, and then you can rinse it off with water. After washing your bangs, use a hair dryer to blow them, and when you do, use a comb to hold your bangs to both sides. This is a great way to get the most out of your hair.
Can Straight Hair Cut

Mid-Parted

Full Fringe Haircut?
The Mid-parted Full Fringe is a haircut that can be used for many hairstyles, which has very lazy feel and natural, and can also improve the quality of the face.
Summary
This middle part Full Fringe bangs is very suitable for people who think their face shape is not very perfect, or those who have a particularly round face shape to try, it can make your face shape is trimmed very well, so you can have a better facial profile. If you want to do it, go consult your hair stylist!
How should I style my Mid-parted Full Fringe Bangs?
Too many face shape problems? Leave it to the eight bangs! The eight-letter sea is a gentle and elegant temperament, and at the same time, it is the kind of bangs that doesn't pick up the face shape and can accommodate many face shape problems that I recommend everyone to try. It is especially suitable for those who do not like bangs to cover too much forehead, but feel that it is not good to show all forehead. It's not difficult to roll eight bangs like this. As long as you can roll air bangs on it. There are long and short bangs. The short bangs are more youthful and have a better effect on the upper half of the face, which is more suitable for a round face and a cute style of temperament.
What is a fringe cut?
The versatility of fringe leaves much to the imagination, ranging from sleek, blunt cuts to very natural-looking layered cuts. The hair is layered in order to give the hair more height and body, while the bangs have been left long in the front in order to give the style a little more edge.
How to style a full fringe on a brunette?
A thick below-eyebrow fringe looks great on brunettes with straight or slightly wavy hair. You may add face-framing streaks for a slimming effect. Cristin Milioti pairs her cute full fringe with a ponytail hairstyle. There were lots of various ponytails in spring and pre-fall fashion shows for this year.