You Must Get A Lace Wig That Match Your Skin Tone
Aug.23,2022
This entry was posted in
Types
By Meru
If you are a newbie for wearing wigs, and there are many colored wigs in the hair market today, selecting the proper colored lace front wigs may make individuals feel overloaded, specifically if you are a newbie. There are many wigs for you to pick from in the market. These wigs various from styles, colors, lengths, and hair densities. Your choice of wig depends upon your choice and physical fact.

1. There Are Many Colors To Pick
There are many vibrant human hair wigs to pick from. Whether you are searching for a wig in brown, blonde, pink, red, or any other color, you will find a wig color that matches your style and character.
If you want to choose something more mainstream, a color that you can wear for everyday occasions, you can choose brown, blonde, ginger, yellow you can choose. If you buy this wig for the purpose of attending some occasion or party, you can choose a brighter and more vibrant, saturated colors, such as red, pink, gray, etc..
2. They Are Extremely Stunning And Appropriate For Fall
In fall, colorful wigs are a perfect option. Vibrant wigs bring color to the gloomy fall season, not like dark wigs. As all of us know, dark wigs can take in heat, which will make you sweat in the heat weather and make you feel uneasy. It is popular that light colors show heat, so when the temperature rises, light wigs are the best option to wear.
3. They Are Less Expensive
Compared with dyeing wigs in a beauty salon, it is less expensive to buy colored wigs. That's since you need to purchase the needed items and tools for dyeing or whitening wigs. This will increase the total expense of wigs. That's why it is advised to change to colored wigs.
II. How To Pick The Best Color Wig?
You require to be really cautious when choosing the ideal color for you. That's due to the fact that there are many colored wigs on the market, which might puzzle you. As a newbie, when choosing colored wigs, it is recommended to select a wig color that's a bit laid back. Prevent colors that are too shouty. Then when you get used to using wigs, you can start wearing bold colors. This is the only method to make your transition comfy.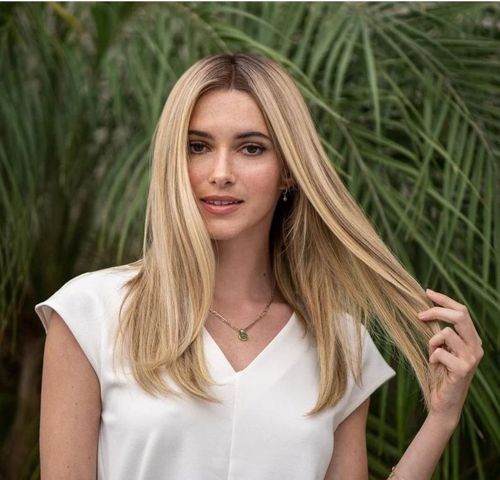 Besides, please make certain you select the appropriate length. Colored wigs come in numerous lengths. Whether you want short, medium, or a long wig, you can easily discover them. When selecting a wig of ideal length, please make sure to select a length that appropriates for your way of life.
Wigs are extremely popular because of their accessibility in different colors and types. You do not require to color your hair and destroy its texture. Select a colored wig that matches your choice and enjoy your day.
If you have short hair length and you wish to experience a longer one, you can utilize a wig. And if you enjoy your long healthy hairs however likewise wish to experience a brief hairdo sometimes, wigs are perfect choice for you.
You can do anything with your wigs. There is no need to damage your natural hair development as wigs are offered in all types of textures.
III. Pick The Right Color for Your Wig
Usually, people prefer to use wigs to make their hair appearance healthy, and dense. Therefore, they do not want others to know whether they are wearing wigs or not. Your hair wig must not make you look bad. For that reason, the color of your wig is of extreme importance.
IV. Consult Your Professional Makeup Artist
The simplest and easiest thing that you can do to know your skin tone is to consult an expert. Makeup artists have actually studied the science of colors and they understand very well that whether a wig color will suit you or not.
Likewise, they have worked with many clients and experience is more crucial to get excellence. Therefore, if you do not wish to take any type of risk, it is suggested to seek advice from a knowledgeable makeup artist.
Before selecting the wig color you want, you need to understand your complexion. Individuals with warm complexion ought to choose Amber, honey, chestnut, warm browns, dark mocha and chocolate. Black, ash brown, cool blonde, honey, beige, grey and auburn are shades for people with cool undertones.
Wigs are a big trend and there are numerous to pick from that range in length, color, texture and quality. Check out one of the best Wig Stores in Toronto to discover the perfect wig for you.
V. Get In Style With Superior Hair Wigs
Wigs are readily available in a variety of colors. It is always advised to choose a color that matches your skin tone best. Consult our highly experienced wig stylists to find the wig that suits your preference, budget, and lifestyle. Contact us today for more information about our incredible wigs collection.
What is the difference between colored hair and non colored hair?
The scientific difference between hair color and hair dye is that hair dye goes inside to color it and it is long-lasting. On the other hand, the hair color stays on the surface and paints only from the outside. Therefore, the effect of hair color fades much faster.
Can I dye a colored wig?
Unlike synthetic wigs, human hair wigs can be dyed easily. You can use the same hair dye, the same developer, and even the same tools to dye your wig. Simply mix your dye before gently applying it directly to the wig. Wash the wig after dyeing it to keep it clean and shiny.
How do you take care of colored wigs?
1. Wash your wig less frequently.
While it is prudent to wash your colored wig to remove dust, dirt, and grease, washing your colored wig more frequently may cause your wig to fade. As a result, needn't wash your wig frequently.
2. When using hot tools, use heat protectants.
Heat can severely damage your colored wig by removing color and moisture, leaving it dry. This may cause the wig to tangle more easily. You obviously do not want that. You can easily avoid this by spraying a heat protectant spray on your colored wig before styling it with a heat tool.
3. Use the proper wig care products.
Your colored wigs are extremely delicate. As a result, you must exercise caution when selecting the products you use on them. Only use hair products designed specifically for colored wigs. Do your homework before purchasing the products. Avoid using harsh hair care products that can cause your wig's color to fade.
4. Do not sleep with your wig on.
Wear your colored wig to bed if you want it to last longer. Sleeping with a wig on will result in frizz and tangles. Take your wig off before going to bed, no matter how tired you are.
5. Properly store it
Finally, you must properly store your wig. At all costs, avoid throwing away your colored wig. Hang it on a mannequin head or wig stand instead. This will not only keep the wig from tangling, but also its hairstyle.