4 Most Popular Asian Hairstyle Wigs For Women
Jul.20,2022
This entry was posted in
Types
By Meru
There are a lot of hairstyles that were only liked by East Asian women that are now more popular in the Western world. Generally speaking, most East Asian women have beautiful, silky, natural, straight black hair, but they are not conservative and deliberate about keeping that natural hair, they don't shy away from styling and coloring it. In fact, some of the world's most daring and open hairstyles and hair colors have been borrowed from East Asian women. Just in terms of style, there is indeed an endless stream of creative Asian styling, and many of these hairstyles are popular in all regions of the world.
However, some would say that our hair does not allow us to do so. It is true that sometimes our hair texture varies due to genetics, some people are born with curlier and thicker manes, some may have thinning hair, some are born with blonde or brown hair, etc. These factors may have an impact on the range of hair choices we have. But the advent of wigs has changed this situation, with wigs we can ignore our original hair quality and try more interesting hairstyles and hair colors.
We all know that there are many different kinds of wigs, and they are classified by many attributes. For example, they can be classified by dozens of hair styles alone, and you can choose between red, black, brown, blonde or bolder shades of blue or purple or green. Anyone can - and should - go to an online wig store and choose the wig they like and fit - you don't have to worry about the vast array of choices, scroll through this article to see what works for your face shape.
1. Chocolate Long Wavy Curls
You can never go wrong with a long wavy wig. The warm chocolate tones and loose, big wavy curls exude an uplifting atmosphere. Fashion is a reincarnation, and once again women of 2022 are favoring these chocolate wavy curls. Chocolate brown hairstyles are very easy to match up every girl can do. The richness and medium brightness of the chocolate brown shade can bring out the contours of your facial features more. The brown color accentuates the skin - especially the temperament of women with darker skin color. A big curl can soften your face, and the right length of hair can bring your head and body proportions closer to perfection.
2. Highlighted Short Bob Wig
Bob hair is a popular hairstyle in any region, but it was popularized earlier by East Asians on a large scale. This hairstyle is very easy to take care of and change. The bangs of this hairstyle can be made in several styles, such as angled bangs, flaring bangs, and center parting. Some of the facial features of black women are more pronounced, and the shading of the bob can optimize these features.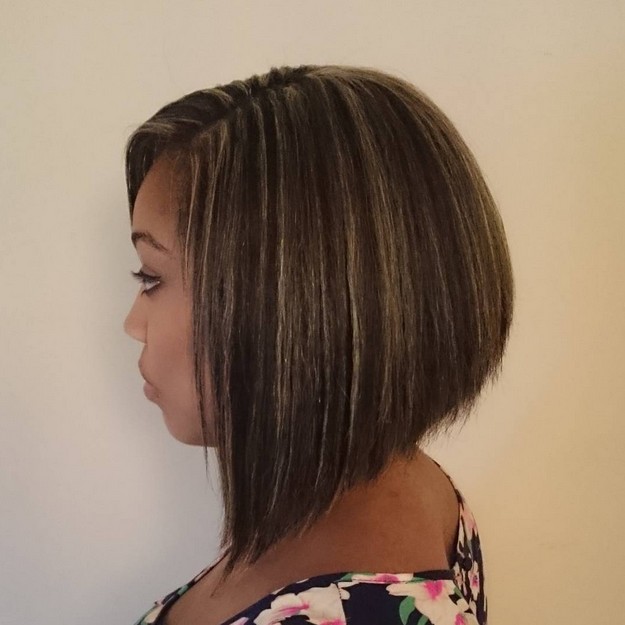 3. Long Pixie hairstyle with side parting
The long Pixie style is one of the most popular hairstyles for mature Asian women. It is more suitable for those who feel (or want) to have a mature look. Some Pixie hairstyles have a very layered look that can make a person feel more sophisticated and classy.
Pixie has been popular for a long time. Hair stylists have come up with different interesting varieties. One of them is the long Pixie hairstyle.
Everyone knows that Pixie means short. However, there are ways to add some length while maintaining the integrity of the mini Pixie. If you are tired of short Pixie wigs, long Pixie hairstyles can be your new choice while allowing you to make a seamless transition from short to long. Consider browsing through different Pixie hairstyles to find a long one that suits your tastes. Long Pixie wigs can have a variety of additional styling, such as bangs or slanted bangs, but if you consider to modify the curve of the face, we can choose the side parting Pixie styling, we usually divide it into 2/8 open or 3/7 open to achieve the effect of side parting and slanted bangs. It also performs well in terms of maintainability and does not require as much care as other straight wigs.
4. Balayage (no matter what color)
Balayage was invented in the 70s. The word itself originates from the French word "balayer", which means "to sweep". By the way, this technique has only one name, BALAYAGE. all other terms - baylage, bayalage, biolage, etc. - are just misspellings. The correct pronunciation of balayage is /ˈbalɪjɑːʒ/.
Although the name originated in French, the hairstyle itself became popular in Japan in the 80s and 90s, and many actresses aka ordinary people love it, they are also very common presence in the workplace, revealing your sense of maturity and confidence.
Balayage is a hair coloring technique in which a highlighter or color is "swept" through small triangular sections of the hair by hand, with the help of a brush. This produces lovely natural highlights, with lighter color near the ends and softer hair on top. Women often describe them as "sun kissed" and "beachy", describing them as such soft highlighting colors. In the 1990s, balayage became fashionable in the United States, but it is only now that the technique has reached its greatest popularity. In some salons, almost 90% of the dye jobs are different types of balayage!
Balayage wigs became the new trend in the last few years, black women in America are becoming more and more fashion conscious, but Balayage is a more straight hair look, which makes this wig the new rage. Straight and slightly curly hair is also good for face shape, and it is also a very revealing hairstyle that shows your maturity and makes you a beautiful star in the workplace or social scene.
All of these Asian style haircut wig can be find in the online store or your local strore, so that you can enjoy the pretty as soon as possible.
How to style a classic bob haircut?
Comb your right sideways hair straight towards its natural growing direction. The rest of your front view hair should lie on the left side of the head. That is your fringe hair, left sideways hair and your mid head hair. Lastly, natural blonde classic bob hairstyle suits any event that comes your way. Are you attending a wedding anytime soon?
Rosseta

I don't like them

08-13

Kamen

Asian haircuts are so interesting for us...or too strange?

08-06

LisaM

The author seems don't now how to make right haircut

07-31

Robert

Catched my love

07-20